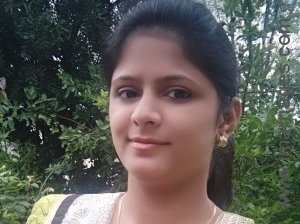 She is 23 years old
Never Married
Hindu, Vanjara
Her mothertongue is Marathi
Working in Nursing/Health Services
Earning Rs.3 Lakh
Born in India
Living in Mumbai, India

In Her Words
I am an ambitious and independent girl. Currently working in Mumbai. I like traveling and learning new things....

I am from simple and small family... Our family is well educated. Having one brother and one younger sister...

I'm looking for Well settled and independent partener.. Supportive and who is modern in his outlook...

Lifestyle and Appearance

5 ft 4 in 163 cm
Fair Complexion
Average Build

Vegetarian

Doesn't Smoke

Doesn't Drink

Education and Career
Occupation
Nursing/Health Services
Employment Status
Part Time

Family
Family Status
Middle Class
Mother's Profession
Homemaker
Has Children Of Her Own
No

Horoscope

What She Is Looking For
Age
23 - 28

Mother Tongue
Marathi

Religion
Hindu

Caste
Vanjara

Country Living In
India

State Living In
Maharashtra


Profile Managed By Self