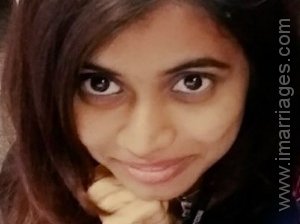 She is 24 years old
Never Married
Christian, CSI
Her mothertongue is English
Working in Computers/IT
Earning Rs.3 Lakh
Born in India
Living in Coimbatore, India

In Her Words
Tanya currently works for Cognizant Technology Solutions and is living in Coimbatore. She is a firm believer in Christ but does have extremely tolerant and secular views on religion. She has a passion for writing and reads voraciously. She is interested in a variety of subjects and loves intellectual discourses.

Tanya comes from a nuclear family and is a single child. We are a family that is supportive and liberal. Her father is a successful doctor (Anaesthesiologist) in Trichy, and I am a homemaker. We have always encouraged her to learn more and appreciate intelligence and also to treat people with respect and kindness.

Our search is limited to Christians preferably Protestants but Catholics and other denominations are welcome as well. We are looking for an affectionate caring groom from a liberal family who is blessed with integrity, ambition, and is an intellectual.

Lifestyle and Appearance

5 ft 153 cm
Fair Complexion
Slim Build

Non Vegetarian

Doesn't Smoke

Doesn't Drink

Education and Career
Highest Education
Bachelors
Employment Status
Full Time

Family
Father's Profession
Medicine
Mother's Profession
Homemaker
Has Children Of Her Own
No

Horoscope

Photos

What She Is Looking For
Age
24 - 33

Mother Tongue
English

Religion
Christian


Profile Managed By Parent/Guardian