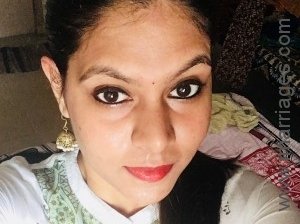 She is 23 years old
Never Married
Hindu, Mudaliar, Other
Her mothertongue is Tamil
Working in Computers/IT
Earning Rs.3 Lakh
Born in India
Living in Chennai, India

In Her Words
I am a very fun loving and adventurous person. Love to travel and also a big foodie. I have completed my masters from vit university and now work in a corporate company.

Small and happy family. I'm the only kid so settled down in Bangalore. Dad has retired and mom is a homemaker.

I want a loving and understanding person who will stand by me all the time. Want to be his better half not the bitter half .

Lifestyle and Appearance

5 ft 1 in 155 cm
Fair Complexion
Average Build

Vegetarian

Doesn't Smoke

Doesn't Drink

Education and Career
Employment Status
Full Time

Family
Family Status
Middle Class
Father's Profession
Retired
Has Children Of Her Own
No

Horoscope

Photos

What She Is Looking For
Age
23 - 32

Mother Tongue
Tamil

Religion
Hindu

Country Living In
India


Profile Managed By Self