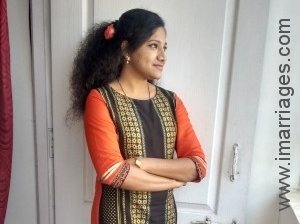 She is 29 years old
Never Married
Christian, Pentecost
Her mothertongue is Tamil
Working in Management
Earning Rs.3 Lakh
Born in India
Living in Chennai, India

In Her Words
Hi, I am Usha, My friends calls me Nila. Because I am a cool person like moon. True and loyal to everyone. Done MBA (Hr). I am here to meet my real life hero who can manage everything by his own without his parents help.

We are a God fearing and lovable family with traditional values. Living with Dad, Mom and two sisters elder and younger one.

I am looking for a Real life hero who can take good care of me and my parents as his own. True and lovable to me.

Lifestyle and Appearance

5 ft 2 in 158 cm
Fair Complexion
Average Build

Non Vegetarian

Doesn't Smoke

Doesn't Drink

Education and Career
Employment Status
Full Time

Family
Family Status
Upper Middle Class
Mother's Profession
Homemaker
Has Children Of Her Own
No

Horoscope

Things She Likes
Music
Bollywood • Easy Listening
Reading
Adventure • Cartoon • Fairy Tale • Fantasy • Humor • Mystery • Short Story
Film and TV
Adventure • Cartoon • Comedy • Drama • Family • Fantasy • Horror • Mystery • Romance • Science Fiction
Sport
Basketball • Fishing • Kabaddi • Mountain Biking • Surfing • Swimming • Volleyball
Other Interests
Art • Boating • Cars • Computers • Cooking • Crafts • Dancing • Fashion • Gaming • Gardening • Painting • Photography • Sewing • Singing • Writing

Photos

What She Is Looking For
Age
29 - 35

Min Height
5 ft 7 in 171 cm

Body Type
Average

Marital Status
Never Married

Mother Tongue
Tamil

Religion
Christian

Diet
Non Vegetarian

Drink
No

Smoke
No

Education
Masters

Employment Status
Full Time

Annual Income
Rs.10 Lakh

Family Values
Traditional

Family Status
Upper Class


Profile Managed By Self