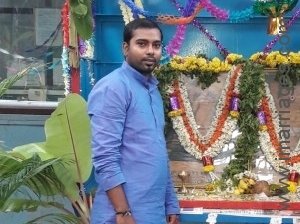 He is 30 years old
Never Married
Hindu, Other
His mothertongue is Tamil
Working in Management
Earning Rs.3 Lakh
Born in India
Living in Bangalore, India

In His Words
Basically I am a Mechanical engineer currently working in a private concern.
I come from a middle class family with a moderate outlook, and striving hard to take my little family to next level and keep happy.
Willing to keep my family and my beloved partner happy as per there wish.
To me my family is my mother, a sister and brother who will soon settle in theirs life at the earliest
I believe in relationship and the family values than Caste belief.
I am really concerned about human feelings and give freedom for an individual religious duties and expressions .
Currently staying in Bangalore and I am trying for abroad jobs specifically for Canada and Australia and soon by God's grace I will get it.
I love peoples who cares for others and help others. I love being the person who i am from childhood and will remain the same.
I love to travel new places especially i love bike travels.

I come from a middle class family with a moderate outlook.
Ours is small family which consist of my mother, who is a homer maker, father got expired 10 years ago,.
I have a younger brother & two sisters, each elder and younger to me. Elder sister is married and settled in Hyderabad, Younger sister is working in a private company & also we are looking alliance for her.
Brother is working in a private company.

Looking for an open minded homely traditional Girl. The girl should be an excellent homemaker & if possible can have professional career as per her wish. My life partner should be caring & respectful towards all the family members.
She can also study even after marriage.

Lifestyle and Appearance

5 ft 8 in 173 cm
Fair Complexion
Average Build

Non Vegetarian

Doesn't Smoke

Doesn't Drink

Education and Career
Highest Education
Bachelors
Employment Status
Full Time

Family
Family Status
Middle Class
Mother's Profession
Homemaker
Has Children Of His Own
No

Horoscope

What He Is Looking For
Age
19 - 31

Mother Tongue
Tamil

Religion
Hindu

Country Living In
India


Profile Managed By Self