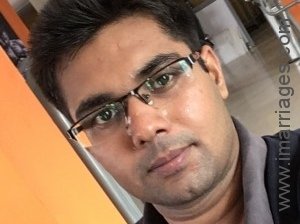 He is 28 years old
Never Married
Hindu, Brahmin, Iyer
His mothertongue is Tamil
Working in Computers/IT
Earning Rs.5 Lakh
Born in India
Living in Bangalore, India

In His Words
Hi..i'm Visves. Working for an MNC in Bangalore. Career oriented and at the sametime spend equal time at home. I play badminton and cricket. Simple and straight forward. Will know more about me when we speak.

To introduce about my family... Father is doing cotton business, mom is homemaker and younger brother working for bank.

I'm seeking a life partner from North India, who is open minded and easy going. Respect people based on their character and not because of their wealth.

Lifestyle and Appearance

5 ft 5 in 166 cm
Fair Complexion
Average Build

Vegetarian

Doesn't Smoke

Doesn't Drink

Education and Career
Employment Status
Full Time

Family
Family Status
Middle Class
Mother's Profession
Homemaker
Has Children Of His Own
No

Horoscope

Photos

What He Is Looking For
Age
18 - 30

Mother Tongue
Tamil

Religion
Hindu

Country Living In
India


Profile Managed By Self