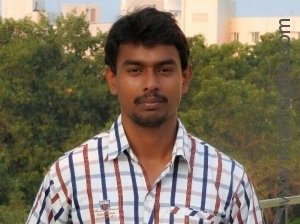 He is 27 years old
Never Married
Hindu, Brahmin
His mothertongue is Tamil
Working in Computers/IT
Earning Rs.3 Lakh
Born in India
Living in Chennai, India

In His Words
I come from an middle-class family. The most important thing in my life is religious beliefs, moral values and respect for elders. I am modern thinker but also believe in good values given by our ancestors. I love traveling with friends, listening to music and watching movies.

We are simple and small family there are five members in my family dad, mom, me and two sisters. Father is raliway retd employee and mother is a housewife sisters got married and we'll settled. Our family is well educated and loving each other.

I am looking for a like-minded partner who is modern in look and has simple family values.
Someone who can became a companion and friend for a great life.

Lifestyle and Appearance

5 ft 8 in 173 cm
Wheatish Complexion
Slim Build

Non Vegetarian

Doesn't Smoke

Doesn't Drink

Education and Career
Highest Education
Bachelors
Employment Status
Full Time

Family
Family Status
Middle Class
Father's Profession
Government
Mother's Profession
Homemaker
Has Children Of His Own
No

Horoscope

Things He Likes
Reading
Adventure • Fantasy • Humor • Mystery • Science Fiction • Thriller
Film and TV
Action • Adventure • Comedy • Family • Fantasy • Horror • Mystery • Romance • Science Fiction • Thriller

What He Is Looking For
Age
18 - 28

Mother Tongue
Tamil

Religion
Hindu

Country Living In
India

State Living In
Tamil Nadu


Profile Managed By Self