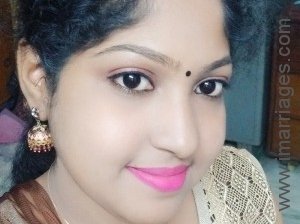 She is 25 years old
Never Married
Hindu, Vokkaliga
Her mothertongue is Tamil
Working in Other
Earning No Income
Born in India
Living in Vellore, India

In Her Words
My daughter is a B Com (Comp Applications ), MBA graduate. She is our only daughter. She has recently set up her own small scale incense manufacturing unit.

I am a B COM graduate and homemaker. My husband is an Engineer come Businessman. He is running his own business and an agriculturist too.

( On behalf of my daughter.)
Am a straightforward girl. who doesn't care about the society. but maintain family values. 'transparency'. Its the main thing btwn a couple. And I do prefer the same. As per me. the other word for trust should be my better half (my hubby). And I don't lik people lyin to me. and I xpect the same frm my hubby too. And money is not the only solution for our problems. I don't think dat money changes life. Nly love and affection does. And am not a kind of woman who wants to control husband and turn him against the family. I respect family values and wil love his parents as mine. Am least bothered about society. But bothered about family tradition and values. I won't pull him down in any situations. I wanna hold my man and start the journey of life with love, happiness, affection, support etc. I will be a open book for him. He can write, scribble anything but he cannot erase it. I want to shower my man with love and pull him into the world of happiness but not sarrows.
U wanna be my man.???
.

Lifestyle and Appearance

5 ft 2 in 158 cm
Fair Complexion
Average Build

Non Vegetarian

Doesn't Smoke

Doesn't Drink

Education and Career
Employment Status
Not Employed

Family
Family Status
Upper Middle Class
Mother's Profession
Homemaker
Has Children Of Her Own
No

Horoscope

Photos

What She Is Looking For
Age
25 - 34

Marital Status
Never Married

Mother Tongue
Tamil

Religion
Hindu

Caste
Vokkaliga

Manglik
No

Diet
Non Vegetarian

Drink
No

Smoke
No

Employment Status
Full Time

Annual Income
Rs.45 Lakh

Family Values
Moderate

Family Status
Upper Middle Class

Born In
India

State Living In
Baden-Wurttemberg


Profile Managed By Parent/Guardian