Established in 2006, iMarriages.com was developed after extensive research in to the state of India's relationship services. It was clear to us that there was a need in India for a quality matrimonial service that was available to all Indians, regardless of their wealth or background.
The iMarriages team is located within India as well as abroad. With backgrounds in astrology, psychology and counselling, our team has the experience required to create lasting relationships.
Our award winning services are both the most advanced and best value for money in all of India, and is available to those living at home as well as NRIs living abroad. Our platform is designed to be simple and easy to use, so whether it's creating a profile, chatting with prospective life partners or asking for advice in our relationship columns, you will find everything a breaze.
Once you create your profile by answering a questionnaire, you can then use our profile search tool to view the profiles of other people who are also seeking their life partner. Once you find a person of interest you can then start chatting with them. It's that simple.
If you have not yet registered with iMarriages, you may register here.
Mission Statement
Our mission is to provide people with a satisfying experience by offering a service that is safe and easy for everyone in all age groups to use to find their life-partner.
Our vision is to help make the experience of finding a life partner as enjoyable as living the journey with them.
We know your time is precious, that is why we have created a system where you can select who is eligible to contact you. This saves you from wasting time reviewing incompatible profiles.
Our unique match making system will ensure you meet only the most suitable candidates. This system is exclusive to iMarriages and is not available on other matrimonial sites.
As iMarriages is the most value for money service in India, we receive more new profiles than other sites. This increases your odds of finding your life partner.
How Do I Get started?
First, you will need to sign up. During the first step of the sign up process you will be asked some personal questions such as your name and date of birth. Information such as your name is kept private and is not shown on your profile. Your date of birth is also kept private and is only used to determine your age.
Your privacy is of utmost importance to us and you will be notified of what information is kept private and what is made public.
The sign up process also includes a questionnaire that when completed, will be used to create your very own profile. You will also be asked to upload a photo of yourself. Although a photo is not compulsory, it is highly recommended. Our studies show that people who do not provide a photo of themselves are much less likely to be successful in finding their life partner.
Once your profile is created you can then jump straight in and click the match maker button. This will provide you with the profiles of people who we believe you are compatible with. Alternatively, you can use our profile search tool to manually view all of our available profiles. When you find someone of interest, click their photo and view their profile. If after viewing their profile you are still interested, send them a message and start your new friendship!
If you are too shy or too busy to initiate a conversation with them right now, add them to your favorites list. Your favorites list is like a bookmark. You can then quickly and easily find their profile again later when you are ready to say namaste!
Supporting Our Community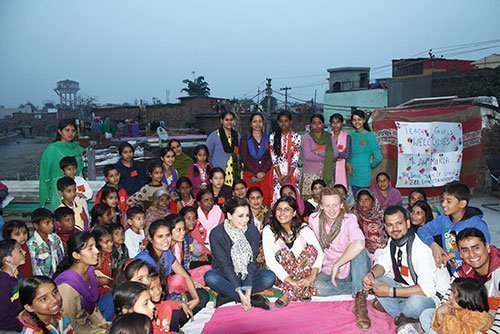 Dia Mirza and the team at Teach Girls
iMarriages has partnered with Teach Girls, a not for profit organisation based in Dehradun which provides free education and schooling to under privileged girls.
Even if you don't require our matrimony services, we highly recommend you support Teach Girls in their endeavors.
Follow Us
iMarriages is on Facebook and Twitter!
To stay up to date with all the news and competitions, join our page on Facebook.