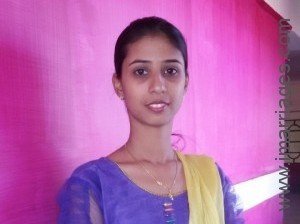 She is 30 years old
Never Married
Hindu, Brahmin, Gour
Her mothertongue is Hindi
Working in Education
Earning Rs.2 Lakh
Born in India
Living in Bhopal, India

In Her Words
Anubhuti love simplicity. She is a simple, ambitious, hardworking n clear nature girl.she has done MBA(finance),pgdca n B.ed. currently teaching in IES school in Bhopal .she live with there parents in Bhopal.

Father mother both are government employees.we belongs to traditional family.elder sister is married. She is in Pune. Younger brother has done MBA.

I would like to meet someone who is simple, understandig,loving nature, give important to family n open minded.

Lifestyle and Appearance

5 ft 4 in 163 cm
Fair Complexion
Slim Build

Vegetarian

Doesn't Smoke

Doesn't Drink

Education and Career
Employment Status
Full Time

Family
Family Status
Upper Middle Class
Father's Profession
Government
Mother's Profession
Government
Has Children Of Her Own
No

Horoscope

What She Is Looking For
Age
30 - 39

Mother Tongue
Hindi

Religion
Hindu

Caste
Brahmin

Country Living In
India


Profile Managed By Sibling