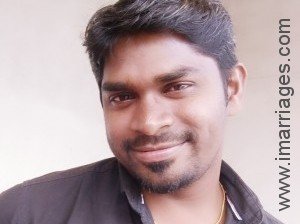 He is 30 years old
Never Married
Christian, Pentecost
His mothertongue is Tamil
Working in Finance
Earning Rs.4 Lakh
Born in India
Living in Salem, India

In His Words
I am Davidraj working in chennai in MNC company company called agility Logistics as a senior process associated in finance. Am staying in rented house here. I belong to Nlag church OMR and am part of God's ministry in serving for God. I am only person accepted the lord the Jesus christ my savour been 14 years of journey of Christian life..

My family are staying in home town and basically we are from village background and they do farming. My mom past away when am childhood, now currently dad and brother living in home. Brother got married and he does the farming in support of father.

Am not expecting more then who walk in christ as a centre in her life. Being more spiritual and supportive in all situations of life ups and downs. I deep only her once got married because I don't more touch with family as am away from there now..

Lifestyle and Appearance

5 ft 3 in 161 cm
Wheatish Complexion
Average Build

Non Vegetarian

Doesn't Smoke

Doesn't Drink

Education and Career
Employment Status
Full Time

Family
Family Status
Middle Class
Has Children Of His Own
No

Horoscope

What He Is Looking For
Age
20 - 32

Mother Tongue
Tamil

Religion
Christian

Country Living In
India


Profile Managed By Self