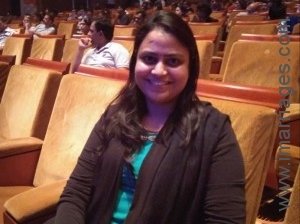 She is 37 years old
Divorced
Hindu, Brahmin, Not Specified
Her mothertongue is Hindi
Working in Management
Earning Rs.35 Lakh
Born in India
Living in Mumbai, India

In Her Words
I am a working professional and wish to seek a mature and understanding partner who can walk along with me through this journey called life.

My family is nuclear and with moderate values. They have been my support all this long.

He should be a good hearted,tall, handsome and a mature person who considers her partner with equal respect.

Lifestyle and Appearance

5 ft 5 in 166 cm
Very Fair Complexion
Average Build

Vegetarian

Doesn't Smoke

Doesn't Drink

Education and Career
Employment Status
Full Time

Family
Family Status
Middle Class
Mother's Profession
Homemaker
Has Children Of Her Own
No

Horoscope

Photos

What She Is Looking For
Age
28 - 39

Mother Tongue
Hindi

Religion
Hindu

Country Living In
India


Profile Managed By Sibling