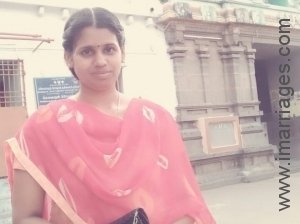 She is 32 years old
Widowed
Hindu, Mudaliar, Other
Her mothertongue is Tamil
Working in Office Administration
Earning Under Rs.50,000
Born in India
Living in Vellore, India

In Her Words
Hi, i am putting up this profile on behalf of my friend and brother.My friend is beautiful,well educated with family values firmly in place. she believes in hard work,is very caring,soft spoken, and respectful and expects same qualities in her partner. she understands responsibilities towards her life and family.very honest and lives life with positive attitude.her habbies including listening to music, going to temples.she likes to spend her time in the company of her family and friends.

she is a middle class family her father only live mother is expired her father is doing caring occasionally.

this is all bout my friend and sis.

Lifestyle and Appearance

5 ft 6 in 168 cm
Fair Complexion
Average Build

Non Vegetarian

Doesn't Smoke

Doesn't Drink

Education and Career
Highest Education
High School
Occupation
Office Administration
Employment Status
Homemaker
Annual Income
Under Rs.50,000

Family
Family Status
Middle Class
Has Children Of Her Own
No

Horoscope

Photos

What She Is Looking For
Age
32 - 38

Min Height
5 ft 7 in 171 cm

Body Type
Slim

Marital Status
Widowed

Blood Type
A+

Mother Tongue
Tamil

Has Children Already
No

Religion
Hindu

Caste
Mudaliar

Diet
Non Vegetarian

Drink
No

Smoke
No

Education
High School

Employment Status
Full Time

Annual Income
Rs.3 Lakh

Family Values
Moderate

Family Status
Middle Class

Born In
India

Country Living In
India

Residential Status
Citizen


Profile Managed By Friend