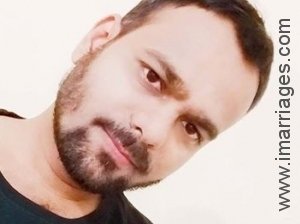 He is 28 years old
Never Married
Hindu, Brahmin, Not Specified
His mothertongue is Hindi
Working in Computers/IT
Earning Rs.10 Lakh
Born in India
Living in Mumbai, India

In His Words
I am working as an IT professional at Wipro, I stay at Navi Mumbai. In my family have have mom dad and one elder sister ho is married and located at Ahmadabad.

My Father is a Business Man, Mom is House wife.

I am looking for a partner whoa is simple, understanding, respect parents and with good sense of humor.


Lifestyle and Appearance

5 ft 10 in 178 cm
Wheatish Complexion
Average Build

Vegetarian

Doesn't Smoke

Doesn't Drink

Education and Career
Employment Status
Full Time

Family
Family Status
Middle Class
Has Children Of His Own
No

Horoscope

What He Is Looking For
Age
25 - 36

Mother Tongue
Hindi

Religion
Hindu

Country Living In
India


Profile Managed By Self