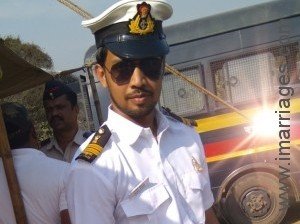 He is 29 years old
Never Married
Hindu, Rajput, Not Specified
His mothertongue is Hindi
Working in Government
Earning Rs.8 Lakh
Born in India
Living in Motihari, India

In His Words
I am career oriented. I love to see my near and dear one happy even at cost of my happiness. I love roaming with friends at a different location. Right now working as a preventive officer(customs inspector) in Mumbai customs.

We are a simple family with moderate value. My father hs retired recently from bank.(ex-senior manager)

My eldest brother is a businessman and happily married. He stays with parents at my hometown.

My elder brother is Sr. section engineer.

She should be a blend of traditional and modern value. She should be like-minded.

Lifestyle and Appearance

5 ft 11 in 181 cm
Fair Complexion
Athletic Build

Non Vegetarian

Doesn't Smoke

Doesn't Drink

Education and Career
Highest Education
Bachelors
Employment Status
Full Time

Family
Family Status
Upper Middle Class
Father's Profession
Government
Mother's Profession
Homemaker
Has Children Of His Own
No

Horoscope

Photos

What He Is Looking For
Age
19 - 31

Mother Tongue
Hindi

Religion
Hindu

Country Living In
India

State Living In
Bihar


Profile Managed By Self