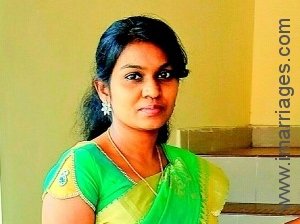 She is 28 years old
Never Married
Christian, Nadar
Her mothertongue is Tamil
Working in Other
Earning No Income
Born in India
Living in Kanyakumari, India

In Her Words
I am sherlin. I have completed my M. E and worked as an HR. Currently I am not working.

My dad is working in sericulture dept. Mom is working in polytechnic college. One brother he is doing MBA.

Searching for the person who is very religious. And like to be in Christian-Nadar community.

Lifestyle and Appearance

5 ft 4 in 163 cm
Wheatish Complexion
Average Build

Non Vegetarian

Doesn't Smoke

Doesn't Drink

Education and Career
Employment Status
Not Employed

Family
Family Status
Middle Class
Father's Profession
Government
Mother's Profession
Government
Has Children Of Her Own
No

Horoscope

What She Is Looking For
Age
28 - 37

Mother Tongue
Tamil

Religion
Christian

Caste
Nadar

Country Living In
India


Profile Managed By Parent/Guardian