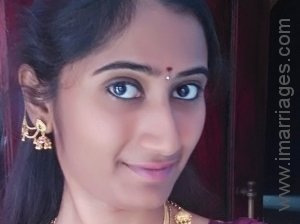 She is 24 years old
Never Married
Hindu, Mudaliar, Other
Her mothertongue is Tamil
Working in Computers/IT
Earning Rs.5 Lakh
Born in India
Living in Chittoor, India

In Her Words
Nandhini Sekhar is a software engineer,currently working in bangalore.she completed her b.tech in IIIT-RKValley.We belongs to Middle Class moderate family.
She loves to be Simple Simpler Simplest

We are simple and small family belongs to Traditional and have one younger brother n one younger sister.Sister is a Maths lecturer n brother pursuing bsc.Father is an RTC employee mother is home maker.

I am looking for a partner belongs to same community who is modern in outlook and has simple family values. Who can become a companion and good friend for a great life.

Lifestyle and Appearance

5 ft 4 in 163 cm
Fair Complexion
Slim Build

Non Vegetarian

Doesn't Smoke

Doesn't Drink

Education and Career
Highest Education
Bachelors
Employment Status
Full Time

Family
Family Status
Middle Class
Father's Profession
Government
Mother's Profession
Homemaker
Has Children Of Her Own
No

Horoscope

Photos

What She Is Looking For
Age
24 - 33

Mother Tongue
Tamil

Religion
Hindu

Caste
Mudaliar

Country Living In
India


Profile Managed By Parent/Guardian