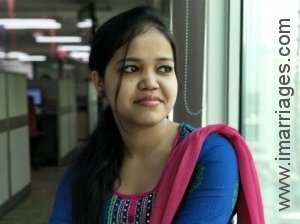 She is 27 years old
Never Married
Hindu, Kshatriya
Her mothertongue is Hindi
Working in Computers/IT
Earning Rs.3 Lakh
Born in India
Living in New Delhi, India

In Her Words
I am currently working with HCL Technologies as an Analyst in Noida and have done masters in computer applications from IP UNIVERSITY.

We are five members in the family, mother, father,younger sister and elder brother. Younger sister is pursuing MBBS and elder brother is working as an graphic artist in Mumbai.Father is a government employee and mother is a homemaker.

Looking for a partner with moderate values from same community.

Lifestyle and Appearance

5 ft 1 in 155 cm
Fair Complexion
Average Build

Vegetarian

Doesn't Smoke

Doesn't Drink

Education and Career
Employment Status
Full Time

Family
Family Status
Upper Middle Class
Father's Profession
Government
Mother's Profession
Homemaker
Has Children Of Her Own
No

Horoscope

Photos

What She Is Looking For
Age
26 - 33

Mother Tongue
Hindi

Religion
Hindu

Country Living In
India


Profile Managed By Parent/Guardian