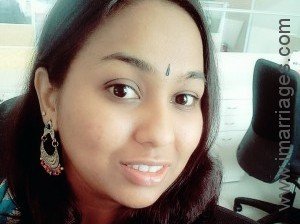 She is 28 years old
Never Married
Hindu, Mudaliar, Senguntha
Her mothertongue is Tamil
Working in Management
Earning Rs.5 Lakh
Born in India
Living in Mysore, India

In Her Words
My sister is highly ambitious and down to earth person. She has done her Bacheolors and post graduation and working as a HR professional in reputed Org.

We are family of 3, myself in final year BE, and Mother is a homemaker and sister for whom we are looking for a groom.

We are looking for a well mannered groom .

Lifestyle and Appearance

5 ft 3 in 161 cm
Wheatish Complexion
Average Build

Non Vegetarian

Doesn't Smoke

Doesn't Drink

Education and Career
Highest Education
Bachelors
Employment Status
Full Time

Family
Family Status
Middle Class
Mother's Profession
Homemaker
Has Children Of Her Own
No

Horoscope

What She Is Looking For
Age
28 - 37

Min Height
5 ft 5 in 166 cm

Marital Status
Never Married

Mother Tongue
Kannada

Religion
Hindu

Born In
India

Country Living In
India

State Living In
Karnataka

City Living In
Mysore

Residential Status
Citizen


Profile Managed By Sibling