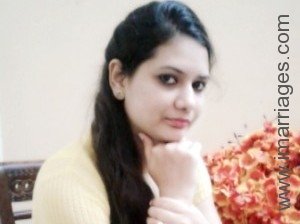 She is 32 years old
Never Married
Sikh, Sikh
Her mothertongue is Punjabi
Working in Administrative
Earning Rs.2 Lakh
Born in India
Living in Amritsar, India

In Her Words
I am a polite, soft-spoken and cool minded person who knows how to build and maintain trust and relation in a family.

We are a very close knit family in amritsar having own business of manufacturing iron goods. One sister is married to a finance manager and blessed with a baby boy. Brother is studying and younger to his both sisters. Mother is a home-maker.

He should be simple, understanding,caring and respect everyone.

Lifestyle and Appearance

5 ft 5 in 166 cm
Fair Complexion
Slim Build

Vegetarian

Doesn't Smoke

Doesn't Drink

Education and Career
Highest Education
Bachelors
Employment Status
Full Time

Family
Family Status
Upper Middle Class
Has Children Of Her Own
No

Horoscope

What She Is Looking For
Age
22 - 33

Mother Tongue
Punjabi

Religion
Sikh

Country Living In
India


Profile Managed By Sibling