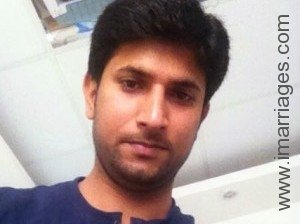 He is 29 years old
Never Married
Hindu, Brahmin, Not Specified
His mothertongue is Hindi
Working in Computers/IT
Earning Rs.6 Lakh
Born in India
Living in Begusarai, India

In His Words
I completed my B.Tech from MAIET Jaipur
In my family. There are 6 members including me. My father is a Farmer and my mother is a House wife. And my younger brothers working in CRPS and Army

About my strength. I am a hard worker and positive attitude.

My hobbies are Playing TT and carrom.


Lifestyle and Appearance

4 ft 6 in 137 cm
Fair Complexion
Athletic Build

Eggetarian

Doesn't Smoke

Doesn't Drink

Education and Career
Highest Education
Bachelors
Employment Status
Full Time

Family
Family Status
Middle Class
Mother's Profession
Homemaker
Has Children Of His Own
No

Horoscope

What He Is Looking For
Age
26 - 37

Mother Tongue
Hindi

Religion
Hindu

Country Living In
India


Profile Managed By Parent/Guardian