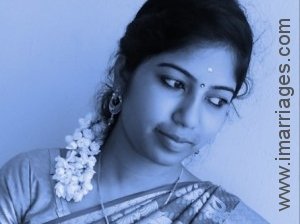 She is 27 years old
Never Married
Hindu, Marvar
Her mothertongue is Tamil
Working in Other
Earning No Income
Born in India
Living in Theni, India

In Her Words
My sister Ranjani is very soft nature girl...she respect elders always..kind hearted...sportive girl..she has completed schoolings in hometown,she has completed her ME and worked as an Assistant professor(5 years experience)....currently she is not working and living with mom and dad in hometown (Kombai).. She is interested in sports,music,drawing,dance.She likes adventures.. She love to read books...love to watch movies like horror,fantasy, animation, thriller,romantic..she like to play chess and shuttle..

We are six members in our family. My dad is an EX-ARMY man, now doing business (Travels) in hometown. My mom is a beautician. Am her elder sister got married and settled in chennai. I have 2 younger sisters and 1 younger brother. Ranjani (bride) is my 1st younger sister. She finished her ME (VLSI Design) and worked as an assistant professor (5 yrs experience).

We are expecting well educated and soft nature groom..very true to her... caring and lovable......PS:we are not ready to do business..

Lifestyle and Appearance

5 ft 2 in 158 cm
Fair Complexion
Slim Build

Non Vegetarian

Doesn't Smoke

Doesn't Drink

Education and Career
Employment Status
Not Employed

Family
Family Status
Middle Class
Has Children Of Her Own
No

Horoscope

Things She Likes
Music
Classical
Reading
Humor • Self Help • Short Story • Thriller
Film and TV
Adventure • Cartoon • Fantasy • Horror • Mystery • Romance • Thriller
Other Interests
Art • Dancing • Painting • Photography • Singing

What She Is Looking For
Age
27 - 36

Mother Tongue
Tamil

Religion
Hindu

Country Living In
India


Profile Managed By Sibling