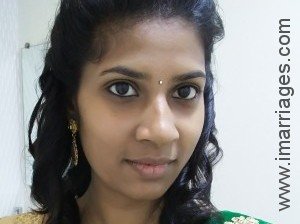 She is 27 years old
Never Married
Hindu, Other
Her mothertongue is Malayalam
Working in Medicine
Earning Rs.4 Lakh
Born in India
Living in Kasargod, India

In Her Words
I am a simple girl gives equal importance to the family and career.Currently am working at Bangalore as a Doctor. I completed my Bams graduation in Bangalore itself. And I would like to settle in Bangalore only.

We are simple and small family. We are basically from kannur district.3 years back we shifted to kasaragod.Regarding our cast, we are following siddha system.and we are pure vegetarian family. Currently dad is not employed and mom is homemaker.Brother working in Bangalore.

I am looking for a person who is not giving importance to cast. And he should give importance to family and career both.And the person should be simple, friendly and understanding nature.

Lifestyle and Appearance

5 ft 3 in 161 cm
Dark Complexion
Average Build

Vegetarian

Doesn't Smoke

Doesn't Drink

Education and Career
Highest Education
Bachelors
Employment Status
Full Time

Family
Family Status
Middle Class
Mother's Profession
Homemaker
Has Children Of Her Own
No

Horoscope

Things She Likes
Music
Dance • Easy Listening • Soft Rock
Reading
Biography • Cartoon • Self Help • Thriller
Film and TV
Action • Cartoon • Comedy • Drama • Family • Horror • Musical • Romance • Thriller
Sport
Cricket • Swimming
Other Interests
Computers • Cooking • Gardening • Painting • Photography

Photos

What She Is Looking For
Age
27 - 31

Min Height
5 ft 5 in 166 cm

Body Type
Average

Has Children Already
No

Education
Bachelors

Family Values
Moderate


Profile Managed By Parent/Guardian