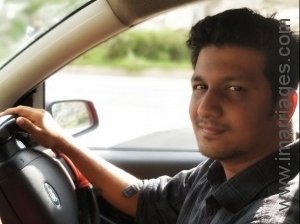 He is 29 years old
Never Married
Hindu, Brahmin, Madhwa
His mothertongue is Kannada
Working in Architecture
Earning Rs.4 Lakh
Born in India
Living in Mysore, India

In His Words
Not ambitious nither I want to conquer the world nor I want to top the billionaires list just a civil engineer/ designer working here at Mysore. I find myself INFJ type friendly, kind, carefree by nature and I've my own definition of life partner.

Nuclear Family of 4. Retired mom and dad. The younger sister who is currently working at mysore.

Religion is somewhat matters but Sanskar matters most for me, looking for someone with moderate traditional values, friendly and easygoing by nature.

Lifestyle and Appearance

5 ft 6 in 168 cm
Very Fair Complexion
Average Build

Vegetarian

Doesn't Smoke

Doesn't Drink

Education and Career
Highest Education
Associates Degree
Employment Status
Full Time

Family
Family Status
Middle Class
Has Children Of His Own
No

Horoscope

Photos

What He Is Looking For
Age
18 - 30

Mother Tongue
Kannada

Religion
Hindu

Country Living In
India


Profile Managed By Self