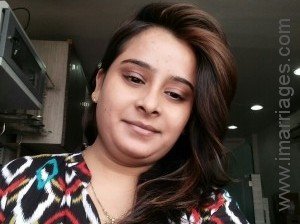 She is 28 years old
Never Married
Hindu, Rajput, Not Specified
Her mothertongue is Hindi
Working in Management
Earning Rs.2 Lakh
Born in India
Living in Vapi, India

In Her Words
I am very simple girl and loveable person i have done BBA in gujarat univercity my partner should me simple and loveable and also supportive i love my family very much and yes i will love my in laws family also and support also . I like to travel diffrent types of place and shoping etc...i have done my schooling in SHREE SWAMI NARAYN HIGH SCHOOL AND I HAVE DONE BBA IN VNSGU AT VAPI and right know i doing job in international trading form which is ATCO ENGINEER our business is in whole wind mill sector and i am specialist in industrial safety product i am handling one MNC company IN SAFETY PRODUCTS which is 3M INDIA And in wind sector i am handling two MNC company which is VESTAS GAMESA AND SUZLON IN THAT I AM PURCHASE OFFICER FOR ALL INDUSTRIAL PRODUCTS PROCUMENT IN THIS COMPANY..... I AM LIVING WITH MY PARENTS my life goal is to work in 3M as a purchase officer and my....

Thank you
Sneha sharma

My family is Very simple and loveable . In my family we are six members mom dad my two brothers my naniji and my three little sweet pets . My family is moderate and traditional also...they are very nice i love my family very much

He should be Very lovable and supportive in and sucation . He should not belive in cast matter he should be loyal and yes i will love him very much and his family i can accept every thing....

Lifestyle and Appearance

5 ft 153 cm
Fair Complexion
Average Build

Vegetarian

Doesn't Smoke

Doesn't Drink

Education and Career
Highest Education
Bachelors
Employment Status
Full Time

Family
Family Status
Upper Middle Class
Father's Profession
Management
Mother's Profession
Homemaker
Has Children Of Her Own
No

Horoscope

What She Is Looking For
Age
25 - 36

Mother Tongue
Hindi

Religion
Hindu

Country Living In
India


Profile Managed By Self