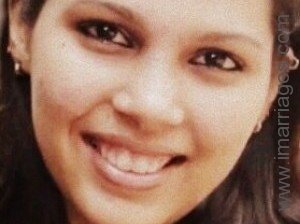 She is 27 years old
Never Married
Hindu, Khatri
Her mothertongue is Punjabi
Working in Commerce
Earning Rs.4 Lakh
Born in India
Living in Ernakulam, India

In Her Words
I would describe myself as a very simple and down to earth person who loves enjoying even the smallest things of life. I would also say I am mix of both traditional and modern values who knows to keep balance between work and family affairs. I am a postgraduate who has done Masters in Finance and Systems from Amrita School of Arts and Sciences.(2012-2014 batch). I started my career from ACS Xerox where I served for almost 16 Months (Procurement and Supply Chain). Currently I am working in Ernst and Young in Risk Management Profile. I have almost 2 and half years of work experience. I love watching lot of movies, trying out different cafes, traveling (Though did not get much opportunity to do so)and trying out different cuisines.

I come a Punjabi Khatri family which is settled in Kerala from past 24 Years. My family includes Mom, Dad, Younger sister and myself. Dad is a freelancer and is involved in Surgical Business while Mom is a Homemaker. My sister is working in a China Based Start up Firm called Hurun Report and she is also pursuing her MBA along with it. I am currently working in EY which is considered to be worlds top four Audit Firm. At home we mostly speak English and Hindi.

I am looking for partner who is qualified and knows to keep balance between work and home.I would more than happy if he comfortable with me working in the future as well.


Lifestyle and Appearance

5 ft 5 in 166 cm
Fair Complexion
Slim Build

Non Vegetarian

Doesn't Smoke

Doesn't Drink

Education and Career
Employment Status
Full Time

Family
Family Status
Middle Class
Mother's Profession
Homemaker
Has Children Of Her Own
No

Horoscope

What She Is Looking For
Age
18 - 28

Mother Tongue
Punjabi

Religion
Hindu

Country Living In
India


Profile Managed By Self