---

Compare the world's most expensive and costly weddings.
Select your preferred currency then click the celebrity names to learn more.
Said and Khadija
When Said Gutseriev, the 28 year old son of Russian oligarch Mikhail Gutseriev, and Khadija Uzhakhovs, a 20 year old aspiring dental surgeon, married in Moscow in March 2016 they celebrated with such extravagance a new category of wedding had to be defined. Forget the million dollar super weddings of the past and welcome in the new era of the hyper wedding.
With a price tag approaching $1 billion dollars, the wedding of Said and Khadjia cost almost seven times that of Prince Charles and Lady Diana. Yes, you read that right, one billion dollars, making it one of the most most expensive weddings in history.
A fleet of Rolls Royces transported 600 guests to the luxury Moscow restaurant Safisa where the lavish reception was held. Mikhail Gutseriev greeted each guest upon arrival and inside the venue they were met with walls of fresh flowers.
The bride's dress was a custom design by none other than Elie Saab and is valued at around $1 million dollars. The heavily embellished and long sleeved gown was so heavy it took several people to carry her train. Her crown is reported to have cost $5 million dollars.
The cake was a master piece which stood 12 feet high, featured nine tiers and was decorated in elaborate white icing with pink floras.
Performances by Enrique Iglesias, Jennifer Lopez and Sting kept guests entertained as did a grand fireworks display.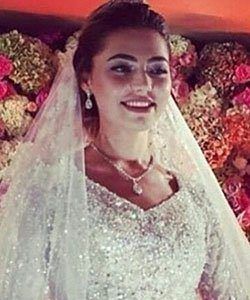 Khadija Uzhakhovs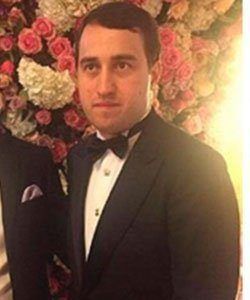 Said Gutseriev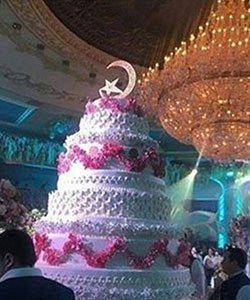 Cake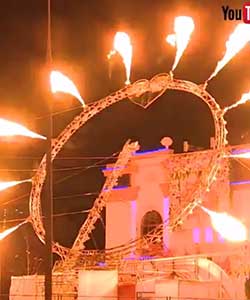 Fireworks

Charles and Diana
Billed as the wedding of the century, Charles, Prince of Wales, and Lady Diana Spencer tied the knot on Wednesday, 29th July 1981 at St Pauls Cathedral in London.
With 3 thousand guests in attendance, 2 million spectators lining streets and the matrimonials broadcast live to a global audience of 1 billion people (750 million on television, 250 million estimated on radio) it is arguably the most famous in history.
Princess Diana's wedding gown was designed by David and Elizabeth Emanuel, had 25 foot long train and was made from ivory taffeta and lace. It also features 10,000 pearls and was valued at $45,000.
Charles wore his full military dress uniform.
A number of foreign royal familys were in attendance including those from Badan, Belgium, Denmark, Greece, Japan, Jordan, The Netherlands, Norway, Romania, Thailand, Tonga, Sweden and Yugoslavia.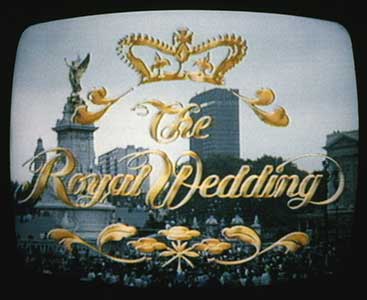 Global TV Coverage
Photo: NBC NewsWire, Getty Images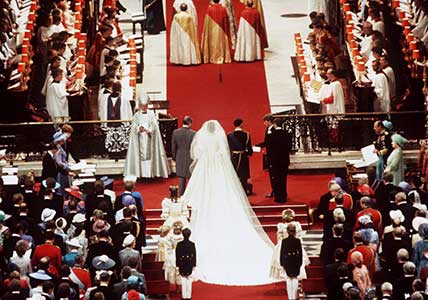 Charles and Diana Wedding
Photo: Photo: Tim Graham, Getty Images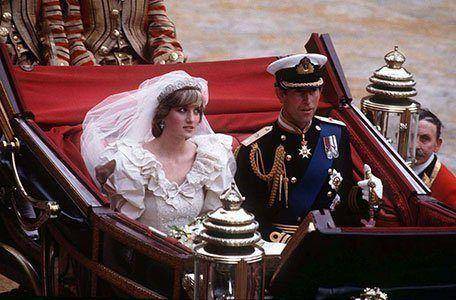 Charles and Diana
Photo: Anwar Hussein, Getty Images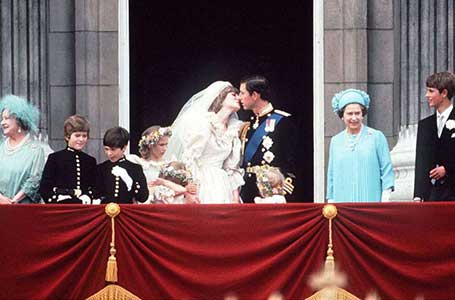 Charles and Diana - The Kiss
Photo: Tim Graham, Getty Images

The Sahara Wedding
India is known for its spectacular weddings and in 2004, Subrata Roy, the founder and chairman of the Sahara Group, hosted an extravagant affair for his two sons in Lucknow.
In a dual ceremony, Sushanto Roy and Seemanto Roy married their respective brides Richa Ahuja and Chandni Toor.
High profile Indian celebrities including Aishwarya Rai, Anil Ambani, and Mulayam Singh Yadav acted as hosts and welcomed the guests as they arrived.
The Sahara Shaher was chosen as the venue and it dazzled with marshals, torchlights, lamps and prism glasses. The seven vows of Hindu matrimony were inscribed on the pillars of the gateway.
The British Symphony Orchestra was flown over to perform both modern and traditional Indian songs whilst the guests feasted on a selection of more than 110 different cuisines from around the world.
Away from the venue, Subrata Roy funded the marriage of 101 under privileged girls and provided food to over 100,000 homeless.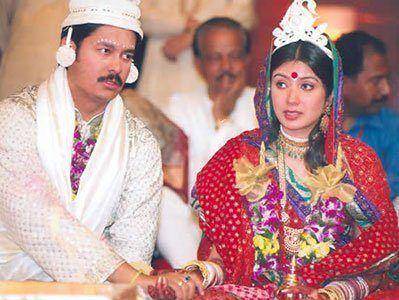 Sushanto and Richa Vows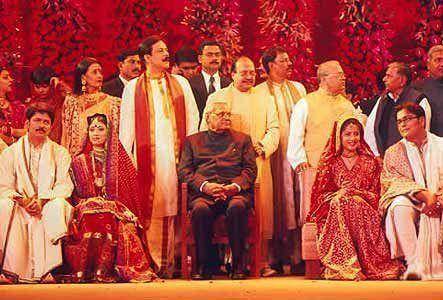 Seemanto Roy, Chandni Toor, Richa Ahuja, Sushanto Roy

Mohammad and Salama
Sheikh Mohammed bin Rashid Al Maktoum, also known as Sheikh Mohammed, is the Crown Prince of Abu Dhabi. In 1981 he married Princess Salama in a lavish seven day royal wedding. In keeping with Bedouin tradition, Salama spent the duration of the week in her room while Sheikh Mohammed visited each town in the emirate by horseback and fed the locals.
During the ceremony, camels cloaked in jewels were used to deliver gifts for Salama.
50 African and Arab song-and-dance troupes performed for an estimated 20,000 guests inside an amphitheater which was built specifically for the occasion. A bright red Mercedes was awarded to one performer for their efforts.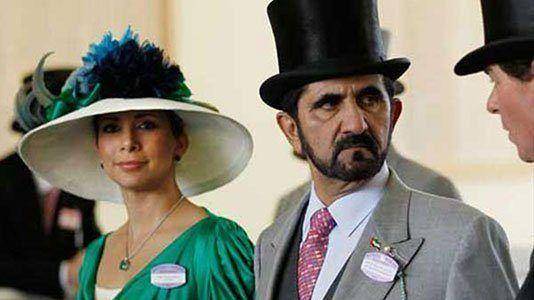 Sheikh Mohammed and Princess Salama

Amit and Vanisha
When the daughter of Indian steel magnate Lakshmi Mittal, Vanisha, married Amit Bhatia in 2004 it was an impressive display of wealth and extravagance. With an estimated cost of $98 million or 400 crore, it is the most expensive Indian celebration in history.
Vanisha and Amit looked stunning in designer outfits by Suneet Varma, Tarun Tahiliani and the Abu Jani - Sandeep Kholsa duo.
The 6 day extravaganza was held in various stunning locales throughout Paris. The Palace of Versailles was chosen for the engagement ceremony while wedding itself was at the breathtaking Vaux le Vicomte estate.
Bollywood actors and actresses including Juhi Chawla, Rani Mukherjee, Saif Ali Khan, Shah Rukh Khan and Aishwarya Rai provided entertainment. As did Australian pop star Kylie Minogue who performed a mini concert amidst fireworks at the iconic Eiffel Tower.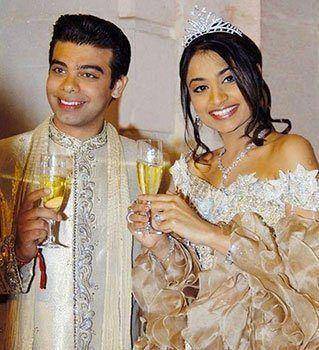 Amit and Vanisha
Photo: AP
Andrei and Aleksandra
One of the more memorable celebrations was that of Russian billionaire and founder of MDM Bank, Andrei Melnichenko and former Miss Yugoslavia Model, Aleksandra Kokotovic.
Held in 2005 in Cote D'Azur, also known as French Riviera, this lavish wedding were so over the top that it is rumored Melnichenko had a chapel in Russia dismantled, shipped and rebuilt in France.
Whitney Houston and Christina Aguilera were both flown in on private jets to perform for guests.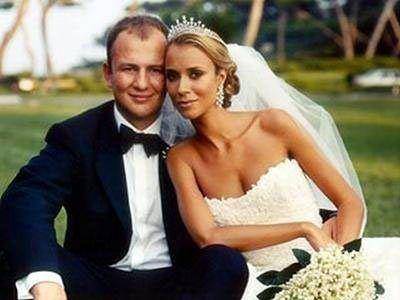 Andrei and Aleksandra

William and Kate
The royal wedding of Prince Charles and Princess Diana in 1981 was the most expensive ever seen. 30 years on and their eldest son, Prince William, Duke of Cambridge and second in line to crown, tied the knot with his long time partner Kate Middleton.
As per modern royal wedding tradition, the nuptials took place at Westminster Abbey. The guest lists were broken down into 3 parts. The first list contained approximately 1,900 people, was an invitation to the ceremony in the abbey; the second list consisted of around 600 people and was for those invited to a luncheon at Buckingham Palace; and the third list was for 300 people invited to attend a dinner hosted by Prince Charles.
Of all the guests, one of the most noteable was Seán Cardinal Brady, Primate of All Ireland. A spokesman for Ireland's Catholic bishops described the invitation and its acceptance as "unprecendented." Cardinal Brady was a key contributor to the Northern Ireland peace process and this is believed to be the reason for his invitation.
Kate wore a dress degined by Sarah Burton which was made of satin and featured an overlaid lace bodice. Her veil was made in 1936 and loaned to her by the Queen. It was originally purchased by the Queen's father, King George VI, for his wife Elizabeth. The tiara was lated given to Queen Elizabeth II for her 18th birthday.
Prince William, like his father, wore his military officer's uniform. His was an Irish Guards in Guard of Honour Order but with a forage cap.
For almost 100 years, it has been tradition for the Royal Family to use Welsh gold for the bride's ring. Kate's ring was crafted by the royal warrant holder Wartski from a small piece of gold that had been kept in the royal vaults.
Although the celebration itself was paid for by the Royal Family and the Middletons themselves, the extra public holidays are thought to have cost the economy between 1.2 billion and 6 billion pounds.
Across England and Wales, there were over 5,000 applications submitted to hold street parties to celebrate the royal wedding. Prime Minister David Cameron hosted a party in Downing Street for local children and social workers.
Across the pond and in the United States, the Empire State Building lit in the colours of the Union Flag to mark the occasion.
Prince William's work as a search-and-rescue pilot delayed the couple's honeymoon, which they did not depart on until ten days after their ceremony.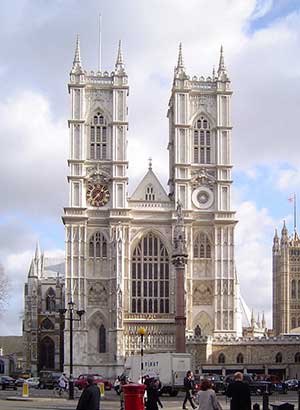 Westminster Abbey
Photo: Gordon Joly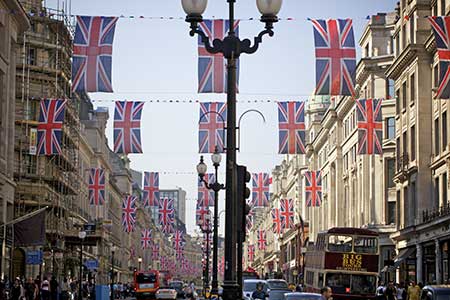 Flags on Regent Street
Photo: Flickr: Aurelien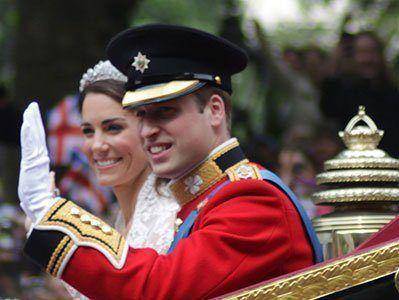 William and Kate
Photo: Flickr: Robbie Dale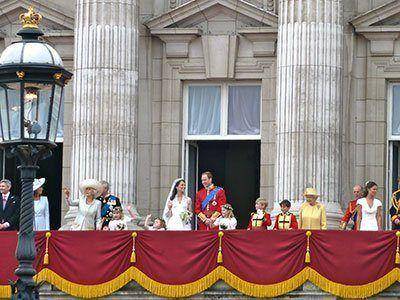 William and Kate on the balcony
Photo: Flickr: Magnus D
Huang and Angela
Angela Yang Ying is a Chinese actress and singer better known by her screen name Angelababy. Sometimes referred to as the Kim Kardashian of China, she and leading actor Huang Xiaoming held a $30 million lavish wedding ceremony in Shanghai, 5 months after they offically wed in private.
She wore a custom full length haute couture dress by Dior with a 10 foot long train which took five months and hundreds of feet of satin organza and tulle to create.
After presenting Angela with a 6 caret Chaumet diamond ring estimated to be worth more than $1.5 million, the ever charming Huang performed a staged rendition of her favorite new song - Big Bang's Fantastic Baby.
The cake which took more than a month to create, was 2.5 metres high and fashioned to look like a carousel.
Approximately 2,000 guests attended the ceremony.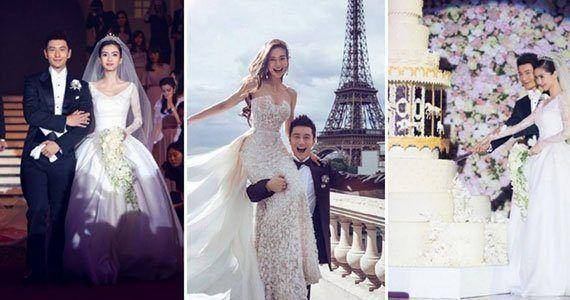 Angela and Huang

Vikram and Priya
Lasting 10 days and spread across 3 cities in India, the 2006 wedding of Vikram Chatwal and Priya Sachdev was going to be anything but a simple affair.
Vikram, is a son of Sant Singh Chatwal, the founder of the Hampshire Hotels and Resorts chain while Priya is a model, actress and former investment banker.
Chartered jets were used to fly 600 guests from 26 different countries to India for this super expensive wedding celebration. Raised in the West, Vikram had a lot of friends who had never seen India. "I really wanted to show them the country. So we started in Bombay, which is called the gateway to India, and then we moved to Udaipur and then on to Delhi."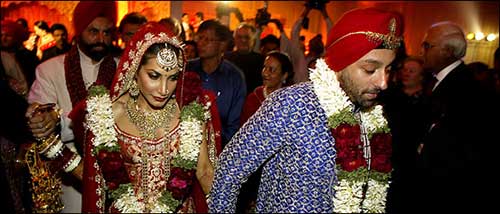 Vikram and Priya

James and Erica
In June of 2007, James Packer, one of the richest people in Australia, married Australian model Erica Baxter at the Hotel de Ville located on the French Riviera.
Erica looked stunning in a white strapless dress by Christian Dior said to have cost $100,000.
The nuptials were exchanged under a flower trimmed canopy with white floral lanterns. The reception continued late into the night with trees lit up by fairy lights while candles and lily flowers floated in the pool.
Guests were flown to France at James's expense, several of which were celebrities including Tom Cruise, Katie Holmes and John Travolta.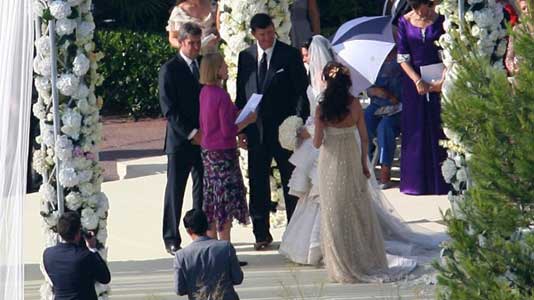 James and Erica

Kayne and Kim
Kim Kardashian, the world's most famous reality television star and Kayne West, a singer of sorts, married in beautiful Florence, Italy in May 2014.
Dressed in a custom made $500,000 Givenchy dress and wearing $40,000 Balmain heels, Kim looked spectacular. The couples 11 month old daughter wore a mini version of Kim's dress, also Givenchy.
Roughly $135,000 was spent on flowers alone to create the perfect backdrop at the altar.
To ensure that even the guests looked their best for photos, a team of hair and make-up artists were hired at an estimated cost of $65,000.
Although the spectacle cost approximately 12 million dollars, due to Kim's enormous public following, it's highly likely the couple made a profit from the ceremony by incorporating the coverage and interest with her family's reality lifestyle businesses.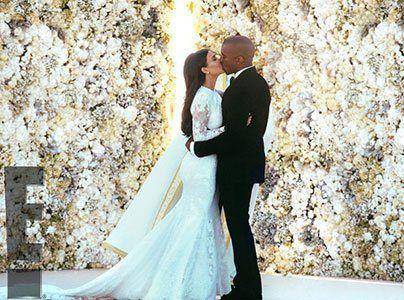 Kayne and Kim
Photo: E

Michael and Yvette
When one of the world's most famous sporting legends is going to get married, money is never going to be an object. In 2013, NBA icon Michael Jordan and Yvette Prieto, a Cuban-American model, tied the knot in a lavish wedding ceremony in Palm Beach, Florida.
Yvette's wedding dress was a French silk design by J'Aton Couture featuring an ecru palette, flesh tones and Swarovski crystals.
The reception area was filled with white roses, peonies, tulips, crystal candelabras and thousands of candles.
Over 300 guests attended the ceremony including Scottie Pippen, Tiger Woods, Patrick Ewing and Spike Lee. Usher was also in attendance and provided entertainment later in the night.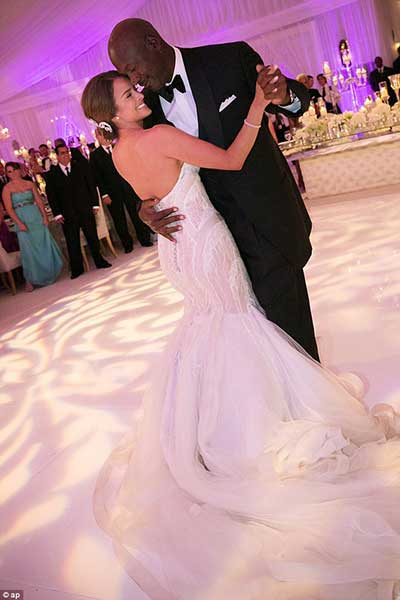 Michael and Yvette
Photo: AP

Adithya and Arathi
As the richest man from Kerala, Ravi Pillai was never going to let his daughter's celebration be a dull affair..
This expensive wedding between Dr Adithya Vishnu and Dr Arathi Pillai cost an eye watering 55 crore and had enough pomp and flair to rival most Bollywood sets.
The set, which may have been the largest in modern history, required 8 acres of land and was modeled on the royal palaces of Rajasthan.
Sabu Cyril, a famous film and arts director, led a team of hundreds to create the set. In all, it took approximately 75 days to construct.
42 global leaders attended the occasion, including the Royal Families of Saudia Arabia, Bahrain and Qatar.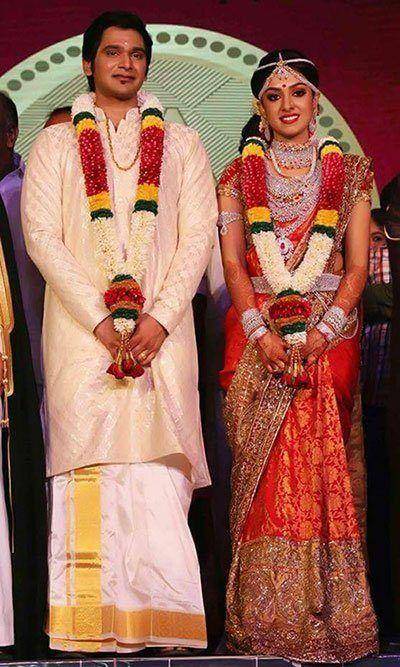 Arathi and Adithya

Alessandro and Delphine
When Alessandro Vallarino Gancia, heir to an Italian wine dynasty, and Delphine Arnault, one of the richest women in France, decided to come together in matrimony, the ceremony was always going to be an extravaganza.
Delphine dazzled in a custom designed dress by Dior.
Their vows took place on September 24, 2005, in the UNESCO listed Saint-Jean-Baptiste de Bazas Cathedral in Gironde.
The event attracted several high profile guests including the former First Lady of France. So lavish was the ceremony that it quickly gained the title of "Wedding Of The Year."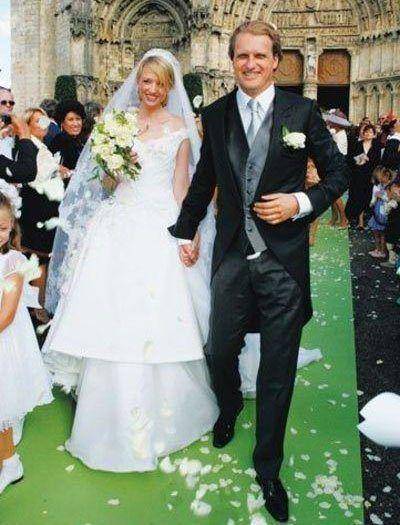 Alessandro and Delphine

Wayne and Coleen
In 2008, English football superstar Wayne Rooney and his long time girl friend Coleen McLoughlin sold exclusive access to their celebrity ceremony for a record breaking £2.5 million. This much money would be more than enough to pay for most but not this one. According to a friend, Coleen was determined to have the biggest of the year. At an estimated cost of £5 million, it was certainly one of the most expensive weddings in the world.
A small fortune was spent in the lead up alone, with multiple £50,000 lunches, £60,000 on pre-hens night trip to Miami and £250,000 on Wayne's stag in Ibiza.
Up to £100,000 was spent on rings while Coleen's dress was a £200,000 item from British designer Georgina Chapman.
With another £400,000 spent having Coleen's favorite band Westlife perform during the celebrations, one can quickly see how the cost quickly blew out to £5 million.
In addition to all of this, there was then the private jets as well as yachts, a second reception, one hundred security guards and champagne breakfasts.
As Coleen has been quoted saying, "money is there to be enjoyed."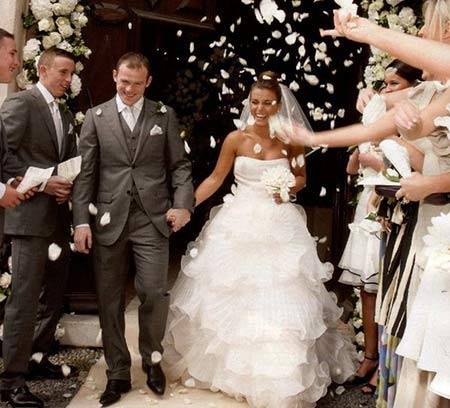 Wayne Rooney and Coleen McLoughlin

Justin and Jessica
After dating for five years, Justin Timberlake and Jessica Biel tied in the knot in Puglia, southern Italy back in 2012.
Wearing a pink dress by Giambattista Valli, Jessica walked down the isle to a song written by Justin for the special occasion.
Guests were treated to a week of festivities including fire works, bike rides and parties.
Security was of utmost paramount for Justin and was likely responsible for atleast some of the $6.6 million cost. Guests only knew they were going to be flown from the United States to Frankfurt. They did not know that once they were in Frankfurt they would then be flown to the south of Italy.
While this may sound a lot like cloaks and daggers, it was neccessary to keep the ceremony as private as possible. To prying eyes out, enourmous lights were directed away from the church. This is in addition to the many security guards outside the venue.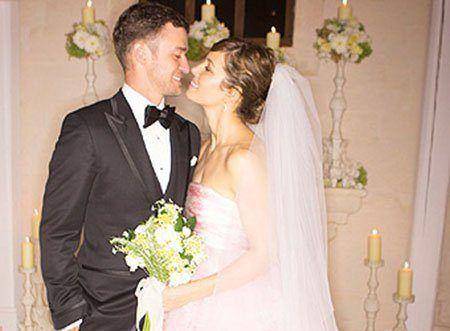 Justin and Jessica
Photo: People

Marc and Chelsea
Chelsea Clinton, the daughter of politcal juggernauts Bill and Hillary Clinton, married her long time boyfriend and investment banker partner Marc Mezvinsky, in a lavish 2010 ceremony.
Held in Rhinebeck, New York, the ceremony was an extremely private affair with little to no celebrity appearances. President Obama was also notably absent.
Because Chelsea is a Methodist and Marc is Jewish, the couple had their marriage co-officiated by both a reverend and a rabbi. Four years later, Yariv Levin, a member of Benjamin Netanyahu's Likud party in Israel, attacked the interfaith marriage and suggested it should be condemned by American Jews. As 2016 is an election year in the United States and Chelsea's mother Hillary, a democrat, is running for president, one may wonder if Mr Yariv's remarks are more politically than religiously motivated.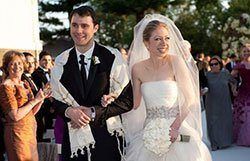 Chelsea Clinton and Marc Mezvinsky
Photo: Barbara Kinney/EPA

David and Liza
In arguably the most star studded and expensive wedding of 2002, Liza Minnelli tied the knot for the fourth time to producer David Gest.
The groomsmen? None other than the Jackson Five. Matron of honor? Elizabeth Taylor.
Natalie Cole sung her late father's classic song Unforgettable as the king of pop, Michael Jackson, walked Liza down the aisle.
In total, over 500 guests attended the ceremony which was held at the Marble Collegiate Church in New York, including Queen guitarist Brian May, Stevie Wonder, Liam Neeson, Joan Collins, Mia Farrow, Kirk Douglas and Anthony Hopkins.
Several toasts were made to the bride and groom with the first by Michael Jackson - "I am a man of few words, but here's to the bride and groom."
A 60 piece orchestra played while waitresses distributed red heart-shaped boxes full of hand made chocolates to each and every guest.
The cake was a sponge design standing 6ft high. Most of the guests missed the cutting ceremony however, as they were busy dancing to Brian May, The Doobie Brothers and the Imperials.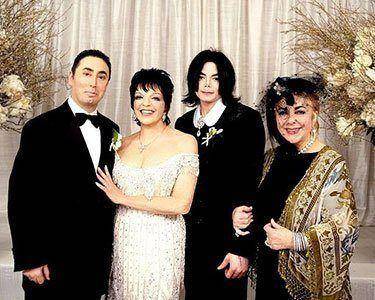 Liza Minnelli and David Gest

Larry and Elizabeth
When Elizabeth Taylor married Larry Fortensky in 1991, it was the eigth time she had walked down the aisle.
Hosted by Michael Jackson at his famous Neverland Ranch in California, their nuptials attracted more media coverage than any other in the history of Hollywood. In fact, the media were a spectacle in themselves. One paparazzo went so far as to parachute into the ceremony, shocking guests and landing only 20 feet away from Taylor and Fortensky.
This was certainly one to remember and those lucky enough to attend included Twentieth Century Fox head Barry Diller, Diane Von Furstenberg, Brook Shields, Eddie Murphy, Macaulay Culkin, Liza Minnelli, Nancy Reagan, Merv Griffin, Arsenio Hall, George Hamilton and Quincy Jones. Then President Ronald Reagan was also to attend but was unable to due to other committments.
Elizabeth donated the proceeds to the ETAF, a charity started by her to raise awareness and fight the spread of HIV/AIDS. The organization also provided assistance to those already living with the virus.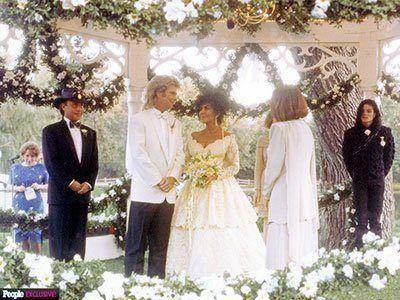 Elizabeth Taylor and Larry Fortensky
Photo: People

Paul and Heather
Beatle Paul McCartney and Model Heather Mills met in 1999 at a charity event in London. Two years later Paul bent his knee and proposed with a $40,000 diamond and sapphire engagement ring. Heather as we know said yes but later lost the expensive ring. It was found sometime later on a golf course.
The following year they married at Saint Salvator's Church at the Castle Leslie in Ireland.
Heather wore a custom ecru lace dress by Eavis and Brown. Being a Beatle, Paul is pretty good at writing music and for their special day, he wrote a song aptly named "Heather" which was played as she walked down the aisle.
Around 300 guests attended the feast which included Indian dishes, black Guinness Stout and vintage champagne. Fireworks capped off the event.
Those who joined Paul and Heather in celebrating their love included Ringo Star, Sir George Martin, Eric Clapton, Sir Elton John, Chrissie Hynde and Twiggy.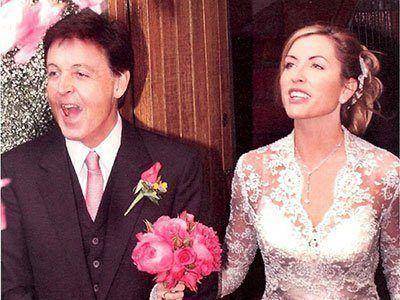 Paul and Heather

Jr N.T.R and Lakshmi
Jr. NTR, one of the biggest stars in Tollywood, wed Lakshmi Pranathi Nandamuri in what was an arranged marriage on 5th May 2011.
Little was known about Lakshmi before their engagement was announced and she was only 18 years old when the marriage took place. Her mother is niece to Chandrababu Naidu who just happened to arranging this match.
The ceremony which was held at the Hitex at Madhapur in Hyderbad, was an enormous affair. Thousands of fans waited outside the venue, hoping to catch a glimpse of their hero. A royal theme was chosen with the colours purple and gold.
Award winning art director Anand Sai was enlisted to design the elaborate sets. More than one hundred people worked day and night for weeks to build the sets and to ensure the decor was flawless. The mandapam was a staggering one hundred and sixty feet tall!
All in all, fifteen thousand (yes 15,000) guests attended this spectacular event.
Words cannot do this celebration justice so we will leave that to some of the photos below.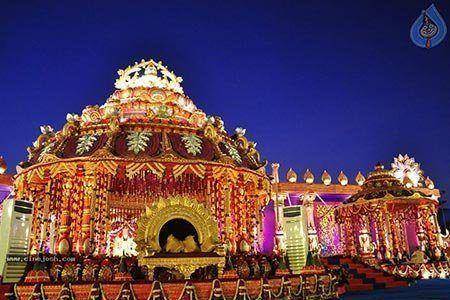 The Stage
Photo: Cinejosh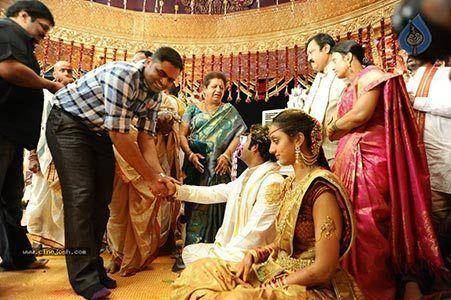 Jr. N.T.R. and Lakshmi
Photo: Cinejosh

Arun and Elizabeth
When NRI businessman Arun Nayar and actress Elizabeth Hurley decided to marry in 2007, there was the coming together of religions that would span two continents.
Beginning at the chapel inside Sudeley Castle, western England, the pair took part in a Christian ceremony. Elizabeth wore a traditional white Versace dress with a Chopard diamond tiara and walked down the aisle while her teary eyed groom watched on. Rev John Partington blessed the couple.
The English Christian ceremony was attended by designer Donatella Versace, actor Hugh Grant and singer Sir Elton John. Elton gave a speech during the ceremony which Elizabeth says bought her to tears.
Only days after the Christian ceremony, the couple flew to India for a traditional Hindu ceremony.
No expense was spared for the final ceremony which was held at the Umaid Bhawan Palace in Jodhpur. Elizabeth wore a traditional Indian dress, pink in color and designed again by Donatella Versace.
Meherangarh Fort hosted a candle lit reception which featured performances by fire eaters, musicians and dancers.
The end of festivities were marked by a magnificent fire works display.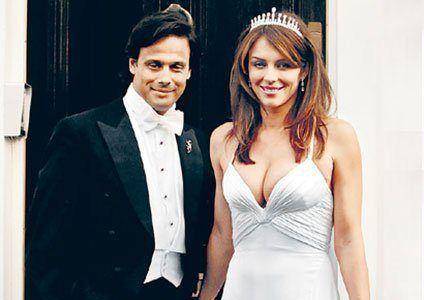 Arun and Elizabeth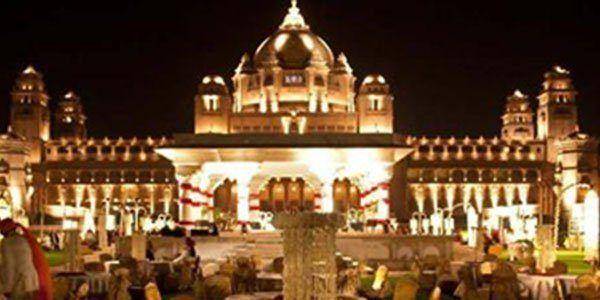 Umaid Bhawan

Tom and Katie
When one of the biggest and most controversial movie stars in Hollywood get married, the wedding is going to be anything but ordinary. On the 18th of November 2006, Scientologist Tom Cruise tied the knot with fellow Hollywood star Katie Holmes.
The guest list for the lavish wedding which was held at the fifteenth century Odescalchi Castle in Italy, consisted of the who's who of Hollywood, including Will Smith, Brooke Shields, John Travolta and Jim Carey. Oprah Winfrey however, was famously excluded.
Katie's dress was a delicate, white off-the-shoulder custom design by Georgio Armani, covered in Swarvoski crystals and trimmed with tulle and lace.
Scientologists have traditionally been very secretive about their religious practices, however it is believed that their a Scientology ceremony is very similar to a traditional western ceremony with vows, rings, bridesmaids and white dresses.
Like a scene out of Top Gun, Tom serenaded his new wife with the song "You've Lost That Loving Feeling." Guests feasted on a four course meal which included steak and sea bass, before indulging in the five-tier chocolate cake.
A fire works display over the castle marked the end of festivities.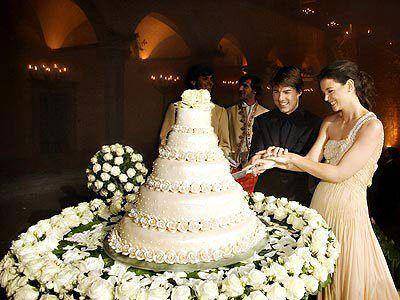 Tom and Katie
Photo: People!

Geoffrey and Brynne
Geoffrey Edelsten is one of the most polarising and controversial figures in Australia. In 2009, the celebrity doctor and businessman married Brynne Gordon, a bartender who is 40 years his junior.
Approximately 500 guests were invited to the celebration, hosted at the Crown Casino in Melbourne, Australia.
Jason Alexander who rose to fame as George Constanza in the hit series Seinfeld, was paid to perform MC duties. He also featured alongside The Nanny's Fran Drescher in a mini movie which told the story of how Geoffrey and Brynne met. Hiring two Hollywood A-listers to star in your very own mini drama could not have been cheap, making this among the most expensive weddings ever in Australia.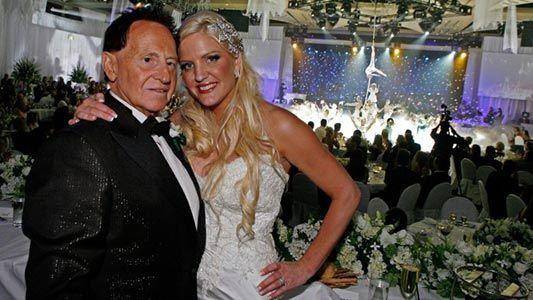 Geoffrey and Brynne

Eddie and Nicole
Actor and comedian Eddie Murphy met Nicole Mitchell at an awards show in 1988. After living together for two years, the couple tied the knot at The Plaza Hotel in New York on the 18th March 1993.
Nicole's dress was a white silk, low cut and off the shoulder design, with French Alencon lace and rosettes. She wore a Cathedral tulle veil which featured Belgian embroidery and was embellished with Austrian crystals and pearls.
The song Don't Give Up On Love, which Eddie had performed on his Love's Alright album, was played as Nicole walked down the aisle.
The ceremony itself took less than 20 minutes and when the minister asked if anyone objected to the marriage, Eddie glared at the guests which caused much laughter.
Approximately 500 guests attended, including Bill Murray, Bruce Willis, Demi Moore, Prince, Quincy Jones, Chris Rock, Queen Latifah and Robert Townsend. On the menu was shrimp with cocktail sauce, lobster with sliced turnips and red bell pepper, Chicken Nicole, Russian blinis crepe and Cristal champagne.
After, the many flowers that were used to decorate the reception were collected and donated to patients at a Harlem hospital.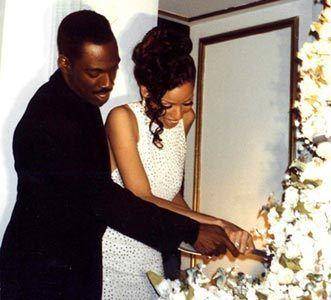 Eddie and Nicole
Photo: Globe

Jordan and Christina
Popstar Christina Aguilera and long time boyfriend Jordan Bratman married back in 2005 at the Staglin Family Vineyard in California.
The San Francisco Symphony played while 130 guests watched the groom walk down the aisle in a custom made Christian Dior tux. Christina entered a short time later and as she walked alone down the aisle, a choir sang the Morning Hymn. Rather than a bouquet she held three single red roses.
Vows were exchanged under a gold chuppah wrapped in lilies, roses and hydrangea. After the couple exchanged bands, the ceremony was ended with the Jewish tradition of breaking glass.
Christina selected a winter wonderland theme for the reception which was held in a adjoining tent. The room was filled with over one hundred birch trees as well as silver candles and crystal shards. To complete the winter theme, each table was covered in white faux fur.
After the newly weds enjoyed their first dance, the guests which included actress Sharon Stone, joined them on the dance floor. Christina took to the stage and performed "At Last" for her new husband.
The guests then relocated to a underground wine cellar which was turned into a disco, with DJ and red velvet walls, where they continued to party until the early hours of the morning.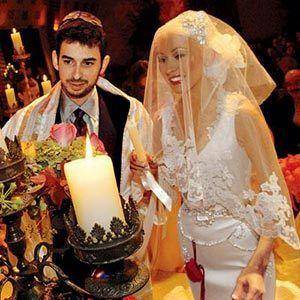 Christina and Jordan

Saif and Kareena
Interfaith couple Saif Ali Khan and Kareena Kapoor dated for five years before deciding to marry in October 2012. With both Saif and Kareena being Bollywood heavy weights in their own right, a ceremony that is less than spectacular would not be acceptable.
Their crazy expensive wedding lasted for an entire week, and was kicked off with a grand Sangeet ceremony hosted at Kareena's own Bandra residence. In attendance were close friends Amrita Arora, Tusshar Kapoor, Shakeel Ladak and Malaika Arora Khan. The evening included dancing, music and masti.
The glorious Taj Mahal Palace Hotel in Mumbai was selected for the Mehendi Ki Raat. Kareena wore a pink saree while Saif selected a tuxedo. Vows were exchanged at the Taj Mahal Palace Hotel before a the formal marriage registration papers were signed at Saif's residence.
Over 150 specially selected guests attended an after marriage celebration dinner, including Shah Rukh Khan and his life partner Gauri, Karan Johar, Priety Zinta and the extended Kapoor and Khan familys.
The Dawat-e-Walima, a traditional Muslim ceremony, took place in cream and gold bungalow which was decorated with brass hanging diyas, antiques and floral decors.
After five days of celebrations, the tired but ecstatic couple visited Ibrahim palace where Kareena was welcomed into her new family.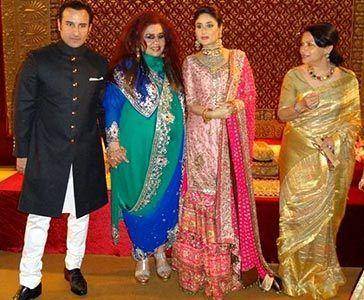 Kareena and Saif

Guy and Madonna
Madonna, easily the biggest female pop star of modern times, and Guy Ritchie, a English filmmaker, wed in December 2000 at Skibo Castle in the Highlands of Scotland. The castle is situated on a 7,000 acre estate and the couple booked out all 51 rooms for five days.
The ceremony itself was a rather intimate affair, with only 55 guests in attendance. Those invited included Brad Pitt, Sting, George Clooney, Gwyneth Paltrow and Robin Williams.
The procession began when Madonna's 4 year old daughter, Lourdes, entered the castle's great hall. French pianist Katia Labeque played the organ as Madonna walked down the aisle.
Stella McCartney created Madonna's dress, which was made from ivory silk and featured a fitter corset and long train. Guy wore a teal blazer and Mackintosh tartan kilt.
Prior to the vows being exchanged, Sting performed the song Ave Maria. The drawing room was chosen as the location for the reception, where guests drank champagne and gave toasts to the newlyweds.
The party then moved to the castle's oak lined dining room. Meals consisted of Angus beef, salmon, mussels, red cabbage and langoustine. A traditional Scottish band performed while guests ate.
Once dinner was complete, a disco was held in the castle's basement.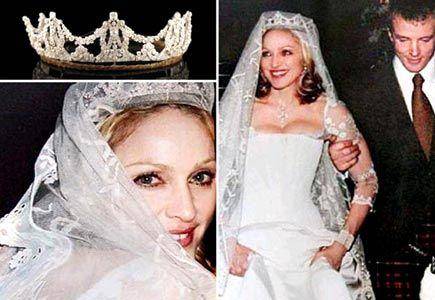 Madonna and Guy

Tiger and Elin
When Tiger Woods married Elin Nordegren in 2004, he was ranked the number one golfer in the world. In the following year, he would go on to win a record breaking four majors in a row. Being one of the greatest golfers in history comes with a few perks, not least of which is the ability to organise an almost $2 million spectacle for you and your bride.
The Sandy Lane Resort in Barbados was chosen as the venue and to ensure privacy, Tiger hired out the entire resort for the week leading up to the big day. The ceremony took place at sunset on the resort's beach, under a pagoda decorated in approximately 10,000 black magic roses. Over 120 guests were in attendance to witness Tiger and Elin exchange their vows, including Bill Gates, Oprah Winfrey and Michael Jordan. You know you're special when Bill Gates, the former richest man in the world, takes time out to attend your nuptials!
Elin wore a custom made, off white sleeveless dress with a scoop neck while Tiger selected a beige suit which contrasted well with the beach setting.
After the vows were exchanged, guests were treated to seafood banquet which included caviar and imported Scottish salmon.
Entertainment for Tiger and Elin's special occasion included a show by the band Hootie and The Blowfish as well as a beach fireworks display.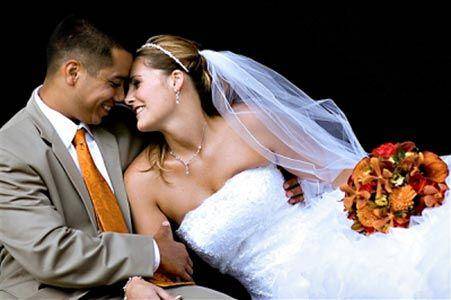 Tiger and Elin

Michael and Catherine
Hollywood A listers Michael Douglas and Catherine Zeta-Jones married in November 2000 at The Plaza Hotel in New York.
Goldie Hawn, Meg Ryan and Jack Nicholson joined over 300 other guests in witnessing Michael and Catherine exchange vows on a raised platform, surrounded by gardens of larkspur and lady slippers.
Catherine, one of the most beautiful and elegant ladies in Hollywood, looked stunning as she walked down the aisle with her father by her side. She wore a custom, v-necked white dress and a diamond tiara. Michael wore a black and white tuxedo with a white bow tie.
The reception was held in the Grand Ballroom where guests were greeted with a 20 foot magnolia tree, decorated with almost 1,000 tulips. Violinists played while guests dined on Welsh lamb, terrine of foie gras and clam chowder.
The cake which consisted of 10 tiers and stood more than 6 feet high, had to be assembled inside the room as it would not fit through the doors when complete.
Art Garfunkel and Bonnie Tyler later entertained the guests with live performances.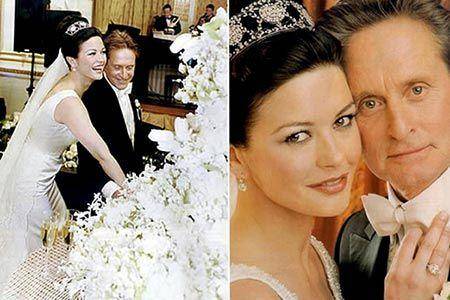 Michael and Catherine

Elton and David
Musician Sir Elton John married his long time partner David Furnish on December 2014, after same sex marriage was finally legalized in the United Kingdom. The pair had been in a civil partnership since December 2005 and the date was chosen to coincide with their 9th anniversary together.
Joining the couple for the ceremony at their home in England were David Beckham, Hugh Grant, Elizabeth Hurley, David Williams and Ed Sheeran.
After the vows were exchanged, it was time for the reception and lunch. Guests dined on ribs and mushroom soup with cake and chocolate pudding for dessert.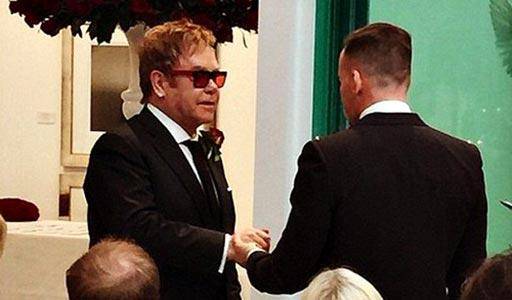 Elton and David

Brad and Jennifer
Hearts the world over were broken when Hollywood super star Brad Pitt married Jennifer Aniston in Malibu, California, on the 29th of July 2000.
Producer Marcy Carsey hosted the affair at his estate which overlooked the ocean. More than two hundred friends and family attended the ceremony, including fellow Hollywood stars Edward Norton, Salma Hayek, Courtney Cox and Cameron Diaz.
As guests waited for the ceremony to begin, a string quartet played classical music while waiters served iced tea.
The ceremony began on sunset with a 40 piece gospel choir singing Al Bowley's hit song Love Is The Greatest Thing as Jennifer walked down the aisle.
Jennifer wore a glass-beaded silk and satin dress by Lawrence Steele, with ivory suede heels and a Swarovski crystal crown. Brad wore a custom black tuxedo made by Hedi Slimane.
Guests moved to the lawn for the start of the reception where they were entertained by Latin jazz band Gypsy Magic. Toasts were made with Dom Perignon wine as shrimp and mini pizza appetizers were served.
Dinner was held under a tent, decorated with thousands of brown sugar candles imported from Thailand. Each table featured a floral centerpiece consisting of roses, tulips and wisteria. Guests were offered a choice of lobster, risotto, pasta and peppercorn beef. The six tier white frosted cake was served as dessert.
After dinner, the guests were entertained with a fireworks display.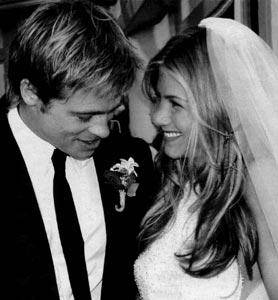 Brad and Jennifer

Abhishek and Aishwarya
Bollywood power couple Aishwarya Rai and Abhishek Bachchan married on the 19th of April 19, 2007. They had met 10 years earlier but only started dating a year or two prior to deciding to marry.
Following with tradition, the couple sought the council of an astrologist who tested their Janam Kundali for compatibility. A Manglik problem was detected with Aishwarya but fortunately she was able to counteract this by undergoing rituals prior.
Drama preceded the wedding which was hosted at the Bachchan residence, with actress Jahnavi Kapoor allegedly attempting to commit suicide outside only hours before the ceremony began. She claimed Abhishek was already in a relationship with her and that she could not bare his marriage to Aishwarya. Abhishek denied the allegations and Jahnavi thankfully recovered in hospital.
Because of the controversy, the couple decided to have a simple, low key, traditional Mangalore ceremony. In attendance was Anil Ambani, Amar Singh, Kajol, Sanjay Dutt and Bal Thackeray.
Aishwarya chose a red bridal saree, which featured an ornate gold border. She complimented the saree with Golden bangles and a traditional Mangalore Gajra.
Abhishek's outfit was crafted by a master weaver in Varanasi using only the finest Chaodani fabric.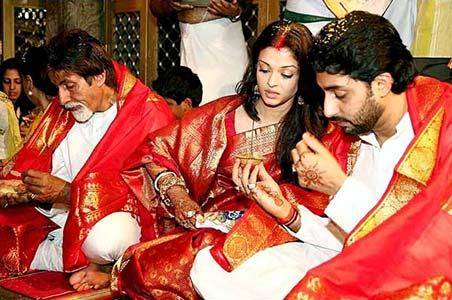 Aishwarya Rai and Abhishek Bachchan

Donald and Melania
Donald Trump and Melania Knauss got engaged in 2004 and were married on January 22, 2005, at The Episcopal Church of Bethesda-by-the-Sea in Palm Beach, Florida. The ceremony was followed by an extravagant reception inside a 17,000-sq.-ft. ballroom built at Mar-a-Lago, Trump's Palm Beach, Florida resort.
The Trumps' wedding ceremony and reception was widely covered by the media. The guests included Bill and Hillary Clinton, Today show hosts Katie Couric and Matt Lauer, former New York City mayor Rudy Giuliani, and television personalities Star Jones, Barbara Walters, Regis Philbin, Simon Cowell and Kelly Ripa.
Melania wore a $200,000 dress designed by John Galliano of the house of Christian Dior for the ceremony. Making of the white duchesse dress required nearly 300 feet of material and featured a 13-foot train and a 16-foot veil. It involved 1,000 hours to make and 550 hours to hand-stitch more than 1,500 crystal rhinestones and pearls in a swirl pattern. Their reception included one of the most expensive cakes in history (second to William and Kate's).
The seven-tiered Grand Marnier chocolate truffle cake was five feet tall, 200 pounds, and covered with 3,000 white icing roses. Guests dined on steamed shrimp salad, beef tenderloin, caviar, lobster rolls, Grand Marnier chocolate truffle cake and Cristal champagne.
At the end of the meal, singer Billy Joel serenaded the crowd with "Just the Way You Are" - and made up lyrics about Trump to the tune of, "The Lady is a Tramp."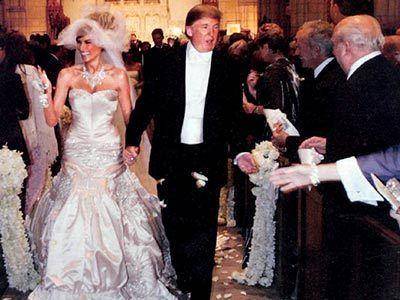 Donald and Melania

Riteish and Genelia
Riteish and Genelia, tied the knot on February 3, 2012. Riteish Deshmukh is a Maharashtrian Hindu, while Genelia D'souza is a Mangalorean Catholic. Their expensive wedding saw a beautiful amalgamation of both the traditions right from the pre-wedding bash to the ceremony itself. Riteish and Genelia's marriage is one of the best examples of a perfect inter-faith love marriage, where both the families gave equal respect to each other's traditions and rituals.
Riteish and Genelia had two celebrations. The first happened in Maharashtrian-style at the Grand Hyatt Hotel, on February 3, 2012. Amidst friends and well-wishers, the couple went through all the traditional Maharashtrian rituals.
Riteish was dressed in a white Sherwani and rode in on a horse, with friends and relative accompanying the procession danced to Marathi tunes. Genelia was dressed in a red and gold bridal saree, designed by Neeta Lulla. Her look was complete with a nath and a pearl chain on the forehead, which made her look no less than a traditional Marathi bride. The ceremony progressed in a typical Marathi style.
The Deshmukhs reciprocated the D'Souza's appreciation of their culture by indulging enthusiastically in a Christian wedding that was held at St. Ann's Roman Catholic Church, in Bandra. Genelia wore a white gown. Holding a bouquet of traditional white roses, she walked down the aisle with her dad, as Riteish, looking dapper in a bow-tie suit, waited for his beautiful bride at the altar. The couple exchanged vows and their marriage was solemnised by the catholic priest.
The Christian wedding was infused with cultural elements, including celebrative dances. After the ceremony, there was a small reception where the newlyweds cut the traditional multi-tier white cake. Towards the end, friends lifted the couple on chairs and carried them around dancing to the tunes of English melodies.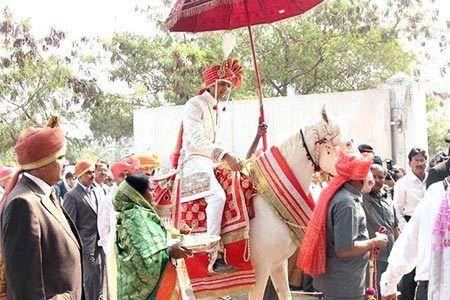 Riteish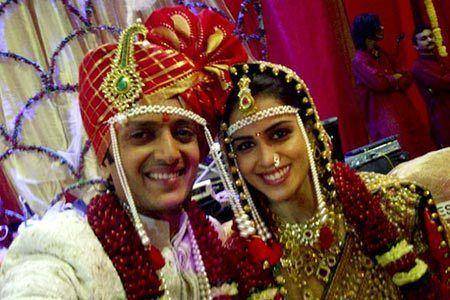 Riteish and Genelia