Hindu Matrimony: Eight Types of Marriage
by Abby Lee, 17 July 2010
In ancient India, mythology and historical records show that there are eight different types of Hindu marriages. However, not all followed a religious sanction; they were recognised by many communities that followed Hinduism. It is still arguable that a lot of them can be seen among Hindus today.
There are eight types of Hindu matrimonies, these are; Brahma, Daiva, Arsha, Prajapatya, Gandharva, Asura, Rakshasa and Paishaca.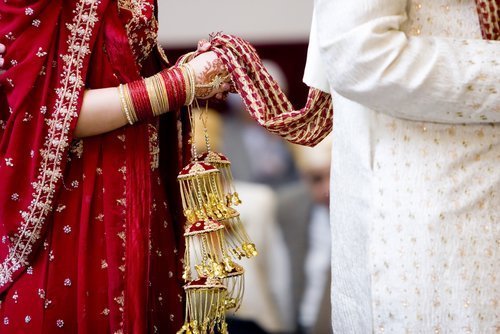 A Brahma marriage is where a boy is able to get married once he has completed his student hood, or Brahmacharya. Brahma marriage has the most supreme position of the eight types of Hindu matrimony. When the parents of the boy seek for a female, they would consider her family background, but the girl's father would make sure that the boy that wishes to wed his daughter had the knowledge of Vedas. It is these things that make the basis for Brahma marriage, not a system of dowry.
Looking for a Reddy matrimony partner?
The type of marriage that is considered inferior because it is degrading to womanhood is Daiva marriage. This is where the woman's family will wait for a specific time to get her wed. If she doesn't get a suitable groom, then she would be married off to places where sacrifices are conducted.
An Arsha marriage is where the girl is married to the sages. The bride will be given in exchange for two cows. Because it is cows that are given in exchange of the bride, it shows that the groom does not have any special qualities. A noble marriage has no business transactions, or monetary, so therefore an Arsha marriage is not considered as a noble matrimony.
Unlike in Brahma marriage, Prajapatya matrimony is where the bride's father goes in search of a groom, although this isn't considered as good as the grooms parents searching for the perfect bride. Also, unlike Arsha marriage, monetary transactions are not a part of the Prajapatya marriage.
When it comes to "love" marriage, it is Gandharva marriage that is the most similar. This is where a groom and his bride will wed without their parents knowledge. However, it is not correctly considered as a type of marriage because it does not have the consent of the parents.
It is Asura marriage that sets itself apart from the other types of marriage. This is a matrimony where the groom is not in the slightest bit compatible with the bride, what is compatible is that the bride's father likes money and the groom is happy to surrender his own wealth. In modern times this type of marriage isn't entirely acceptable because it is much like buying a product off the shelf.
A Rakshasa marriage is much like a fairytale. The groom will forge battles with the bride's family, overcome them and carry the bride away to convince her to marry him. Because of the forcible methods used in this marriage type, it is not considered right. A girl should not be wooed this way to tie the wedding knot with a groom.
Paishaca marriages are the last type of Hindu matrimonies. In this marriage type the bride's wish is not even considered, and it is because of this that is considered the most inferior marriage type. The female will be forced to marry when she is not willing to marry the groom chosen for her. Not to mention, the bride's family is not even given anything in trade, or any cash for their daughter. Against her wish, she is seized and the man would marry her, a woman whom he had seduced while intoxicated, asleep or insane. It is understandable why this type of marriage has been prohibited.
It is apparent that a lot of these types of marriage are still seen in Hinduism communities today. However, there are some that have been prohibited or are heavily frowned upon. This article has taken a look into the eight different types of Hindu matrimony, but, the most acceptable for Hindu culture would be Brahma. What type of marriage are you looking for?
---