How To Convince Parents For Intercaste Marriage
by Ayesha Jain, 23 October 2012
Dating is a relatively new concept in India and to those with traditional beliefs, it is considered taboo. They believe that a relationship is something that should be negotiated between families of the same caste, in other words an arranged marriage. Others believe that dating is acceptable so long as the couple involved are within the same caste. But what do you do if you find yourself in love with someone outside of your caste? What if you are in love with someone who isn't even an Indian? With the emerging popularity of dating in India, the caste problem is becoming more and more common.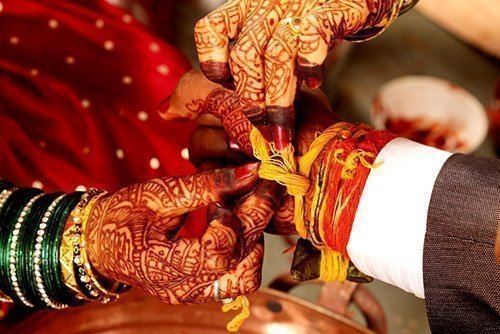 If you are dating outside of your caste, chances are there will be some within your family who do not approve of your relationship. You need to acknowledge this and try to understand their point of view. For generations, Indian marriages have been arranged and have almost always been within the same caste. The people who disapprove of your relationship will most likely be from a previous generation. Start by imagining how Indian society was when they were growing up. If you think a inter-caste relationship is difficult today, you can bet it was twice as hard, if not impossible back then.
Let's forget for a minute the reasons and ideals behind same caste relationships and pretend things are black and white. That is, intra-caste relationships are good whilst inter-caste relationships are very bad. Repeat this out loud to yourself ten times: "same is good, different is bad." This is not a rule that these people have created themselves. For their entire life, even before you were born, they have been taught and made to follow this rule. It is all they know and all they believe - same is good, different is bad.
By now you should have come to the realisation that changing their opinion is going to be a hard task. Try not to become angry or frustrated with them. Being angry or yelling at them will only make things worse and will probably destroy any chance you may have had at getting them to approve or at least accept your relationship.
The people you most need approval from are your own parents. Before you seek their approval, you need to stop and consider the relationship itself.

How important is it to you?

How strongly do you really feel for your partner?

Do you truly wish to spend the rest of your life with them?

Presenting a inter-caste relationship to your parents may upset them. You must believe that this person will be your life partner. Do not proceed with the relationship if you have any doubts.
If you decide this person is your life partner then you must prepare yourself before you discuss the relationship with your parents. Put yourself in your their shoes and spend a few hours or even days anticipating the concerns they may have. As you think of a concern, write it down and create a list. After you have thought up all the possible concerns your parents may have, review the list and prepare a counter argument for each.

The following examples may help:

Example Concern #1: Inter-caste relationships always end in divorce

Example Answer #1: This is not true. Aunty Aishwarya and Uncle Ajith have been happily married for 20 years. Their children are healthy and successful.

Example Concern #2: Partner's family are of a lower caste and will beg for money.

Example Answer #2: Your partner has a good job and will never require financial support. Their family is also successful and wealthy.

Example Concern #3: Partner is not a strict vegetarian. Religious beliefs state that he must be.

Example Answer #3: Your partner has pledged to change their life style and diet. They will become a strict vegetarian.

Preparation is everything. The worst thing you can do is to confront your parents without adequate preparation and ending up in an emotional debate. That is something you will not win. Be calm, honest and respectful. As your parents raise their concerns, provide them with your pre-planned response. Research and provide evidence where possible.
In marriage there is the joining of family. Speak highly of your partner, their family and their accomplishments. Often your parent's biggest concern will be that of your partner and their family's standing in society. They will worry that your partner's family will bring shame and embarrassment to your own family name. You must convince them otherwise. Prove that your partner's family is held in high esteem.
Eating habits can also be a cause of conflict as the choice of diet is often based upon religion and/or other beliefs. If your family are strict vegetarians and your partner is not, you will most likely need to convince your partner to change their diet. Additional problems may occur at combined family events. Your partner and you will need to find a solution. Otherwise, what will happen if his family hosts an event and serves meat to your strict vegetarian parents?
While you are caught up worrying about obtaining your own parent's approval, it can be easy to forget that your partner must also seek approval from their parents too. It is important to be flexible. In the example above, your partner had to change their diet and become a strict vegetarian. They did their part and now you may need to make changes to your own life style to satisfy your partner's family.
This of course, will not be a problem if you truly love your partner. It must be said, that even if you both pledge to make changes to your life styles in order to satisfy the beliefs of both families, the first years of your relationship will have it's challenges. People will judge you and some will denounce you. Others will go so far as to refuse to speak to you. However, in time most people will learn to accept the relationship.
It's worth noting that the caste system is on the decline. The reason for that is simple - brave Indians are no longer accepting of the discrimination that the caste system represents. They are removing the shackles and proving to the world that inter-caste marriages are acceptable. And it is thanks to those brave few that future generations will grow up in an India where love may exist without restriction and without boundary. The generations of tomorrow will look back and say thanks.
In ending, you can bet that your inter-caste relationship will have its challenges but if you are true to each other, love will prevail. And in the process you will be helping change India for the better.
Update:
Every since we wrote this article back in 2012 we have received a lot of feedback. Some negative but mostly positive. We are now very pleased to announce that the Indian Government is now onboard with our initiative to promote inter-caste marriages. Infact, if you are involved in a inter-caste relationship you maybe eligible for benefits from the government. Do check it out.
---