Bridal Makeup
by Sindhu Jayaprakash, 28th September 2017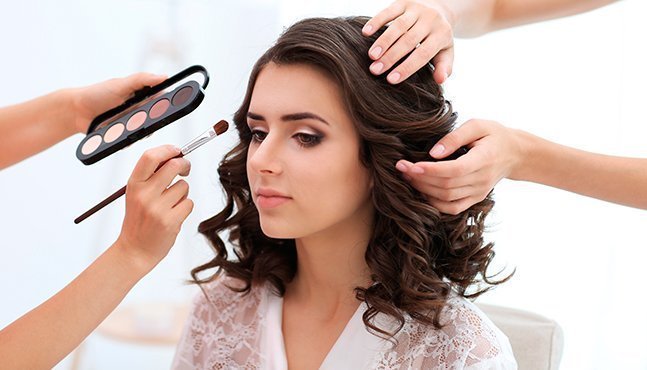 Every bride wants to look and feel their best on the day of their wedding, and choosing makeup that suits perfectly can sometimes be a bit overwhelming. Bollywood actresses who are known for their charm and beauty look stunning on their wedding day. It is their makeup, outfits and accessories that inspire bridal fashion trends in India and give most brides-to-be some serious wedding goals.
It is important to make sure your make-up aligns with the theme, location and time of your wedding, your outfit and the accessories that are paired with it. For example, if your wedding theme is traditional and grand like the current hot trend of royal weddings, using metallic undertones such as gold, silver or bronze in your makeup depending on your outfit and accessories may be appropriate. If your wedding has a modern and elegant theme such as floral, paper and origami or beach, then a more natural look with neutral and warm undertones may suit the best.
Here are some trendy bridal makeup inspirations.
Smoky Eyes With A Twist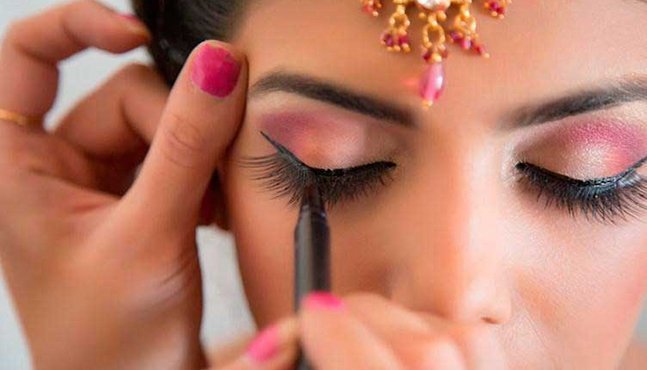 Source: Pinterest
Eyes are often the most beautiful feature on the face of an Indian bride. Smoky eye look is timeless and works well to make the eyes stand out. The smoky eye trend has been revamped with a candid twist! Colours such as bright pink, green, orange or gold have been incorporated into the look to match the colour of the bridal lehnga. This would look best with traditional wedding themes.
If you have a traditional South Indian wedding planned, then the smoky eye could be teamed with a colour that matches your silk saree. This candid bridal twist can be matched with bright as well as lighter shades of lip colour without looking like it has been overdone.
Glowing Goddess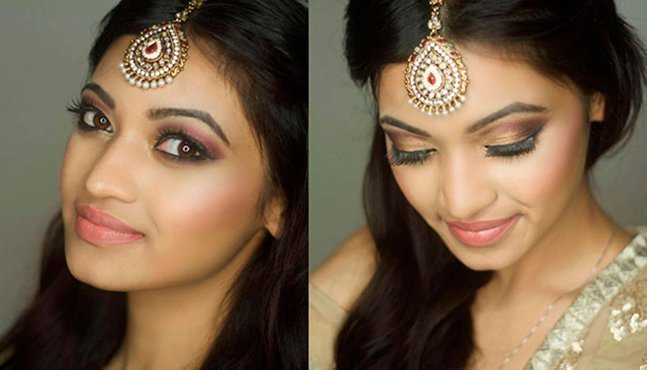 Source: YouTube
If simple is your thing and you have gone for a wedding theme that is modern and elegant, you can sport a more natural look with focus on enhancing the eyes and using highlighters to define the cheekbones and temples.
Wear a matte lipstick in a nude shade to enhance the cheek glow or a brighter shiny lipstick to highlight the skin tone. This is a look that suits all Indian skin tones, be it a fair tone or a dusky one. Pair this up with ethnic accessories for a classy modern elegant look.
Contrasting Pout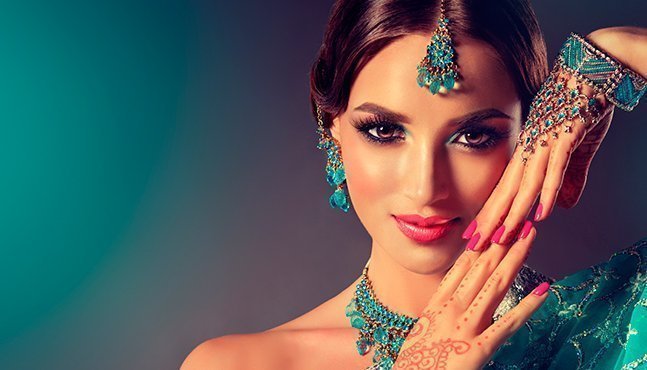 If you have veered from traditional bridal colours such as red, white or gold for your wedding outfit and opted for more contemporary colours such as blues, greens and mustard, go for a bright colour on your lips.
Contrasting is trending and hot pink is all the rage this season. So go all pout and stand out!
The Night Queen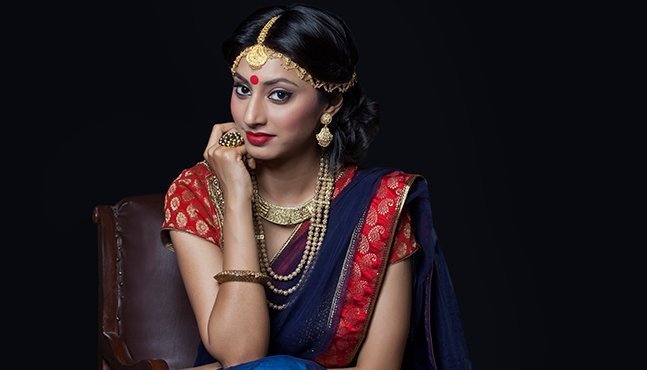 This look suits weddings that are conducted at night time or for reception ceremonies. Simple eye makeup with shades of white or silver for eyeshadow with a dark maroon or deep red lipstick gives this look a dark and mysterious feel. It goes well with dark coloured outfits such as maroon, navy blue and black.
Jewel Match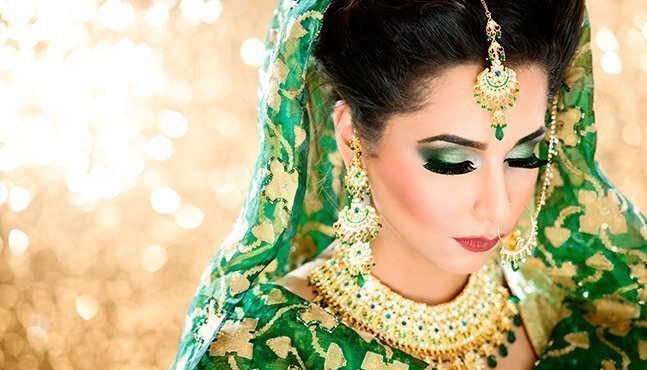 Wearing your bling with your makeup is one of the hottest trends this season which is created by matching the colour of your jewellery with the eyeshadow. Ruby, sapphire, amethyst and emerald are the crowd favourites.
Complete this look with a dark coloured lipstick in maroon or hot pink to create an exotic classy look. This suits weddings with traditional themes.
Peachy Perfection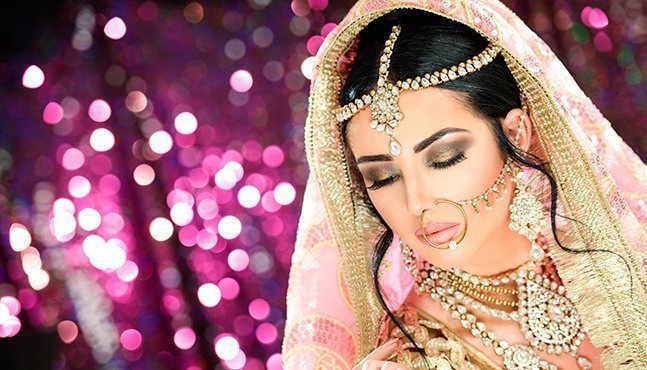 If you have a daytime wedding, then shades of peachy pink are your best bet. Go for metallic shades of eyeshadow in gold or bronze, mix it with shiny black and pair it with a glossy lipstick in baby pink to create the perfect spring/summer look.
Use a dewy foundation instead of matte and shimmers and baby pink blush for the cheeks. This is a simple yet very classy look and suits both traditional and contemporary themes depending on the accessories it is paired with. Wear ethnic stone or kundan jewellery for a more majestic look; or just a selected few pieces of delicate jewellery to make it more streamlined and modern.
And that is the roundup of some of the red hot wedding day makeup trends for Indian brides. Remember no matter what trend you pick, don't forget to take your confidence along. It is the most versatile trend year after year.
---