Destination Weddings
by Ayesha Jain, 8th April 2019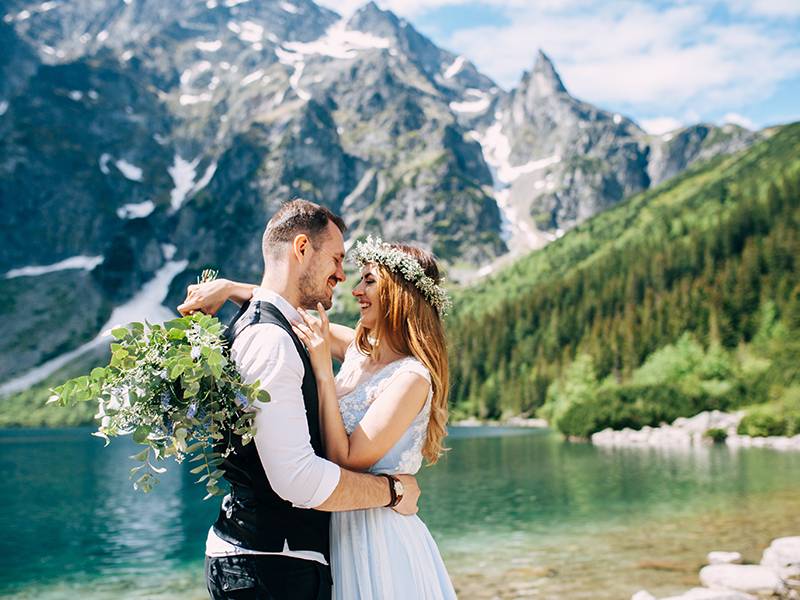 A destination wedding is one that is held in an exotic place, usually in a city or country outside your own.
One of the reasons for choosing a destination wedding for many people is that they can spend quality time with their friends and family like a vacation taking in part in different activities at the destination and creating wonderful memories and photo opportunities.
Thinking about your own destination wedding? We've compiled a list of our favourite locations below -
Europe
Many places in Europe have culture, sophistication and form a great backdrop to the wedding photos. If this is the reason for deciding on Europe for a destination wedding, the choices are endless. Here are five of the best venues for a destination wedding in Europe-
Château du Grand-Lucé in Le Grand-Lucé, France
Château means Castle in French and this caste built in the 18th century. It is spread over eighty acres in the beautiful Loire Valley.
The venue consists of the main Château, 17 well-appointed rooms and suites, orangerie, spa, ballroom, beautifully manicured gardens and a multitude of authentic yet-to-be-restored buildings which form a perfect location and a picturesque backdrop to the wedding and the photos. Available are photo shoots which range from 2000 Euros for the external buildings to 6500 Euros for a full day shoot and over night stay with a classic French breakfast.
The hotel promises an exceptional experience with customer service that exceeds expectations from unpacking after arrival to café au lait in the morning or from selection of fromage et vin to arranging a cognac to sip while strolling the gardens in the evening and watching the city lights.
It is located about one hour from the airport of Tours, or from Paris to Le Mans station so it is important you arrange some means of transport to get to the venue like a hire car.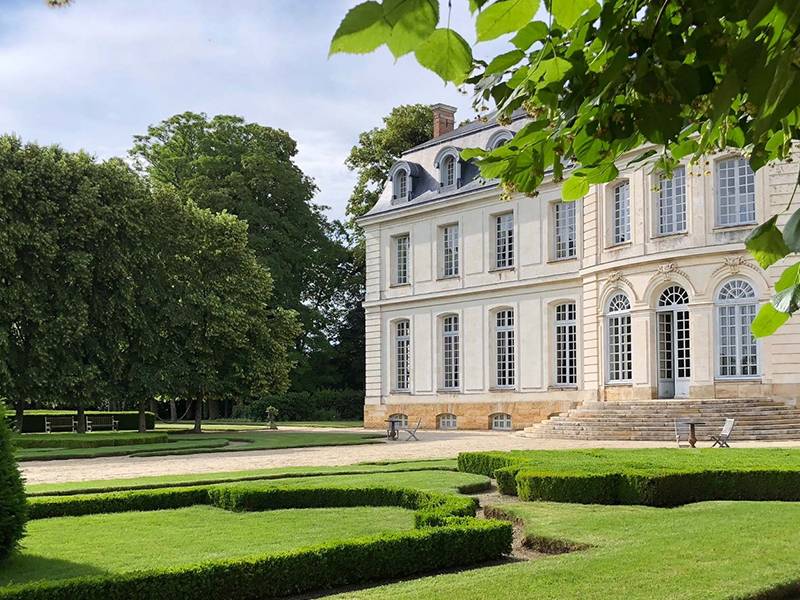 Source: Château du Grand-Lucé Gallery
Dukes London in London, United Kingdom
If you are dreaming of a wedding fit for a king or a queen, where better than in the city of royals at Dukes in London. The hotel is characteristically British and is located in St. James', Mayfair and is a five-minute walk to the Buckingham Palace.
Dukes London offers the services of a personal wedding planner who will help you plan all the ceremonies and events easing the pressure of doing all the organising and planning. The also offer a Wedadmin package for engaged couples for a couple of days where they can attend appointments with the Dukes concierge team, the florist, the wedding planner, the in-house make-up artist and hairstylist to plan for their big day.
The package also includes a stay for two nights in the one of the hotel's luxury suites with champagne, chocolate coated strawberries on arrival, pedicures and manicures in their spa for the couple and a private three course dinner with matching wines in their restaurant. Licensed for both civil partnerships and weddings, the ceremonies are hosted in the St. James Suite which accommodates up to 60 guests. The in-house catering by the Executive Chef, Nigel Mendham and his team will assist you develop a delectable menu for the day which will be memorable and talked about for days to come.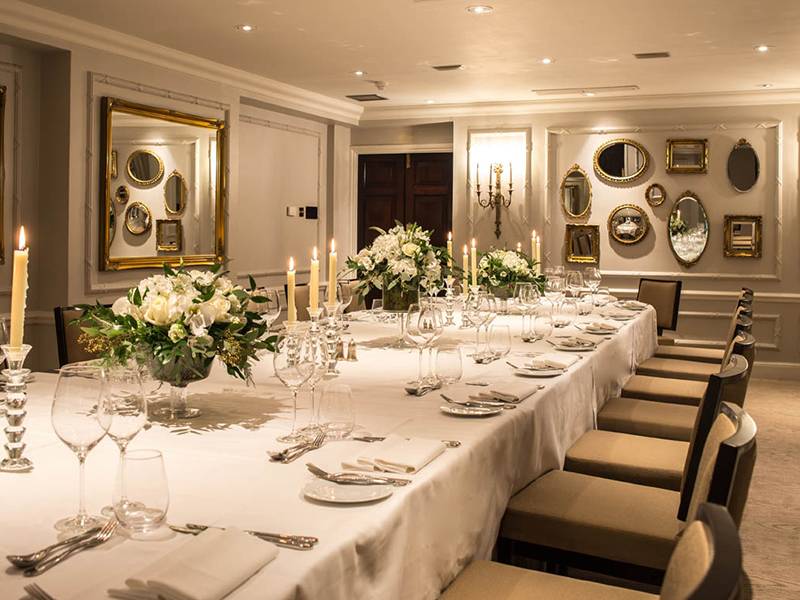 Source: Dukes London
Ca'Sagredo Hotel in Venice, Italy
This is the perfect destination for you if you always dreamt of a romantic wedding in a Venetian palace. Its seductive charm with its extravagant pink façade and views of the Grand Canal will leave you breathless. The restoration of the hotel inside is a real treasure with lot of space and is a vision of beauty and art combined. The hotel promises excellent customer service with staff who are willing to attend to your requests to make your big day memorable.
The hotel is decked with stucco works, paintings and frescoes and with its opulent décor also doubles up as a museum. The main hall has paintings on the walls and ceilings and provides a rare opportunity to revisit the splendour of an ancient centuries old Venetian palace. The hotel also has a rooftop terrace that is suitable for smaller ceremonies, cocktail receptions, and brunches.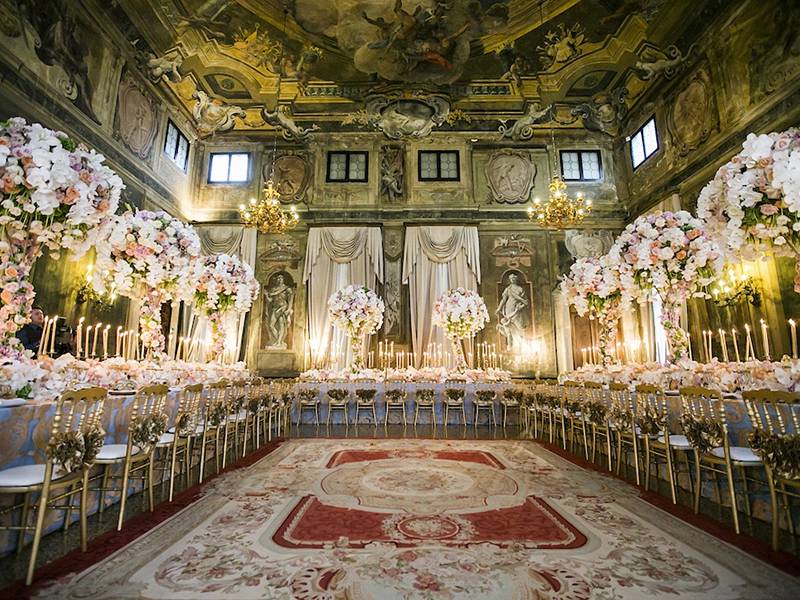 Source: Ca'Sagredo Hotel
The Dolder Grand in Zurich, Switzerland
If your idea of a perfect wedding is that of one in a fairy tale castle with breathtaking views of the Swiss countryside but also wanted practicality in terms of proximity to a bustling city then the Dolder Grand is the perfect place for it. It is located high above the city of Zurich in the middle of nature overlooking the lake and the Swiss Alps giving you the perfect place to create memorable moments.
The Dolder Grand features 175 luxurious rooms and suites with plenty of accommodation for your guests, exquisite gastronomy, a 4,000 square meter spa area, generous banquet space and an exclusive art collection to add to the beauty of your wedding photos.
The hotel offers a Spa Couple's celebration package where the bride and groom can indulge in mud baths, massages and facials prior to the wedding to shake off the prewedding jitters. Also available is a wedding planning service and can organise flowers, recommend dress makers, get you a limousine and even order your wedding cake.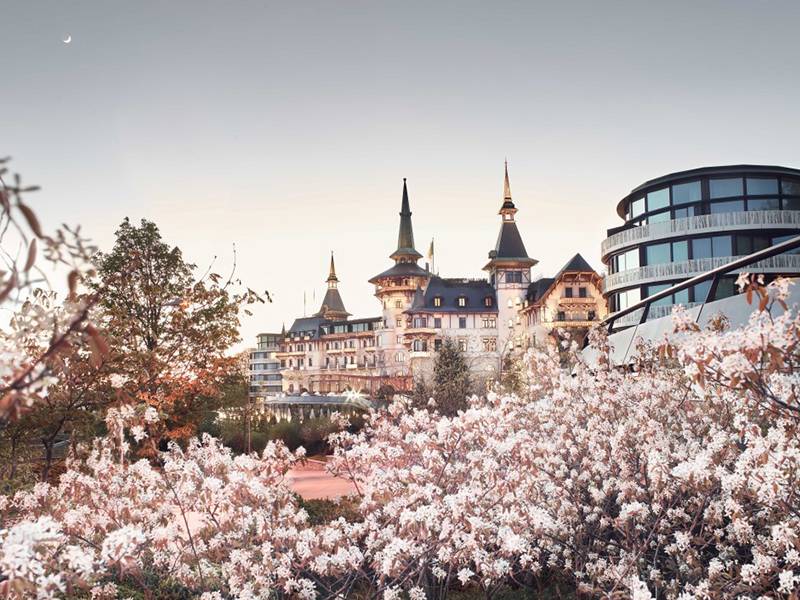 Source: The Dolder Grand
Villa Veneziano in Lefkada, Greece
Greek islands are renowned for their pristine natural beauty and if you want to have your wedding on one of them which does not require you to take a flight or a ferry ride from Athens, then Lefkada is the place for you. It is surrounded by the Ionian Sea on all sides and is connected to the mainland by a causeway.
The Villa Veneziano is located on a hilltop in the middle of half an acre of verdant gardens and offers a panoramic view of the Ionian Sea, the famous Skorpios Islands and Meganissi. It is 15 minutes south of the capital Athens, in Perigiali and three minutes from the popular village and marina of Nydri, so there will be plenty of activities, markets and nature for your guests to see and explore in their own time.
The Venetian- inspired architecture clad with Byzantine design features reflect the rich cultural heritage of the island and form a perfect backdrop for your wedding photos. It is a perfect venue for a small intimate wedding with 5 well appointed rooms and an outdoor area boasting a pool overlooking the sea, Nydri town and the Skorpios Island.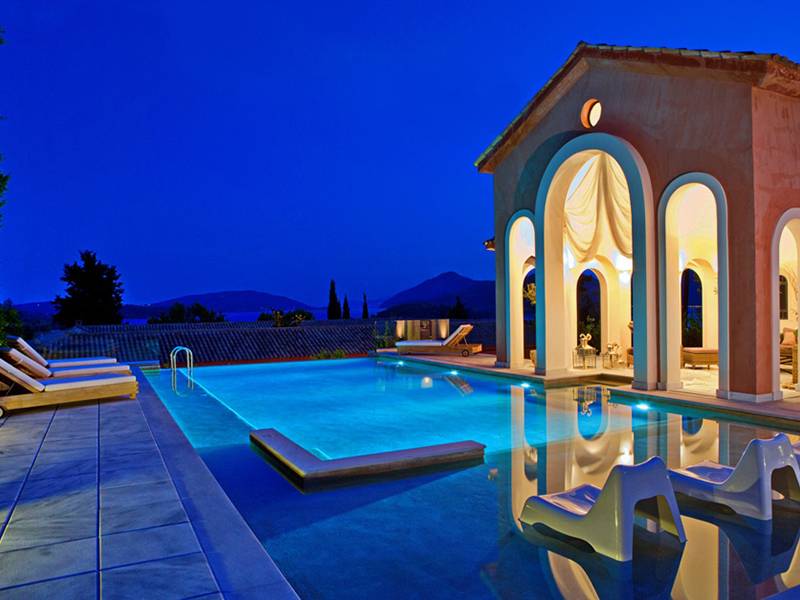 Source: Villa Veneziano
Asia
Asia offers multiple exotic locations at very reasonable prices making it a popular destination for weddings. Below are some of the most popular choices-
Aleenta Phuket Resort & Spa in Phuket, Thailand
Phuket is a perfect place for a destination wedding any time of the year due to its beautiful beaches with rugged mountain outcrops and aquamarine water. Aleenta Phuket Resort and Spa is located just 20 minutes north of the Phuket International Airport on the sunset side of the Andaman Sea and the pristine Natai Beach. It is positioned on right the beach and offers a perfect location for a romantic intimate beach wedding.
The resort offers a wedding planner who will assist you in every step of the way from flower arrangement, venue decorations, finding the right dress, organising the music of your choice, hair and make-up to planning your ceremony for your big day, taking the stress of planning your wedding.
Their wedding packages include stay for guests and range from 3,500 USD for 6 guests to 15,000 USD for up to 50 guests. They offer two venues on the resort for weddings to choose from- the exquisitely private Aleenta beach with stunning outdoors that takes your breath away or the Grand Villas Satis, the villa's private nature, a 1,000 sqm classic venue for an intimate wedding celebration which boasts of a large swimming pool and expansive outdoor area.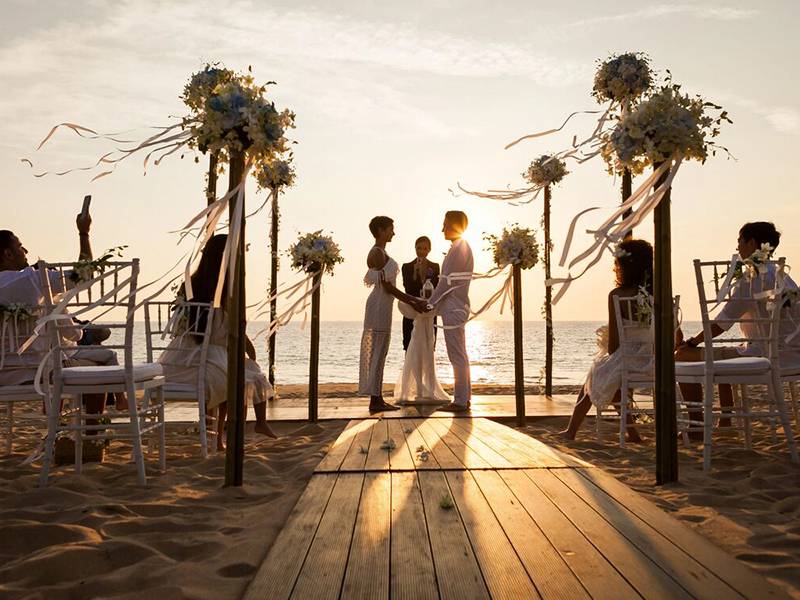 Source: Aleenta Phuket Resort
Four Seasons Resort Bali at Jimbaran Bay in Bali, Indonesia
The Four Seasons Resort Bali is located on a 4.8-kilometre crescent of silky sand on the island's southern coast, crowning a tranquil bay, 20 minutes away from Ngurah Rai International Airport and 45 minutes from nightlife in Seminyak. If you are looking for an exclusive and romantic wedding, this is the perfect place for you.
The resort offers five wedding packages at nine different venues on the resort ranging from garden to water views. The resort also has a wedding planning team which will assist you to put together a perfect wedding and make it memorable for everyone who attend.
The team will also assist you with completing all the legal paperwork for your wedding, arrange for the flowers, cake, hair and make-up, transfer of guests from the airport to the resort and back, entertainment and photography services which will take the weight of planning for these things for your big day.
Personalised catering is also available, whether you want to go for a traditional local menu or a contemporary one.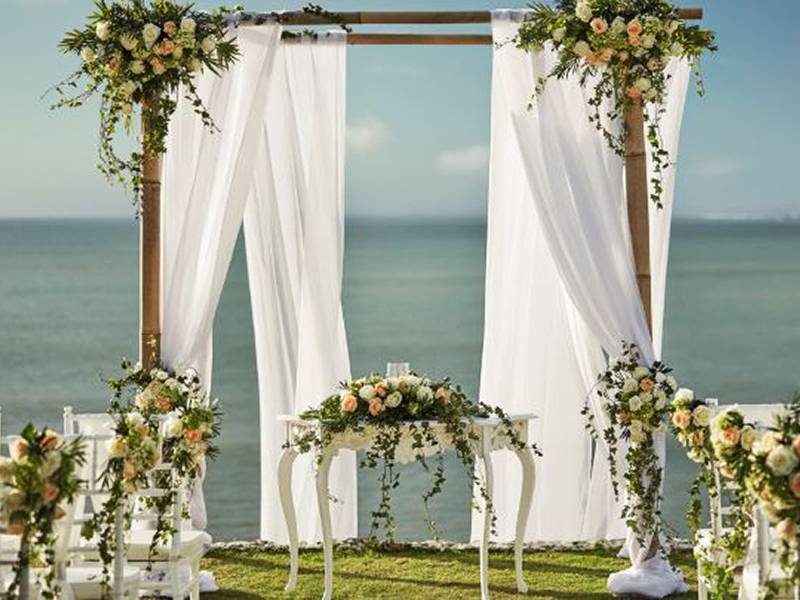 Source: Four Seasons, Jimbaran Bay
Conrad Koh Samui in Koh Samui, Thailand
Conrad Koh Samui is located on the tropical island of Koh Samui on a secluded hill on the southwest tip of the island surrounded by a dazzling azure sea and amidst lush rainforests.
Spread over 25 acres, this Koh Samui resort offers panoramic views of the Gulf of Thailand's stunning sunsets, outlying islands and the surrounding landscape of lush coconut plantations making it a perfect location for an exotic Asian destination wedding.
The resort offers four wedding packages with a choice of seven venues across the resort ranging from USD 3,500 to USD 8,000 for up to 200 guests. The packages include flower decorations, photography, signature welcome drink and wedding celebrant services. They have a range of food and beverage packages you could choose to suit your budget and preferences.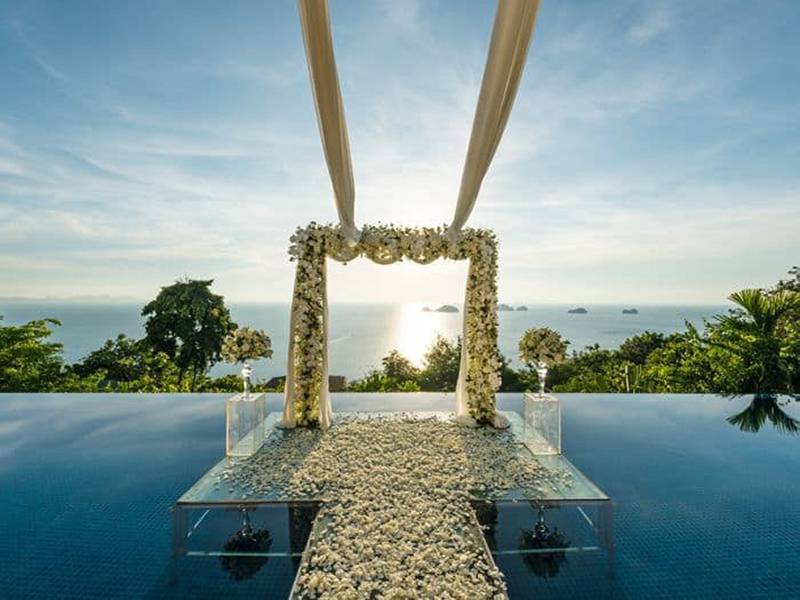 Source: Conrad Koh Samui
Anantara Kihavah Maldives in Baa Atoll, Maldives
Always dreamed of an intimate beach wedding on a private island like a celebrity surrounded by nothing but turquoise lagoon which melts into sapphire blue and pure white sand? Then the Anantara on island of Kihavah in Maldives is the perfect place for your big day.
A short seaplane flight from the capital Male, Baa Atoll is a breathtaking location offering plenty of options for weddings as well as for newly-married couples for their honeymoon. The resort consists of villas which are nestled between the luscious trees of the island and offers plenty of accommodation for your guests.
Their beach wedding package starts from USD 4,000 and includes photographer, bridal styling, traditional Maldivian 'Bodu Beru' drum performance, photography, intimate romantic dinner for the couple and champagne, canapes and wedding cake. It also includes a champagne breakfast in the privacy of your villa.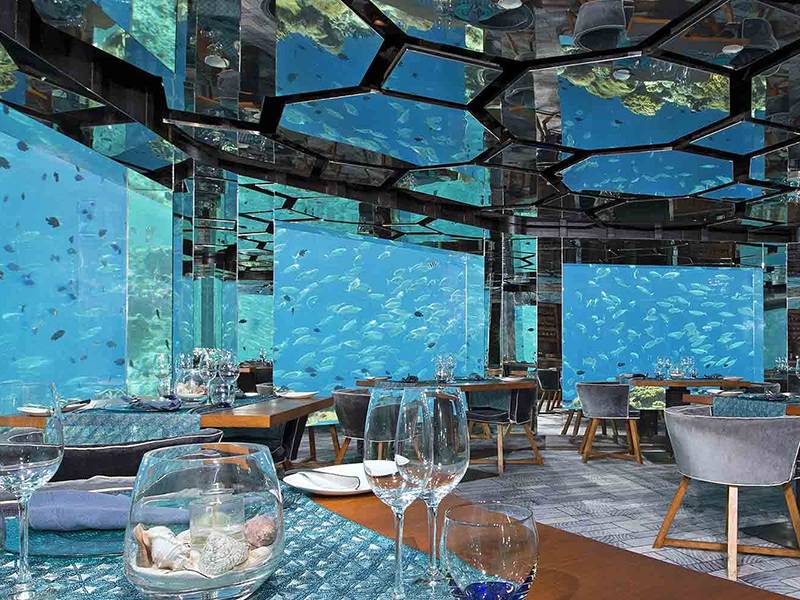 Source: Anantara Kihavah Maldives
Amiana Resort in Nha Trang, Vietnam
Dreaming of a destination wedding in a place where there is a harmony between heaven and earth, where stunning ocean views and vibrant blue skies await? Amiana Resort in the Nha Trang Bay is the perfect spot.
Nestled in a tranquil corner overlooking the sparkling waters of the bay, the resort has multiple accommodation options for your guests to stay and enjoy the food, facilities, natural sea water and fresh water infinity pools and the private guest-only beach with crystal clear waters and white sand. Amiana is 45km, or around 50 minutes by road from Cam Ranh Airport and the resort offers airport shuttle for a fee.
The resort also operates a shuttle bus into the city everyday for your guests to go and explore the surroundings. The resort offers two wedding packages, barefoot deluxe and barefoot luxury, ranging from USD 2,100 to USD 2,600. The packages include wedding flowers, ceremony décor, wedding cake, champagne, guitarist during the ceremony, romantic spa and a romantic candlelight dinner.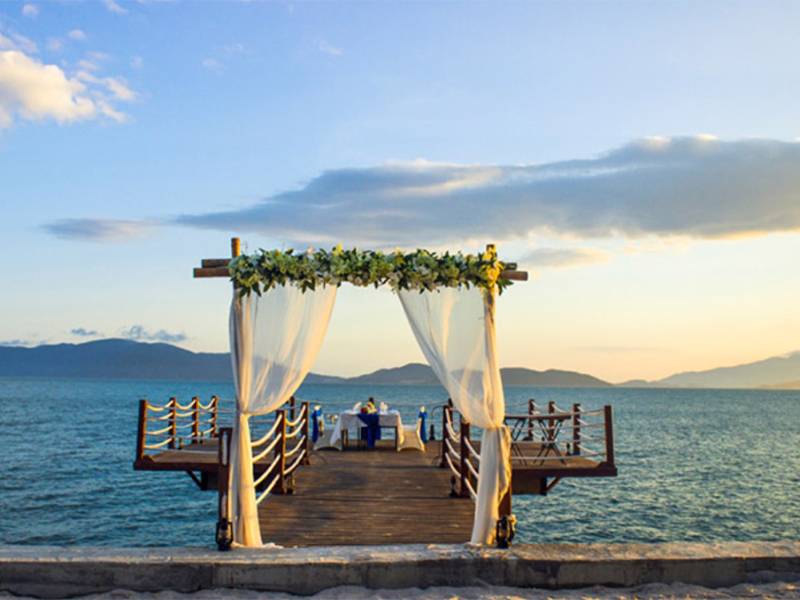 Source: Amiana Resort in Nha Trang
Australia-Pacific
Most regions of the Asia- Pacific are surrounded by water making it a very popular choice for beach destination weddings. Here are some of the best places-
Aitutaki Lagoon Resort & Spa in the Cook Islands
Located in between New Zealand and Hawaii, Aitutaki Lagoon Resort and Spa is a 45minute flight from Rarotonga. Deemed as the most romantic location on earth it definitely is a very strong contender for a romantic destination wedding. The resort rests on its own magical isle named Motu Akitua Private Island, and is the only high-end resort located directly on world-famous Aitutaki Lagoon. It offers the most panoramic, majestic, jaw dropping and spell bounding views for your wedding photos.
This delightful little island in the clear waters of the South Pacific is just a two-minute ride by small private ferry from the main island of Aitutaki which means that you and your guests have the absolute best of both the convenience of quick and easy access combined with the exclusivity, luxury and tranquillity of privacy.
Several accommodation options are available, including over water bungalows, deluxe and premium beachfront bungalows and honeymoon villas.
The resort can also provide wedding planning services and a couple of wedding packages which are all inclusive of decorations, wedding cake, venue, photography, entertainment and food ranging from USD 2750 to USD 5500 for up to 30 guests.
The all-inclusive wedding package includes five nights accommodation for the wedding couple and transfers to and from the airport.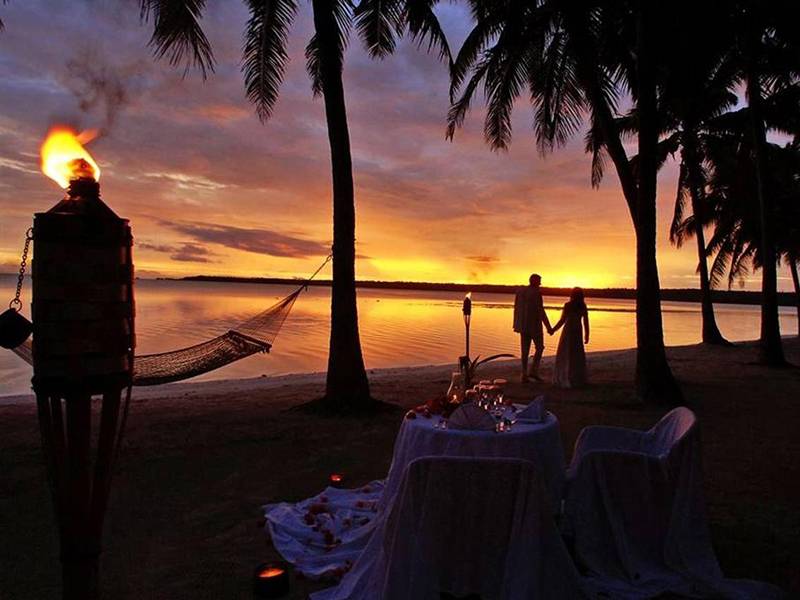 Source: Aitutaki Lagoon Resort & Spa
Likuliku Lagoon Resort in Likuliku, Fiji
Likuliku Lagoon Resort is an island retreat for adults only located in the wildness and among a haven of subtle luxury along the calm waters of the Likuliku lagoon.
Located on Malolo Island in the Mamanuca (pronounced mama-nootha) group of islands, 25km from Nadi International Airport, it can be reached by fast catamaran, private speedboat, seaplane or helicopter. It is the only resort in Fiji in a natural ocean lagoon with authentic over water-bures and is surrounded by a protected marine sanctuary and forms the perfect getaway venue for a destination wedding.
The resort offers plenty of accommodation through their over-water, deluxe and garden waterfront bures which look like an ancient Fijian village thereby doing a good job in accommodating the local culture and architecture.
The resort offers two wedding packages, Marau and Dodomo, which incorporate a lot of traditional Fijian and international elements such as Fijian Choir and Fijian warrior guard and escort and a bottle of French champagne. The packages also include transfers to the Nadi Registry for registering the wedding.
The resort offers promotions regularly and the current summer promotion includes free Dodomo package if bookings are made for five rooms. The wedding packages range from USD 1,250 to USD 2,750.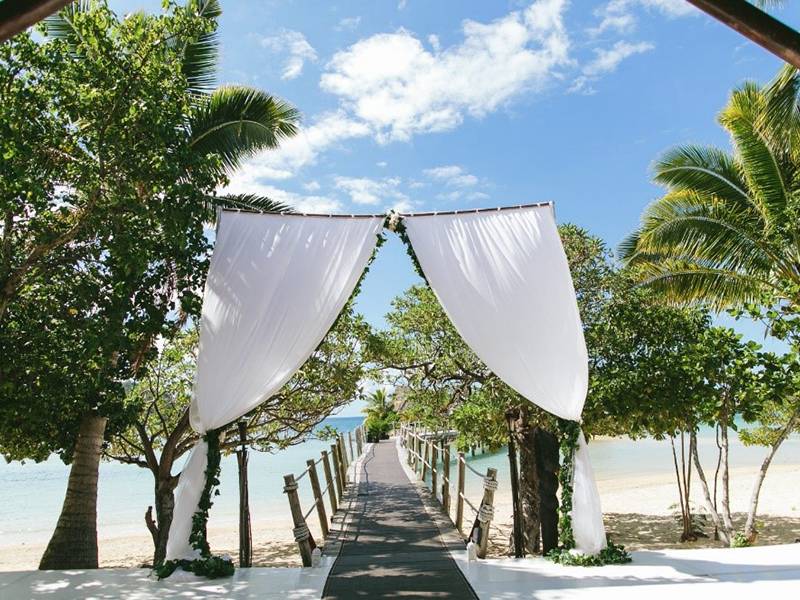 Source: Likuliku Lagoon Resort
Matakauri Lodge in Queenstown, New Zealand
Matakauri Lodge is located just seven minutes from bustling Queenstown on the shores of Lake Wakatipu overlooking the mesmerising panoramic view of the three peaks, The Remarkables, Walter and Cecil. The resort is an alpine lakeside retreat nestled in one of the world's most strikingly beautiful landscapes. If you are looking for a venue that is surrounded by stunning natural landscapes that provide a great background to your wedding photos, Matakauri Lodge is the perfect place for your destination wedding.
Whether you are looking for an exquisite and exclusive hideaway or for a close ceremony with your loved ones, the Lodge offers to cater for individual tastes and requirements to make your wedding special and memorable for everyone involved. Voted one among the five best lodges in New Zealand, the Lodge offers three wedding packages ranging from USD 6,300 for just the couple to USD 25,500 for up to 32 guests and includes accommodation for the couple and the guests. The packages also include a five-course dinner for the reception, pre-dinner drinks and canapes, minibar including domestic beer and the services of a wedding co-ordinator.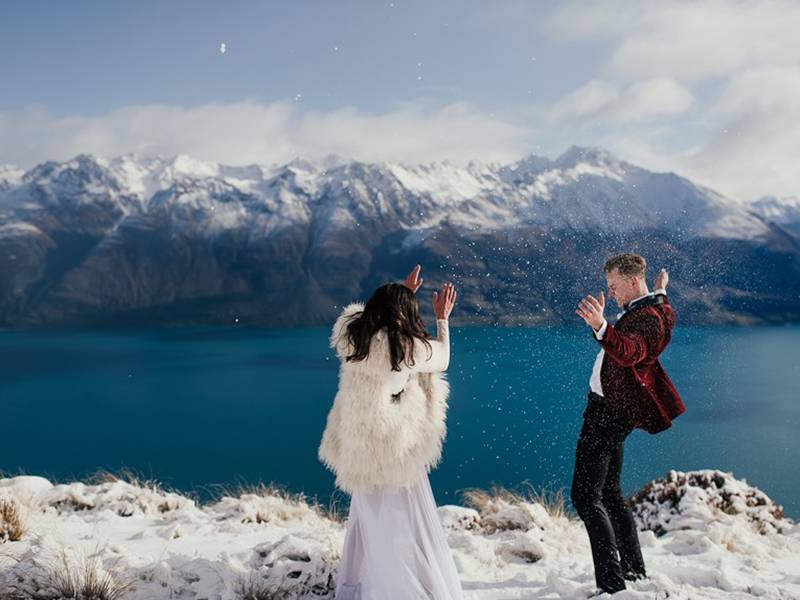 Source: Matakauri Lodge
The St. Regis Bora Bora Resort in Bora Bora, French Polynesia
Tahiti is the largest of the 118 islands that make up French Polynesia and is located in a cluster of islands including the smaller French Polynesian islands of Bora Bora, Huahine, Moorea, Raiatea and Taha'a and is a renowned hotspot for destination weddings. The St. Regis Resort in Bora Bora is near the Motu-Mute Airport and is connected to all French Polynesia by plane. The resort offers guests a luxury hotel situated in an unmatched island paradise which is surrounded by the crystal-clear waters of the South Pacific and white sand beaches making it an idyllic venue for a romantic and intimate wedding.
The Resort offers two packages, both of which have elements of the local culture and traditions embedded into them. The packages include wedding planner services, hair and makeup, wedding celebrant services, pampering sessions for the bride and the groom, wedding décor, photo and video shooting sessions and Polynesian inspired three-course menu. It also offers an additional Island Simplicity package which caters for smaller weddings or weddings with just the bride and groom in attendance.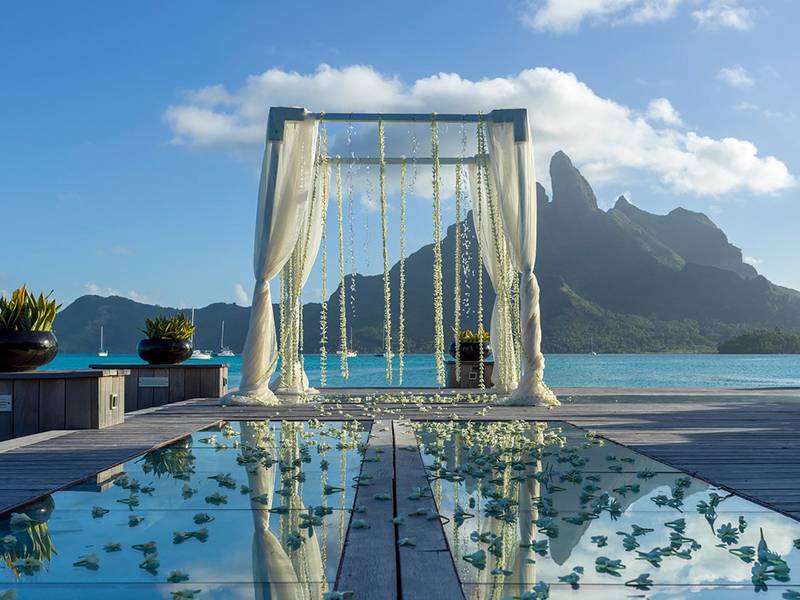 Source: St. Regis Bora Bora Resort
Hayman Island Resort in North Queensland, Australia
Hayman Island is a private island located at the northernmost point of Australia's Whitsunday archipelago in northern Queensland. It is the nearest Whitsunday Island to the outer reef, including the world-famous Heart Reef and Whitehaven Beach. Being only one of the four islands in the Whitsundays to offer resort accommodation, Hayman Island commands magnificent views across the Coral sea. It enjoys perfect weather all year round making it one of the most sought-after venues for a destination wedding at any time of the year.
If you always dreamt of a beach wedding on a remote island surrounded by crystal clear waters, the Great Barrier reef and white sand beaches, this is the perfect venue for you. The most convenient way to travel to and from Hayman Island is via Great Barrier Reef Airport located on Hamilton Island. The resort offers services of wedding planning experts who assist you in planning exquisitely styled receptions and weddings on the beach or a collection of exclusive indoor and outdoor venues, with each detail choregraphed to perfection. There is sufficient accommodation for guests and the resort offers a range of activities for guests of all ages.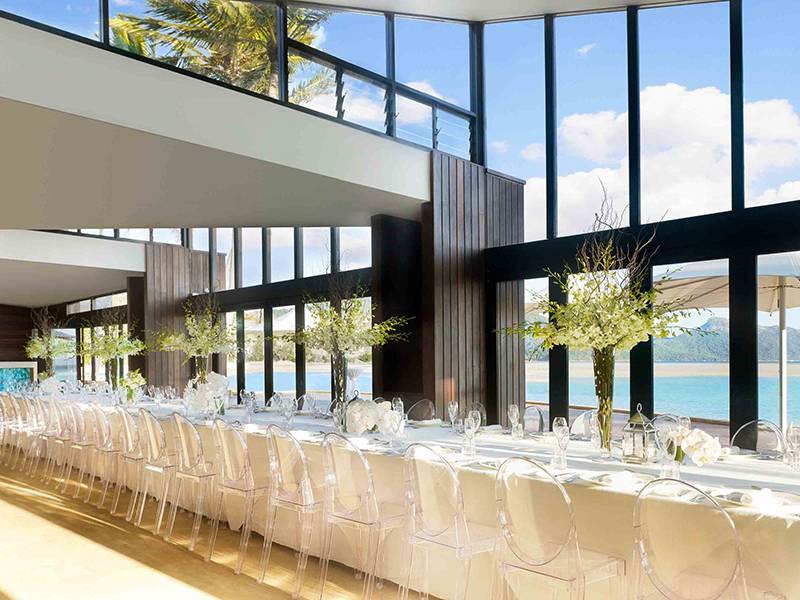 Source: Hayman Island
Caribbean
Caribbean is known for its crystal-clear waters, white sand beaches and sunshine all year round making it one of the most popular destinations in the world for a romantic intimate wedding. Here are some of the best places-
Starfish Jolly Beach Resort in Antigua, West Indies
Starfish Jolly Beach Resort in Antigua is set among 40 acres of tropical paradise and is the largest all-inclusive resort, featuring plenty of accommodation with private balconies surrounded by lush tropical gardens, white sand beaches, and the turquoise waters of Jolly Harbour. The resort has a Wedding Team that is prepared to organize every detail of your big day, and create a perfect package to suit your budget, guest list, and personal style. Couples getting married receive personal, hands-on attention from the resort's Wedding Coordinator and her team.
The resort has alliances with the best local professionals for any special touches. The resort offers affordable group pricing for groups of ten or more, all-inclusive meals and beverage packages, and a wide range of supplementary menu and premium bar options to suit your vision and budget all year round. The resort is family friendly and has a wide range of fun activities such as kayaking and sailing lessons, tennis, family beach Olympics and tennis among many others which would keep your guests entertained well during their stay.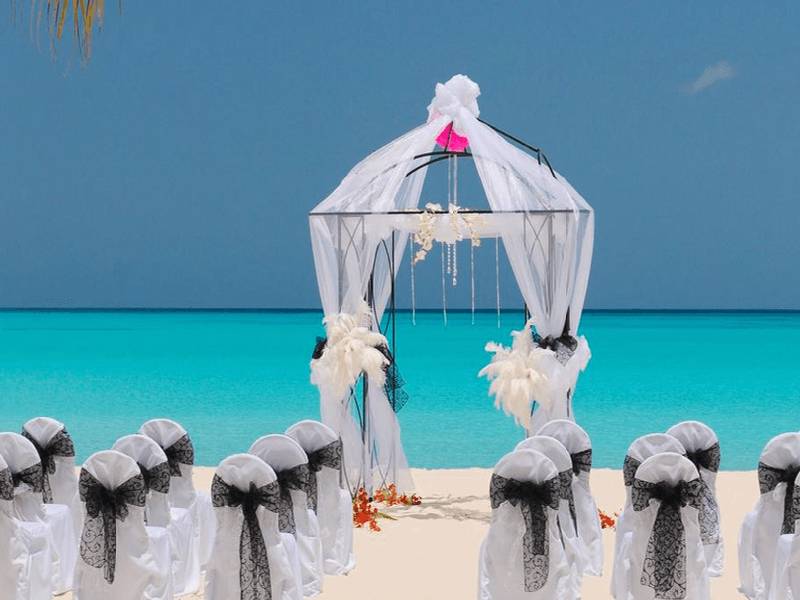 Source: Starfish Jolly Beach Resort
Coral Sands Hotel on Harbour Island in the Bahamas
Coral Sands Hotel is located on Harbour Island which is known for its pink sand beaches and crystal-clear turquoise water. The beach on which the hotel is located has been voted the number one beach in the Caribbean and has been consistently rated one of the top five beaches in the world making it a perfect spot for a dream wedding. Recently refurbished, the hotel has 38 rooms and offers exceptional customer service. It is luxuriously low key and casually elegant. The resort offers various activities for all ages and offer free rentals of kayaking and snorkelling equipment which will keep your guests well occupied during their stay.
Couples who book at least eight rooms for a three night stay to get married at Coral Sands can take advantage of the hotel's all-inclusive Wedding Package which covers the services of an on-site wedding consultant, location, ceremony, flowers, assistance with paperwork, photography, vendor coordination and a bottle of champagne. This package is priced at USD 5650.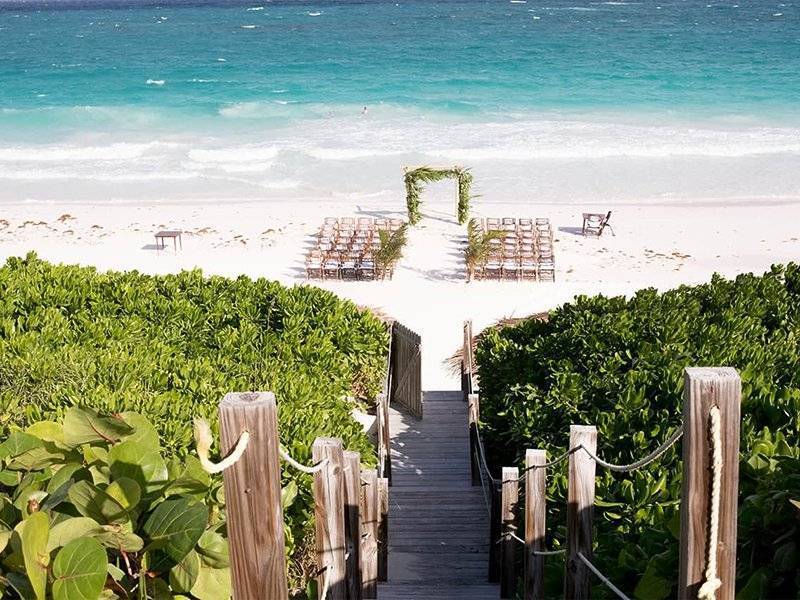 Source: Coral Sands Hotel
Hamilton Princess Hotel and Beach Club in Hamilton, Bermuda
If your idea of a dream destination wedding is to celebrate your love surrounded by romance, beauty, and perfect luxury, the Hamilton Princess Hotel in Bermuda is the perfect place for you. The hotel offers a choice of venues to conduct the ceremony whether you want an outdoor beach wedding with ocean views at the Princess Beach Club or an indoor one at their Grand Ballroom with its exquisite details. The hotel caters to your style, be it softly romantic, trend-setting modern or show-stopping elegance making it a premier choice.
The hotel has an award-winning catering team that will cater to your choices delivering food that will be the talk among your guests for years to come. The hotel offers a team of wedding specialists who will assist you in planning your big day and ensure it goes to plan.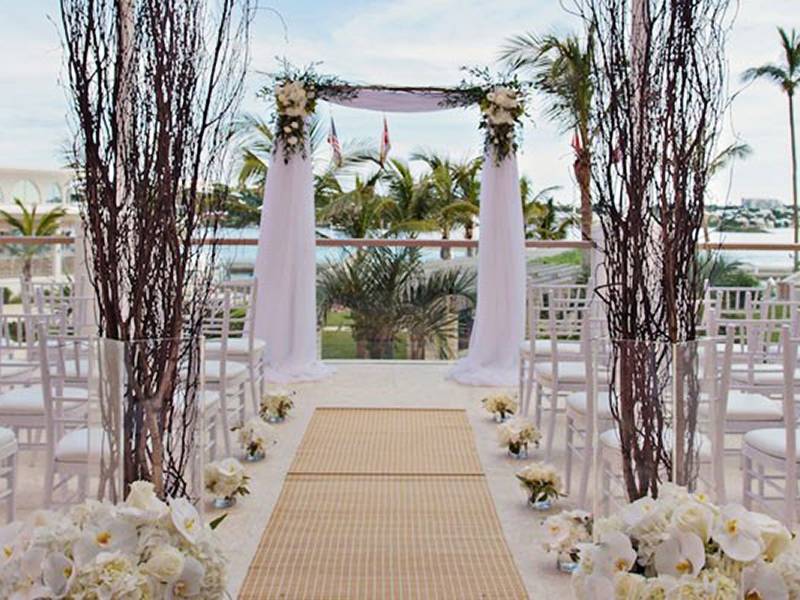 Source: Hamilton Princess
Half Moon resort in Montego Bay, Jamaica
Half Moon Resort located in Montego Bay on Jamaica's north coast and is a10-minute drive from the Bay's Sangster International Airport. Consistently voted as one of the top romantic destinations of the world, where better to consider as a venue for your dream wedding. The resort is located on over 400 acres and has multiple venues to offer for the ceremony both indoors and outdoors. The resort offers five wedding packages which include flowers, cake, canapes and champagne.
The resort boasts an unmatched range of activities from unique cultural experiences to fun themed events that will bring your new families and friends together making your wedding a truly unforgettable experience. The rates start from USD 1000 and cater for elopement weddings with just the couple to groups of up to 50 guests.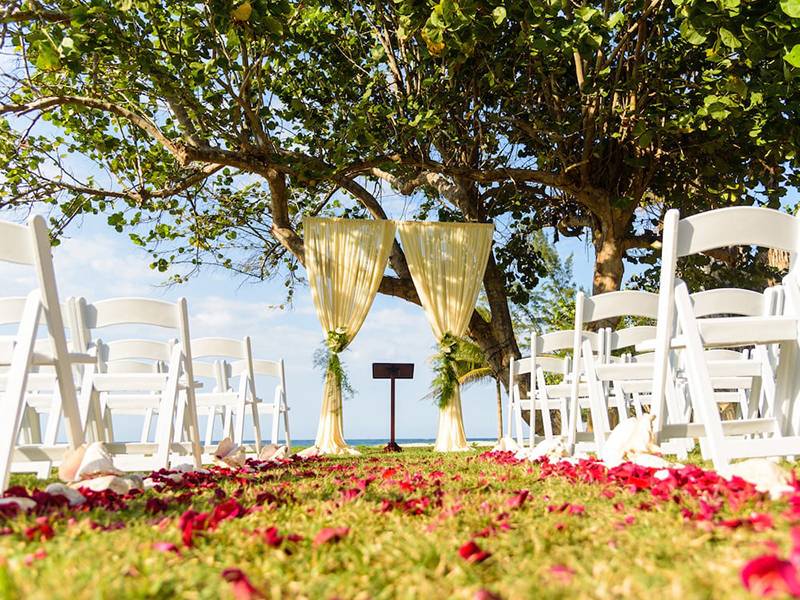 Source: Half Moon
Four Seasons Resort in Nevis, West Indies
Nevis is considered by the locals as a place where love and harmony is ever-present, a spirited and soulful haven where both serenity and adventure can be pursued endlessly. The Nevis Island is glowing with natural beauty and the resort is nestled between the green summit of Nevis Peak and the soft sand of Pinney's Beach. The resort offers a platter of venues ranging from the beautiful remains of a historical sugar mill to the crystal blue waters of the Caribbean Sea making it the perfect venue for a romantic wedding and a perfect backdrop for your wedding photos.
The resort offers two wedding packages ranging from USD 10,000 to USD 35,000 and is not only inclusive of the usual services such as flowers, wedding planning and coordination, assistance with paperwork and photography but also accommodation, food and drink. They also offer customised packages that cater to individual needs.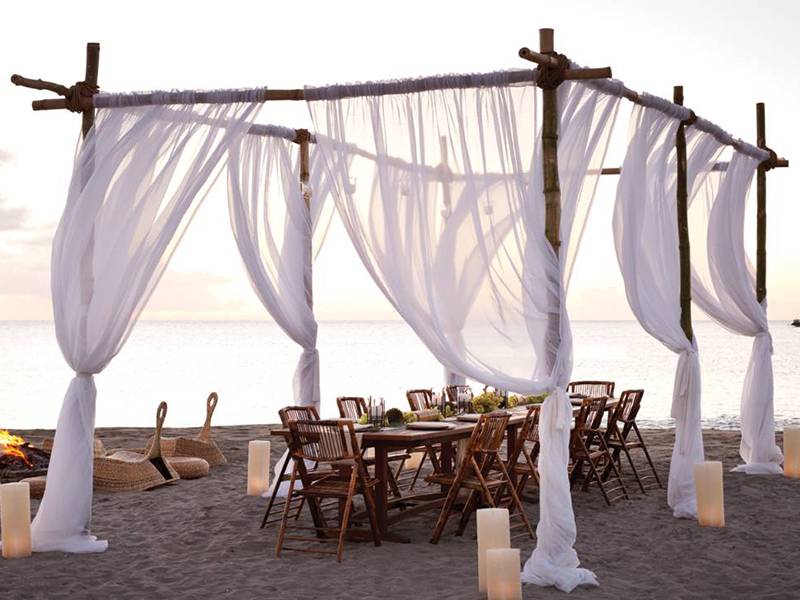 Source: Four Seasons Resort Nevis
America
United States offers a wide variety of choices for a destination wedding and caters to a lot of different tastes and budgets.
Little Palm Island Resort and Spa in Little Torch Key, Florida
Little Palm Island Resort & Spa is located discreetly off the fabled Florida Keys coast and is a little piece of paradise so remote it's only accessible by sea-plane or boat. It is one of the best-kept secret for US presidents and celebrities and promises of lot of fun and romance because of its idyllic location. If you are a dreaming of a romantic wedding on a luxurious island resort by the sea, this is the perfect location for you. The resort is laced with white paths of crushed seashells rambling through nearly six acres of tropical flowers, palm trees and sandy beaches.
The resort caters to weddings from 10 to 60 guests and you can choose to book the entire island for yourself. Their basic elopement package starts at USD 4,500 for up to 10 guests. More than ten guests incur a wedding site location fee depending on the number of guests starting from USD 5,000 to USD 8,000 for up to 40 guests. Any more than 40 guests will require for the island to be booked which is a part of the Exclusively Yours package which is priced at USD 175,000 upwards. This package is all inclusive and includes accommodation, food, drink, motor yacht transfers, decorations, ceremony, photography and wedding coordination services.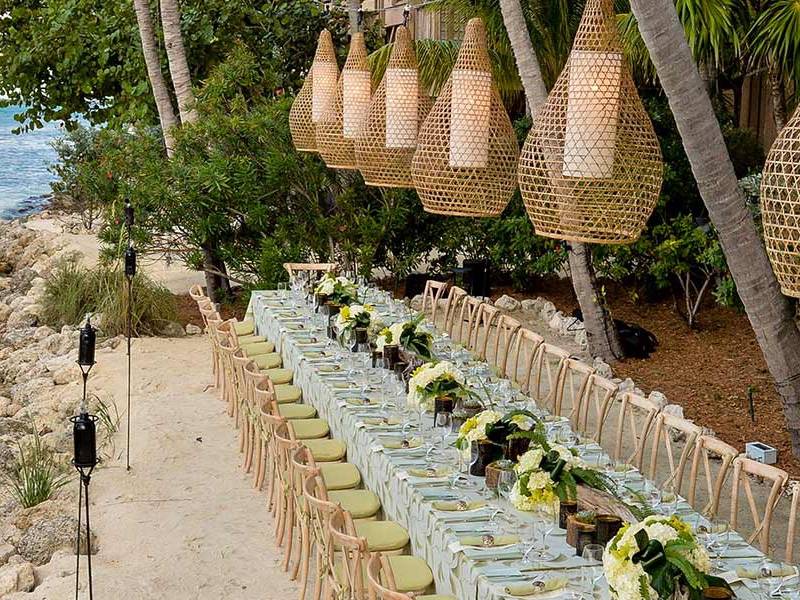 Source: Little Palm Island Resort and Spa
Bellagio in Las Vegas, Nevada
If you always dreamt of a Las Vegas wedding, Bellagio is the perfect venue for you. The hotel is attached to one of the biggest and oldest casinos in Vegas providing ample luxurious accommodation and plenty of entertainment and activities for your guests to enjoy during their stay. The hotel offers many options for venues catering from 30 to 130 guests. The venues include the East and South Chapel, the Terrazza Di Sogno, the Hyde Bellagio and the Fountain Courtyard.
The packages are specially designed to meet your requirements and take the ease off planning your wedding. The hotel also has services for hair, makeup, pampering, food, drink and photography services which can be included in this package.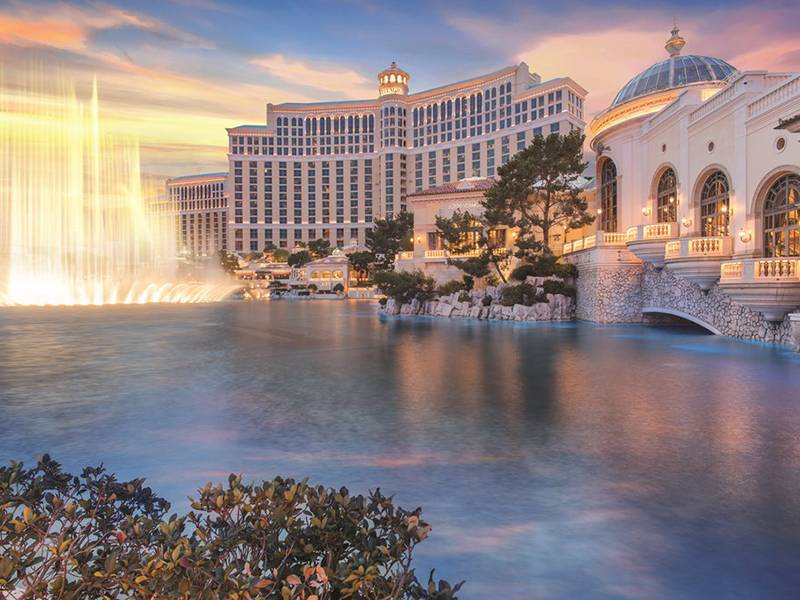 Source: Bellagio
The Ritz-Carlton in Half Moon Bay, California
Half Moon Bay, a small coastal town, is located 23 miles from SFO airport and is so breathtakingly beautiful that it is hard to believe it is a 45-minute drive from San Francisco and it looks more like a movie set overlooking the rugged bluffs of Scotland. The Ritz-Carlton Hotel is set on a piece of land above the Pacific Ocean framed by spectacular ocean views and offers a secluded resort setting that promises to be a stunning venue for a romantic destination wedding. The hotel has multiple venue choices, indoor and outdoor, for the ceremony and the reception that are stunning and versatile. Whether you want to exchange your vows to the sound of crashing waves or toast your love underneath the glow of sparkling chandeliers, they have a venue to match.
The hotel offers activities for both kids and adults ensuring that your guests are kept entertained through out their stay.
Available are wedding coordinator services who can coordinate all aspects of your wedding including photography, flowers, cake, decorations, hair and makeup. The food and beverages package must be taken at the hotel and prices start from USD 175 per person depending on the items in the package. Accommodation bookings for guests for more than 10 rooms can get you a discounted rate.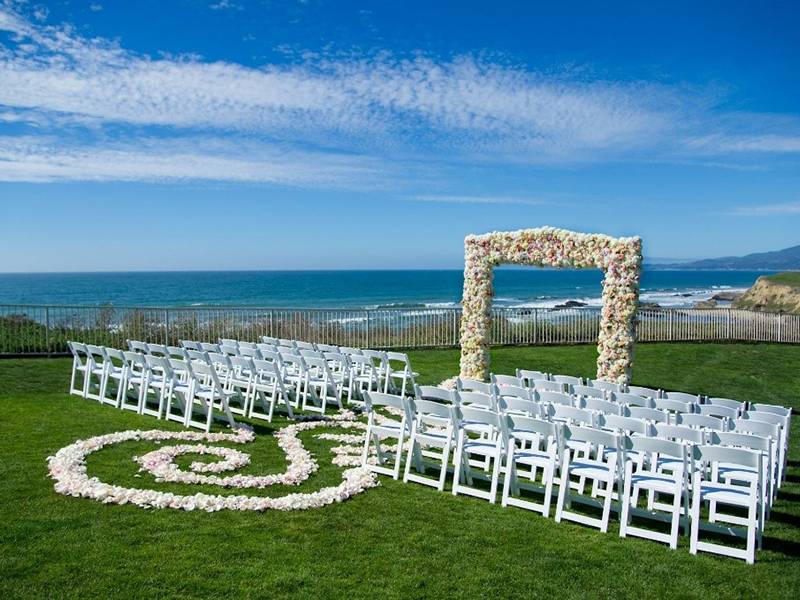 Source: The Ritz - Carlton
The Hidden Pond in Kennebunkport, Maine
Maine is the East Coast's northernmost state that is bursting with natural beauty. Maine has a rugged, winding coastline complete with sheltered coves and wildlife-packed state and national parks. The state is filled with lots of charming New England towns with antique stores, classic roadside diners and an impressive selection of art museums and galleries. If you have been dreaming of exchanging vows in an old-fashioned country style destination, the Hidden Pond is the perfect place for you.
The Hidden Pond offers two venues for wedding, the Event Barn which accommodates up to 80 guests and the Wedding Garden for a larger gathering.
The Event Barn has open ceilings and expansive window-lined wall, overlooking the pristine beach forest, creating the perfect setting for a wedding or rehearsal dinner.
The Wedding Garden is situated in a naturally beautiful setting that creates a perfect photo opportunity, capturing your special moments and enabling you to enjoy the beauty you have always dreamt of.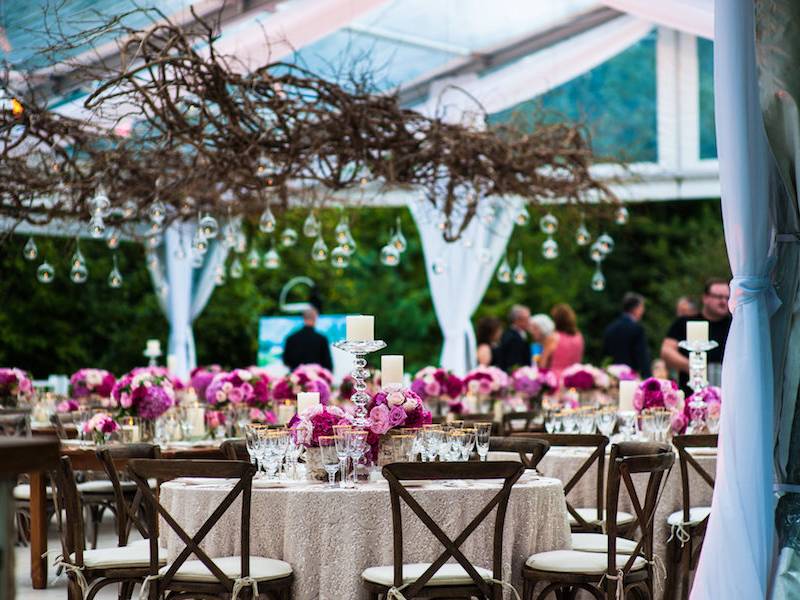 Source: Hidden Pond
Wheatleigh in Massachusetts
Cape Cod in Massachusetts offers abundant resources, from elegant catering to yacht clubs, resorts and gardens. Wheatleigh is a nineteenth-century elegant luxury hotel which is an Italianate mansion designed by Peabody and Stearns with 22 acres of parklike grounds overlooking the Berkshire mountains and lake, originally laid out by Frederick Law Olmsted and updated interior design by Tsao & McKown. Wheatleigh is two and a half hours by car from New York and Boston, with easy access by private plane.
The hotel offers multiple venues and 18 rooms and suites for accommodating guests for your big day. Whether it is a cocktail reception in the Great Hall, an outdoor ceremony in the Sculpture Garden, or a tented gala on the Lower Terrace, the event team at Wheatleigh there to assist you in planning your wedding to perfection.
There are a variety of activities in the surrounding area such as golf, bushwalking and shopping to keep your guests engaged during their stay.
The hotel will work with their award-winning culinary team headed by Chef Thompson to craft a custom menu to pamper your guests with elegant European-style service. Prices for food & beverage start at USD 350 per person for reception and has to be a minimum order of USD 20,000.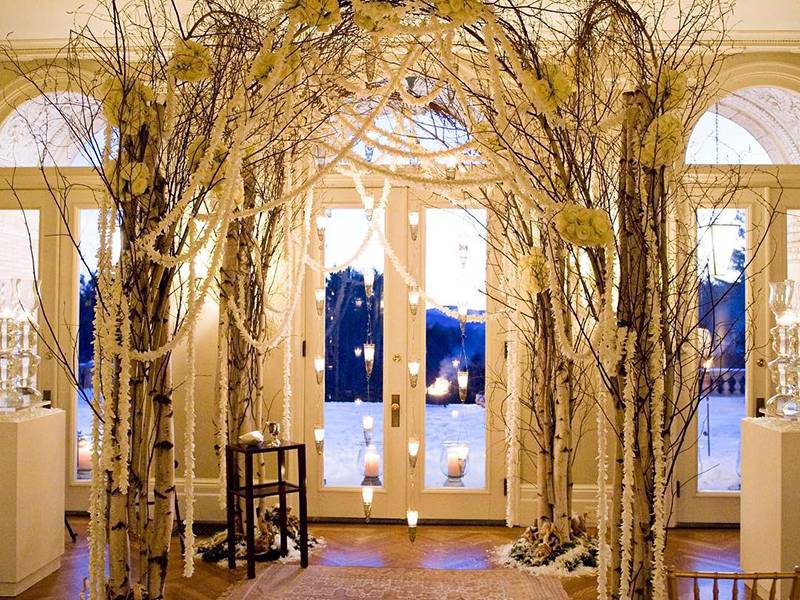 Source: Wheatleigh
What to consider when you want to have a destination wedding?
While planning activities with loved ones for the days prior to and after the wedding, it is important to consider a few things. Keep in mind the local culture and what it has to offer the guests. A cooking class, wine tasting to a local vineyard, a trip to the local markets or a tour of the local attractions is something that could provide an opportunity to connect with your near and dear ones.
Consider organising activities which allows your guests to enjoy the natural landscapes of your destination. For example, if the wedding destination is near a beach, maybe a picnic at the beach or a jet ski or local cruise could be an ideal getaway; if the destination is close to mountains or rivers, a bushwalking trip to the local national park or dragon boat racing with the bride and groom's side competing against each other could be an amazing way for both sides to bond and connect with each other.
Planning activities for guests at the destination can sometimes turn out to be expensive. Hence it is always a good idea to provide guests with information about local attractions and activities so that they can explore them on their own. Including a welcome ceremony in the wedding program at the destination is very important where family and friends of the bride and groom can introduce themselves to one another. This can be as simple as a causal barbeque lunch by the beach, a picnic at a scenic location or as elaborate as an afternoon tea celebration or cocktails at the local bar.
When it comes to planning activities at the destination, it is best to get advice from a local expert such as a guide at the resort for the wedding, a travel agent or a wedding planner as they are likely to have a good knowledge of local attractions and can suggest best options for the interests of the guests and budget of the couple. Lastly, even if the wedding is an adult only preference, it is important to plan activities that are kid-friendly at the destination. It is likely that the guests would have brought their kids along and have extended their stay to make it a family vacation.
Kid-friendly activities could include face-painting, a jumping castle, puzzles and outdoor sporting activities depending on the average age of the kids and the destination.
Planning the budget for a destination wedding can be a challenge as there are a lot of things to consider including what should be paid by the hosts and what needs to be at the guests own expense. It is expected that the host will pay for the wedding reception dinner and the welcome party. While it is not an expectation, depending on the budget, the host may also pay for all the activities and sometimes even the stay and travel such as for elderly relatives who cannot otherwise attend the festivities.
The general expectation of guests who attend a destination wedding are that they will pay for their travel and stay. The hosts often will arrange for shuttles between the airport and the venue and in-between venues during the wedding ceremony. The hosts may also organise and pay for a few group activities and the guests have to arrange and pay for their own outfits, hair and make-up.
---