Children Wedding Reception Activities
by Saanvi Chandra, 17th April 2017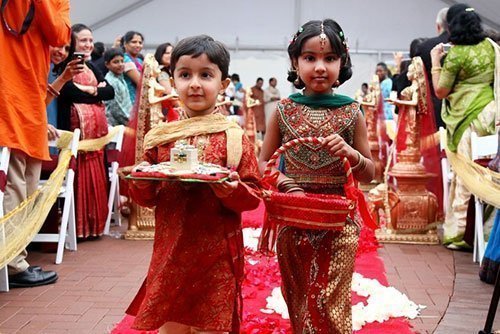 Indian weddings are generally full of excitement and fun for adults, especially for young women. But they can be really boring and yawn-inducing for the kids.
Yes! Kids, believe me when I tell you this, hate weddings. Go to any Indian wedding, you will find a bunch of crying, bawling and cranky kids all around you. Kids are cute even when they cry, but they can be really so distracting – they can take all the attention away from the bride and her big day.
So is there a way to make your wedding fun for your little guests as well? Weddings don't need to be boring for kids; with some careful planning, you can organise some fun children wedding reception activities.
Indeed, your wedding planner should take children into account when planning the various events and entertainment programs at your ceremony. If they haven't already, ask them why.
The children wedding reception activities listed here not only ensure that the kids are properly occupied and are not bored, they also add a fun quotient to the wedding ceremony. Let's take a look at them!
#1: Give the kids odd tasks to do. Make them feel important.
Children love it when an adult takes them seriously and gives them a task to perform at such an important event. This ensures that they don't get bored and actually look forward to the big day and are on their best behaviour.
You can ask them to carry signs, direct guests to their seats, help out with the flower arrangement, work as a page boy, hand out soft drinks to the guests or help with the collection of the gifts. Kids love doing these things!
They could also help the chef out in the kitchen by doing the simple and repetitive tasks. Assign jobs that are suitable their individual ages. Or they could just watch as the adults go about their business, explaining the intricacies of preparing the various wedding delicacies to them. It's a lot of fun for girls, who have a great interest in cooking.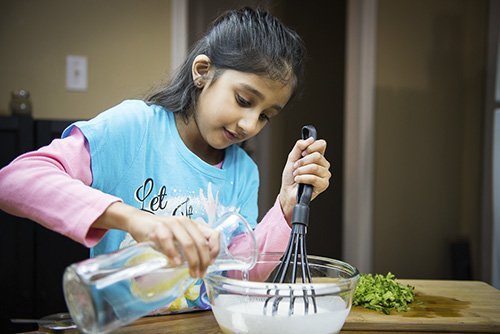 Make the children part of the wedding.
#2: Arrange fun and interesting games.
You can arrange some fun and interesting games for the kids, where adults are welcome to participate as well. There are so many games to choose from, they don't need to be expensive. You can select from simple games such as snakes and ladders, chess, Carrom and Cnnect Four.
You could also arrange for a cricket match or football match just outside the reception hall. Other fun game ideas are, toss the ball, hook the duck and Super Monkey Ball to name just a few.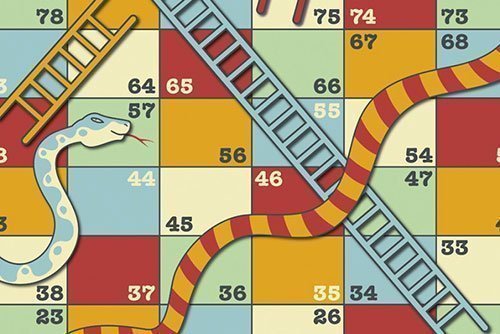 Board games can keep children occupied and quiet.
#3: Organise an arts and crafts show.
You can have a special arts and crafts area in the reception hall to keep the kids entertained and productively occupied. The crafts can be set up with wedding themes, such as making cards for the bride, drawing and colouring wedding-themed pictures, decorating the wedding cake and more. Make sure to hire a professional child-carer for supervising the children, so that they can babysit the kids while the parents enjoy the wedding.
Arrange a drawing or painting competition. Stack up a table with crayons, paints, pencils, sketch pens and white papers. Encourage the kids to let their imagination run riot. Tell them to come out with the wackiest drawings and other artwork. Make sure there are enough chocolates and candies for everyone at the table. Make it a lot of fun for everyone.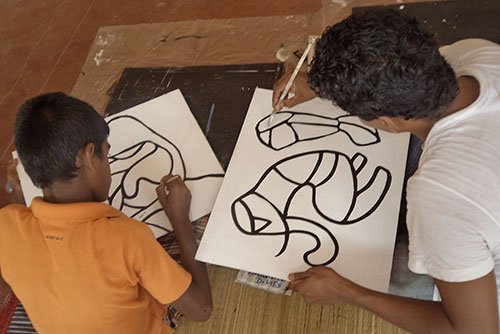 Ask the children to draw pictures of the wedding.
#4: Book, tablet or movie corner.
One of the best ways to keep the kids entertained is to have a book, tablet or movie corner in a quiet area just for them. Fill up this place with comics, picture books and tablets. You can also make arrangements for the kids to watch their favourite animation film, whether it is Shrek, Tangled or Finding Nemo. Mesmerize them with a 3D movie and glasses.
If you can install a popcorn machine, that would be just perfect. Even adults should be allowed to join in, if they were to want to. Arrange for someone to read out a story to the children after the movie. Just keep them entertained and make sure everybody has fun.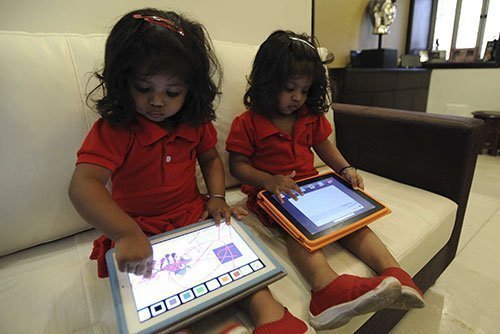 Place books and tablets in a quiet area.
#5: Hire a professional performer.
There are so many different entertainment professionals you can choose from, such as clowns, comedians, face painters, tattoo painters, caricature artists, karaoke artists, magicians, ventriloquists, storytellers, tarot card readers, hypnotists and many more. You could have professional impersonators, who dress up like Superman, Batman, Cinderella, your favourite Bollywood actor or actress and other famous characters or celebrities.
That's a lot of fun for kids and adults alike. Just make sure to have done a background check on the entertainers before hiring them, as you wouldn't want to take any chances when there are children involved. There are many event management companies that supply professional entertainers for weddings. They make sure to property vet the entertainers before sending them over. You can also ask the kids' party planner to suggest a few professional performers for the event to keep the children entertained.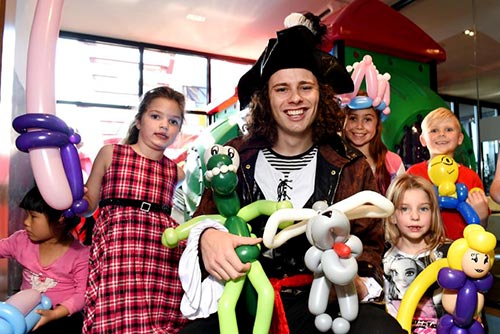 Consider hiring a profession children's entertainer.
#6: Kids Only Photo Booth
One of the things you could do is to arrange for a kids only phone booth, with caricatures of their favourite superheroes and animation characters. Make the kids dress up in unique and interesting costumes. Hire a professional photographer to capture some amazing shots of the children as they go about doing the cute things that they do.
Make sure there are a plenty of props such as Avengers, Frozen Princess, Tangled and other Fairy Tale or Superhero props. Hand over the super cute pictures of the kids to the parents at the end of the photo session. Mom and dad would be pleased as a punch!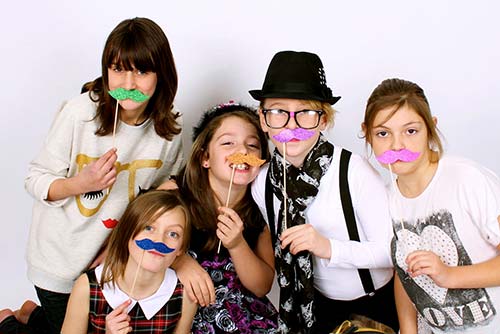 A photo booth is fun and provides memories.
#7: Start a doll house for the kids.
Kids, especially little girls, love dolls. You can give them enough dolls to play around and install a large doll house for them in a corner of the reception hall. Building a dollhouse is easy enough – just throw a mat in the middle, surrounded by elaborate sets made from Lego boxes.
Just buy enough Barbies for them to play with. Add a dozen toys to the mix, and perhaps a toy car or two. With their imagination, the kids can reenact the wedding with the dolls!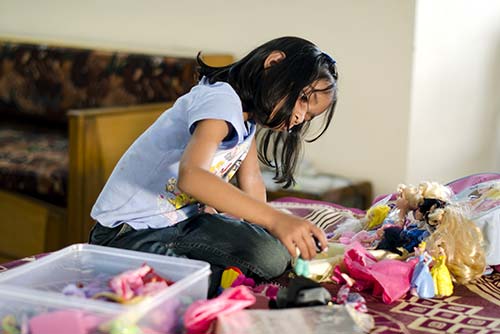 Girls love playing with dolls.
#8: Organize a fun fair for the children.
Remember the village fairs or town fairs you used to attend as a child? Why not arrange something like that at your wedding? Fairs are a lot of fun. You can recreate a wedding theme at the fair; have a target practice area where the kids shoot at balloons with a toy gun, or play "hit the clown".
Recreate the experience of a village fair at the reception hall. Remember how you loved the cotton candies at the village fairs? You can have them at your wedding reception as well. Give the kids all the cotton candies they want.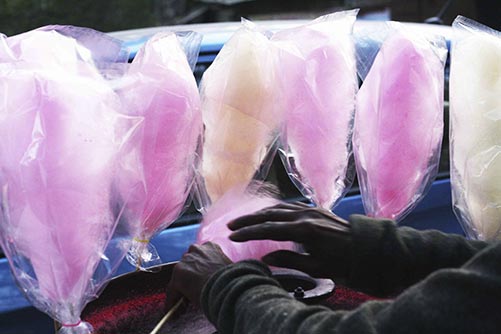 Create a fair type environment.
#9: Design a Disney fairy tale kingdom.
If you have little girls in your family, you will know how much like being princesses. Little boys like playacting as warriors or soldiers. Design an elaborate Disney fairytale kingdom with the right themed table decor.
Welcome the kids into this wondrous world, where there are no adults allowed! Just leave the kids on their own and let them have fun.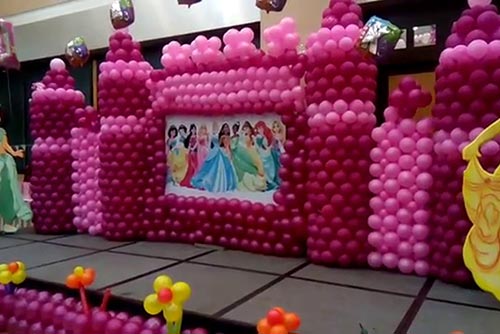 Wow kids with a fairy tale kingdom.
#10: Arrange a cricket match or a football match.
Kids in India like nothing more than cricket and football. Here's what you can do. You can gift them with Team India shirts with the names of their favourite players, whether that is Virat Kohli, MS Dhoni or Ravichandran Ashwin. You could also gift T-shirts of various English Premier League teams such as Chelsea, Arsenal, Manchester United and Manchester City to the children.
Now, give them a bat and a ball, or a football, find a safe, open area outside the reception hall and tell them to just play! Make sure there are at least a couple of adults supervising them, just to ensure that the kids stay safe and don't get into any sort of arguments or fights with each other. This is something very common with boys!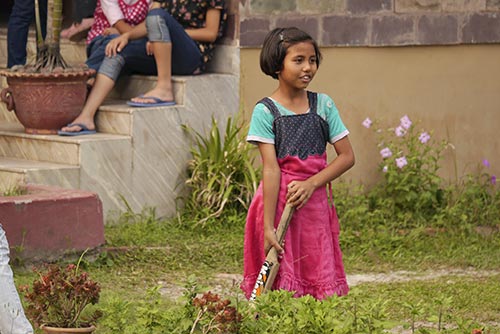 Organise a cricket match.
#11: Have an outdoor game area.
While organizing cricket or football matches is a good idea, small children, or those who are aged 6 or less, don't particularly enjoy these sports. You can organize other outdoor games for them, such as kho kho, catch catch, hide and seek and other fun games. You could have a trampoline installed outside and have the kids jump around. It's a lot of fun, safe and is a perfect exercise for children.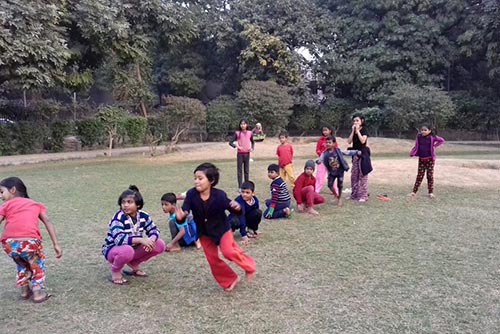 Set aside another area for younger children to play Kho Kho.
#12: Organize a treasure hunt.
Treasure hunts are exciting and have this mystery around them. You can ask for help from the event planner to design an elaborate treasure hunt for the children.
Plant clues or riddles in all the right places. Make it slightly difficult for the kids, so that it can hold their interest, but not too difficult, otherwise they might just give up.
Kids love treasure hunts; they will be completely occupied with that, while their parents can focus on enjoying the wedding ceremony.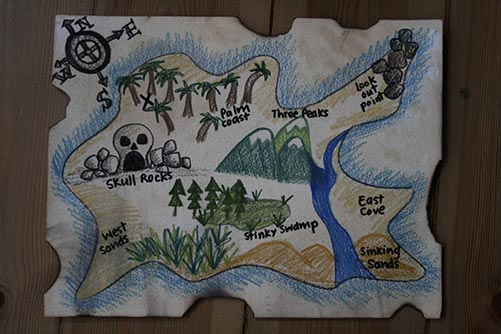 Create a pirate's map and have a treasure hunt.
#13: Make sure there are enough fun kits and activity packs for everyone.
Fill up a bag full of activity sheets and fun kits, such as colouring placemats and hand them over to the children. It's likely to keep them busy for many hours, for the entire duration of the wedding reception.
Your guests will then be able to enjoy the music, the conversations and the gossip without having to attend to their kids all the time. Mom and dad can use the occasion for a much needed break from their hectic lifestyle.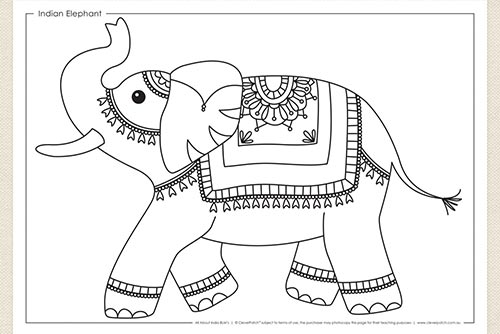 Provide colour books and placemats.
#14: Design a nap room for the kids.
If you have small kids in the family, they can get tired very easily by all the excitement around the wedding and will start falling asleep in the middle of the reception. In that case, you could arrange for a nap room for them, with blankets, toys and cosy cushions.
You can have an adult sitting close by reading out bedtime stories to them. The kids will love the sleepover, especially when they are surrounded by many children of their age.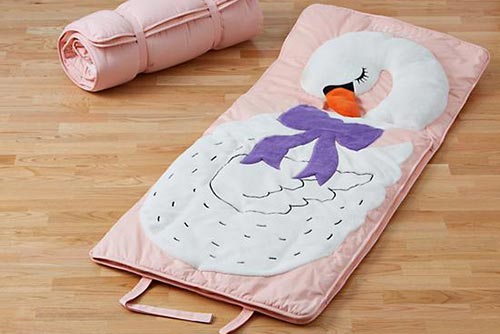 These sleeping bags are really neat.
#15: Let the kids be kids!
Just let the kids play around under the direct supervision of a trained nanny or babysitter. You will certainly not have any trouble finding babysitters for Indian weddings to look after the kids – there will be a number of adults who would volunteer happily.
However, it is always better to hire a professional nanny for this purpose, so that their attention remains totally focused on the kids and not on the wedding or on the guests. But the important thing is to let the kids be themselves, play around with the other children of their age and enjoy the occasion.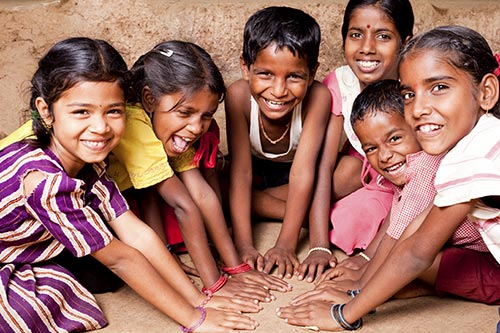 Hire a nanny and let them be kids.
#16: Let the kids go crazy in a bounce house.
Get a bounce house for the kids and let them go wild in it. Just make sure there is enough room for everyone and it does not get too crowded. Have an adult watch over the kids so that they don't end up doing anything silly. Bounce houses for children are very popular in outdoor wedding receptions in the United States and Australia.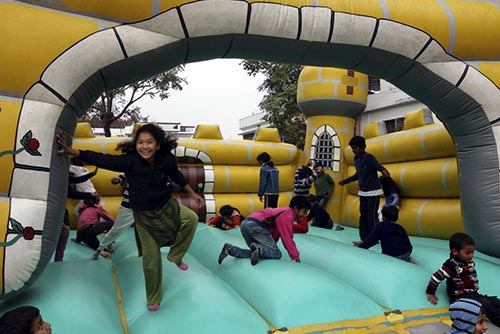 Hire a bouncing castle.
Final Thoughts
As you can see, it's really very easy to keep the children entertained and productively occupied during the wedding. Wedding planners should remember not to overlook the little guests when planning a Big Fat Indian Wedding. Every Indian wedding will have the tiny tots running afoot, and there has to be at least some arrangement made to make sure that they are well looked after. Hiring a professional babysitter or a children's event planner at the wedding is a must for this reason.
The sixteen children wedding reception activities listed here will make sure that the children remain engaged while their parents can focus on the wedding festivities. With our ideas, the children would not get bored at the reception and parents would appreciate your thoughtful gesture. You would certainly get an extra blessing from the parents for this!
---