Where to buy Indian clothes in the US
by Ayesha Jain, 20 August 2019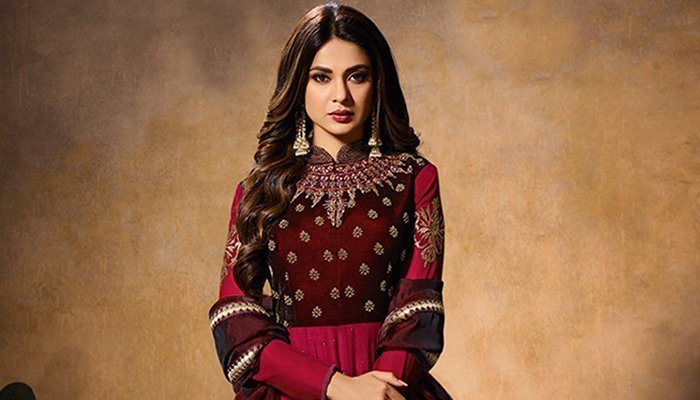 Indians take pride in celebrating their culture no matter which part of the world they live in. With a large number of non-resident Indians (NRIs) living in the US, there is always an opportunity to get together with fellow Indians to celebrate festivals and events such as Diwali, Indian Independence Day and many others. NRIs love to dress up in traditional ethnic wear to these occasions and the fashion trends are often inspired by Bollywood movies.
If you have recently relocated to the US for marriage, you maybe wondering where are the best places to shop for your ethnic wear? These days most NRIs are time poor and often don't have time to visit shops to buy clothes or such shops may not be easily accessible to them because of where they live, making online shopping for ethnic wear very popular. These are some of the Best websites to shop for traditional Indian clothes -
Utsav Fashions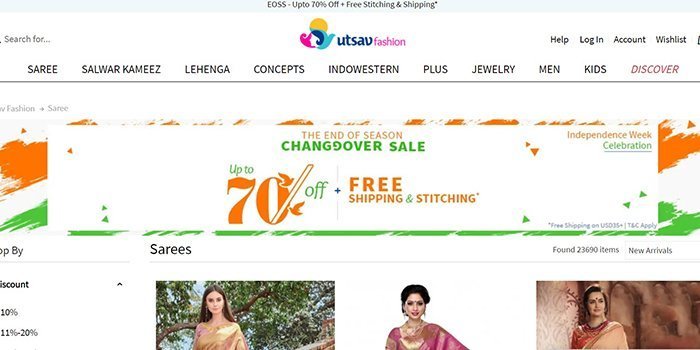 Utsavfashion.com is a very popular one-stop shop for all Indian wear and accessories. They have been servicing customers in the US for more than 10 years now. Their collection of Indian clothes is versatile and caters for men, women including plus size and kids. The ethic wear for women range from sarees, lehengas, Indo-Western wear like kurtis, salwar and jewellery to match.
They also sell outfits for weddings and special events and have a section on their website where you can exclusively look for concepts or special occasions. They are up-to-date with the current ethnic fashion trends including embroidered blouses, kundan jewellery and chandbalis. Sarees come with the options of semi-stitched or ready-to-wear blouses which makes shopping convenient as you don't have to go shopping to buy a blouse to match.
The men's section also has a good collection of ethnic outfits such as kurta, sherwani, Pathani, Nehru jackets and bandhgalas. They also sell accessories to go with the outfit including turbans, kanthas and kilangis. The kids section offers clothes for both boys and girls. They offer shipping to all cities in the US and free shipping for some items over USD 35 and all orders over USD 300.
Sarees Bazaar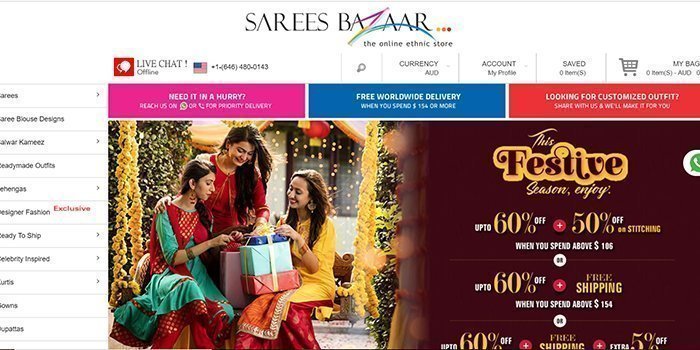 Sareesbazaar.com is an upcoming contender in the ethnic Indian fashion market with affordable pricing and a customer support phone line for US customers. It is venture of Super Bazaar which is a popular supermarket chain in India. The site caters for women, men and children, both boys and girls and for all special occasions, events and weddings.
The women's range not only encompasses the usual ethnic selection of sarees, salwar kameez, lehengas, kurtis and gowns, they also have a section of celebrity inspired and designer wear which has some very unique ethnic fashion pieces. The sarees come with all the extras you need to be ready to wear such as blouses (with standard stitching or custom-made), falls, edging and petticoats to match.
Custom stitching could take up to 25 days for it to be shipped. The men's collection includes sherwanis and kurtas with dhoti or pyjama. The kids' section has a selection of gowns and lehengas for girls and kurtas for boys.
They offer shipping to all places in the US and orders over USD 154 can avail free shipping.
Desiclik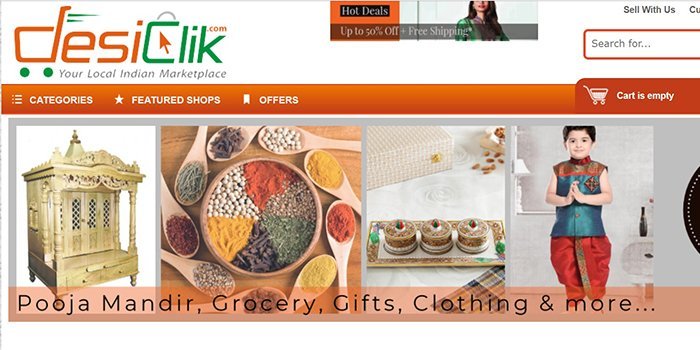 Desiclik.com formerly known as TheIndiaBazaar.com is one of the largest online Indian shopping bazaar based in the USA. The website is an online marketplace which brings all local stores that promote products predominantly from India. Not only can you buy retail or wholesale from a range of sellers, you can checkout the entire purchase in one transaction, instead of having to pay at each online store separately.
This site is not exclusive to ethnic fashion lines but also caters for other needs including handicrafts, groceries, gift baskets, fresh sweets and snacks, books, Bollywood movie CDs/DVDs, religious pooja items, traditional return gifts and much more. Online stores such as Indian Outfit, Dillihaart and Elegant Attire are some of the featured stores on the website. They cater for women, men and children for all festive and special occasions including weddings.
Women apparel include sarees, salwar kameez, lehenga choli, kurta, tunics, dupattas and Indo-western clothes. Sarees can be purchased with blouses which charge extra for stitching by some online stores and you can also purchase petticoats, fall and edging on the site for the sarees you purchase. The ethnic attires for men include sherwani, dhoti kurta and kurta pyjama.
Traditional ethnic apparel for girls include kid's saree, lehenga choli, pattu pavadai and kurtis; outfits for boys include sherwani, dhoti kurta and kurta pyjama. The website is based in the US and provide shipping to all places in the US. They accept multiple credit cards and PayPal. Various stores on this site offer free shipping on a lot of their merchandise.
Cbazaar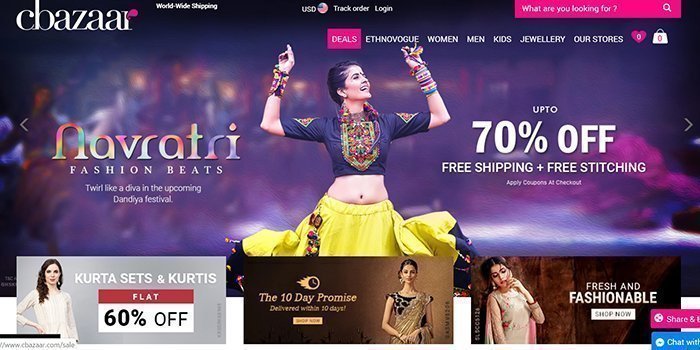 Cbazaar.com is an online store for all the latest trendy and elegant ethnic fashions. They not only have a virtual presence; they have multiple stores worldwide including a few US cities. The site has an exclusive brand EthnoVogue is that is designed by designers from around the world, who call themselves Ethnostylists, with the richest fabrics, custom stitched to fit you flawlessly regardless of your size. They have stylish Indian ethnic wear to cater for all ages, genders and occasions.
Alongside the usual collection of sarees, salwar kameez, lehenga cholis and kurtas that most sites offer, there is also a range of Anarkali suits and Sharara suits to chose from for women. They also have a section of jewellery where you can choose from chaand balis, jhumkas and kundan patterns.
The men's section provides a choice of kurtas, sherwanis, jackets and suits. Kids' apparel for boys, girls and teens are available with a choice of bandi sets, blazers, dhoti kurta, Nehru jackets and sherwanis for boys; and gowns, lehengas, salwar kameez, dresses and Indo-western outfits for girls.
Their stores are located in Georgia, Missouri, New Jersey, Michigan and Arizona if you would like to visit a physical store. They accept various credit cards and PayPal for online payments. They offer shipping to all cities in the US and promise a delivery within ten days. They also offer free shipping on various sale items in their online store and free shipping for all orders over USD 200.
Panash India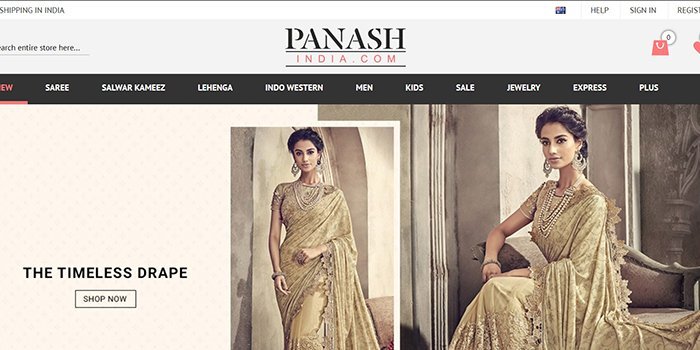 Panashindia.com is an India-based online store that provides world-wide shipping. Their brand is present in major retailers in India and is a popular choice among people shopping for the latest trends in ethnic wear. The site has a vast selection of clothes for men, women and children and caters for festive and special events such as weddings, engagements and cocktail parties.
The women's section has sarees, salwar kameez, lehenga cholis, Indo-western, Anarkali suits and other trending fashions on sale and accommodates for women with curves and of plus size. The men's section includes dhoti kurtas, Pathani suits, sherwanis and Nehru jackets. The kids' section has clothes for boys and girls and includes sherwanis, gowns, salwar suits and lehengas.
The site also has a section for jewellery where you can purchase traditional patterns to match your outfit and a section for express shipping which ships within 24 hours. Shipping is available to all cities of the US and often offers free shipping across the site. Payments are accepted through multiple credit cards and PayPal. Though based in India, they have a dedicated customer service number for US customers.
---