Where to buy Indian food in Mississauga?
by Ayesha Jain, 8th October 2019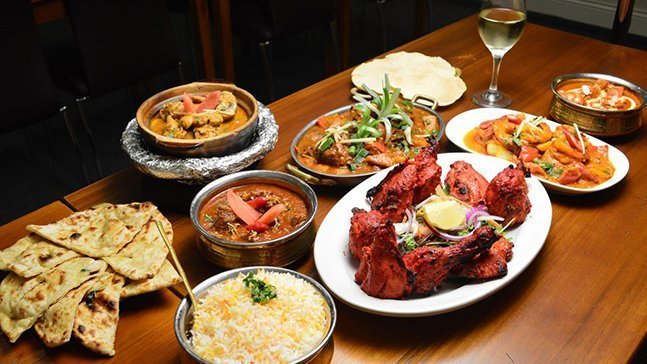 Recently gotten married and relocated to Mississauga? We've got great news for you food lovers. The expat population in Mississauga is diverse and has been a very population location for all Indians, from Punjab to Tamil Nadu. This diversity is reflected in the restaurant scene of Mississauga and the options of Indian food available in the city. This food is relished and enjoyed by both locals and Indian expats equally.
Here are the five best restaurants for Indian food in Mississauga:
The Maharaja - A Boutique Indian Restaurant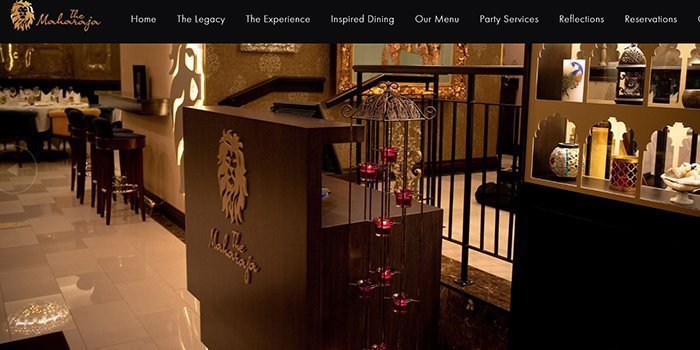 Maharaja translates to 'King' in Hindi and is a tribute to the lifestyle and rich culinary legacy of the Indian royal heritage. The restaurant is the winner of the Top Choice Awards for three years in a row. The restaurant promises an authentic dining experience reflecting a riot of flavours, colours, textures and tastes of the golden era.
The restaurant takes the diner through a culinary journey which is a kaleidoscope of spices and styles of cooking that has evolved over thousands of years and is amalgamated through cultural interactions from neighbouring Persia and influenced by Greece, West and Central Asia and beyond.
The menu consists of everything that represents the culinary diversity of India from grilled food to gravies and is inspired by the royalties of India from the grand banquets and fanfare of the mighty Mughals of Avadh, the Nizams of Hyderabad, the magnificent Maharajas of Punjab to the royal Rajputs of Rajputana. In addition to sections of dishes dedicated to these royal families, the menu also includes a range of breads, rice and desserts. The royalty inspired delectable menu is priced reasonably and caters for diners with various dietary preferences such as vegetarian, vegan and gluten-free.
Outdoor catering can be provided for all occasions as well as party take-away options for people who wish to celebrate at home.
Nirvana The Flavours of India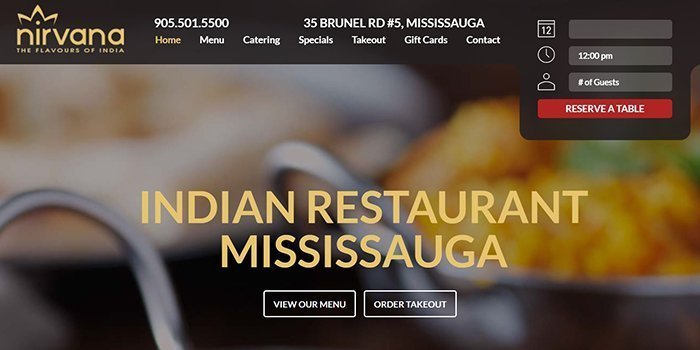 Nirvana is an established Indian restaurant in Mississauga who are proud of their food quality and service. The restaurant has a very cosy cultural ambience and seats over 200 people. The restaurant have been fine tuning their menu for over 13 years, introducing new dishes on a regular basis and always searching for the next new dish to add to their ever evolving menu. Their menu is diverse and not only includes dishes from different parts of India but also provides options of street food and Indo-Chinese or Hakka style cuisine.
They pride on serving authentic Indian food and the menu includes the usual crowd pleasers such as rogan josh and butter chicken along with a variety of breads, rice, drinks and sides. The restaurant also offers an executive lunch and pre-fixed lunch specials which are available Monday to Friday as dine-in or take-out. The restaurant has an Android and Apple app and orders placed through the app can avail 20 percent off on delivery orders.
The restaurant offers catering services from 60 up to 600 guests and has the options of either using a set menu or choosing a custom option that tailors to individual needs. They also offer gift cards for customers to gift their loved ones a delicious lunch or dinner at the restaurant.
Ancila's Indian Cuisine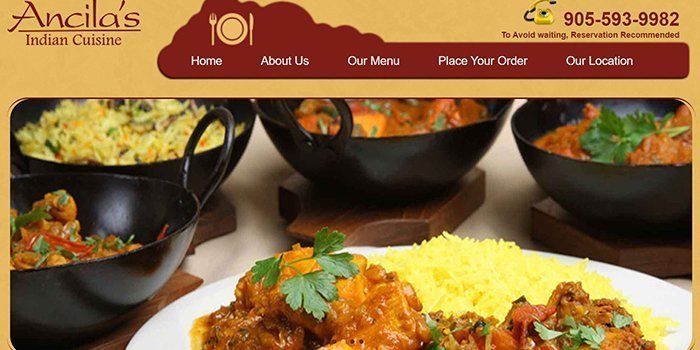 Ancila's Indian Cuisine take pride in serving authentic hearty food ranging from the north of India to sumptuous South Indian dishes, spice filled Mughlai to sensational tandoori cuisine, delectable vegetarian dishes to street food.
The restaurant is dedicated to serving great quality and fresh Indian food making their own spice blends on their premises and the recipe of every single dish on their menu is truly authentic and time tested.
The menu is competitively priced and includes a range of appetisers, meat and vegetarian entrees, tandoor entrees, bread, rice, sides, drinks and desserts. The restaurant caters for a wide range of dietary preferences and includes meat, vegetarian, vegan and gluten-free options. The restaurant offers take-out and fast and reliable delivery.
Masala Bites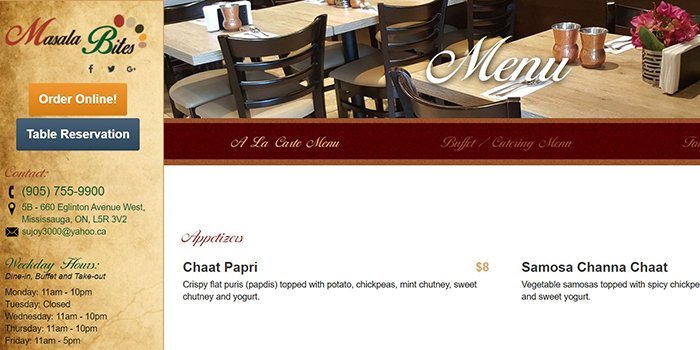 Masala Bites is an Indian restaurant in Mississauga which prides itself on serving dishes that are based on family traditions using recipes that have been passed down from generations resulting in mouth-watering dishes. The menu is reasonably prices and provides diners with either choosing from their A la Carte menu which is available only Monday to Friday or their buffet menu.
They also offer a take-out menu with similar options as those in the A La Carte menu. The menu includes appetisers which encompass various street food dishes, sizzlers, a wide range of vegetarian, chicken, meat and seafood curries, breads, rice, sides, drinks and desserts. The restaurant also offers weekday and weekend buffet options and catering services for events of all sizes.
The catering services have three packages to choose from and cater to events with a minimum of twenty people. The restaurant caters for people with a variety of dietary requirements including halal, vegetarian, vegan and gluten-free.
Udupi Madras Café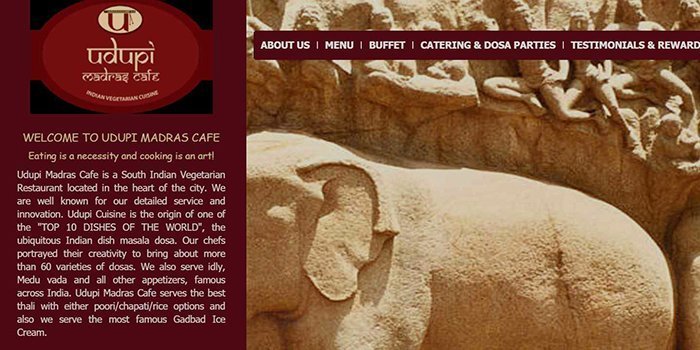 Udupi Madras Cafe is a South Indian vegetarian restaurant located in the heart of the city of Mississauga. The restaurant thrives on its motto "Eating is a necessity and cooking is an art". The café is well known for their service with attention to detail and their innovation. Udupi Cuisine is the origin for one of the top 10 dishes of the world, the global Indian favourite dish, the masala dosa.
The chefs at the café portray their creativity by serving more than 60 varieties of dosas on their menu. The restaurant also services other popular South Indian dishes such as idly, medu vada and all other appetizers which are famous all over India. The cafe serves the best South Indian thali meal with either poori/chapati/rice options and serve the most famous Gadbad ice cream which is a very popular dessert in South India.
The restaurant offers a breakfast and brunch buffet with a range of south Indian delicacies and outdoor catering for what they call dosa parties for celebration of all sizes and occasions.
---