Where to buy Indian food in Peterborough
by Ayesha Jain, 20 September 2019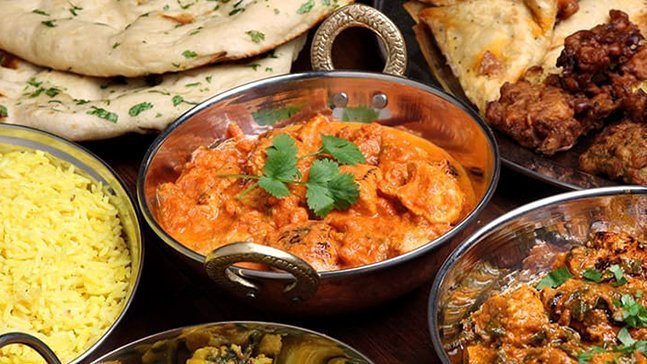 Recently met your life partner and relocated to Peterborough? This beautiful English city offers a wide variety of options for Indian food for local dinners, visitors from India and the local population with origins from the Indian subcontinent, who are quite a few in number in the city. Most of the restaurants in Peterborough have a menu inspired not only from various parts of India but also from different parts of the sub-continent such as Nepal and Bangladesh.
Here are five of the best places to get your Indian food in Peterborough -
Gurkha Lounge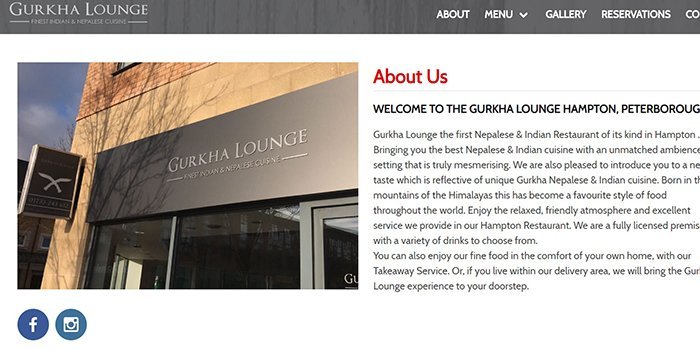 Gurkha Lounge brings the first Nepalese & Indian Restaurant of its kind in Hampton. It has an unmatched ambience and the setting is truly mesmerising. The cuisine is inspired by Indian and the unique Gurkha Nepalese flavours born in the Himalayas. The atmosphere is relaxed, friendly and the restaurant promises to deliver excellent service to their customers. The restaurant is fully licensed with a variety of alcoholic and non-alcoholic drinks to choose from.
The restaurant has two menus for dine-in and one take-away menu. For diners who want to dine-in they can choose what they would like from the restaurant menu or from the set menu for small groups. The restaurant menu includes a range of starters, main course curries, Gorkha's special starters and main courses, rice, breads, kids' menu and tandoori clay oven specials. The menu caters for varying food preferences and dietary requirements with chicken, lamb, vegetarian, vegan, gluten-free and seafood options.
The restaurant claims that though their food is heavy on spice, the heat level of most of their food is medium; however, are happy to cater to individual heat and spice levels. The set menu is for a minimum of eight people with prices starting at 20 pounds per person on weekdays and a includes a small surcharge for Saturdays. Take-away menu offers the same as the restaurant menu and they offer free delivery within a three-kilometre radius. They also offer various discounts during the week on orders over 15 pounds and updated offers can be found on their website.
The Banyan Tree Indian Restaurant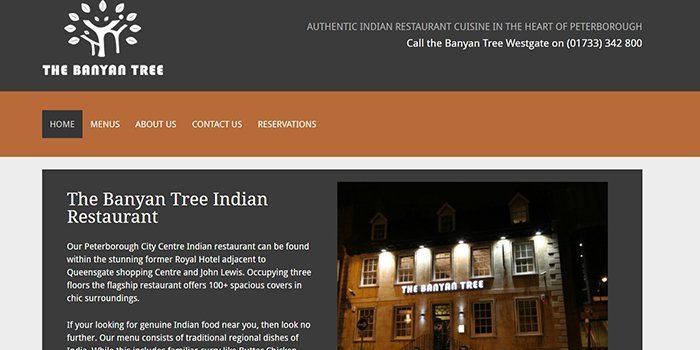 The Banyan Tree has two restaurants in Peterborough, one in the City Centre which can be found within the stunning former Royal Hotel adjacent to Queensgate shopping centre and John Lewis. This is the flagship restaurant and it occupies three floors and offers over a hundred spacious covers in chic surroundings. The second restaurant was opened in 2010 in Peterborough in the heart of the city centre at Westgate and is spread over two floors with the ground floor having a relaxed dining area and a large bar well stocked with a selection of exclusive wines, speciality beers, premium spirits and their own crafted cocktails utilising speciality spirits sourced from around the world. The first floor of this restaurant has two separate dining areas for exclusive dining or a quieter experience within the front room.
The restaurant promises genuine Indian food made from freshly grounded spices by well qualified and experienced chefs who understand the importance of quality ingredients and how they harmoniously integrate to create subtle flavours and textures. The food is prepared using traditional methods and the restaurant claims to have no 'twist of the west' in their food. Along with the staple popular dishes like butter chicken and bhuna gosht, the menu is inspired from cuisines and cooking styles across the mother country with options including the Goan fish curry.
The restaurant caters to various dietary requirements with its newly designed menu by their chefs from India which boasts specially created vegan and vegetarian Indian food with gluten-free options. The menu is reasonable priced and pays tribute to different regions of India with special dishes from these regions such as the Maharashtrian sabudana vada, Murg Chettinad and Mysore Chilli Chicken. The menu also includes popular street food options like vada pav, samosa chaat and pani puri. They have a large bar which would be the envy of any drinking venue stocked with exclusive wines, premium artisan spirits and a fantastic range of beer on draught. They also have a lunch menu with quick bite starters and curry options.
Taj Mahal Restaurant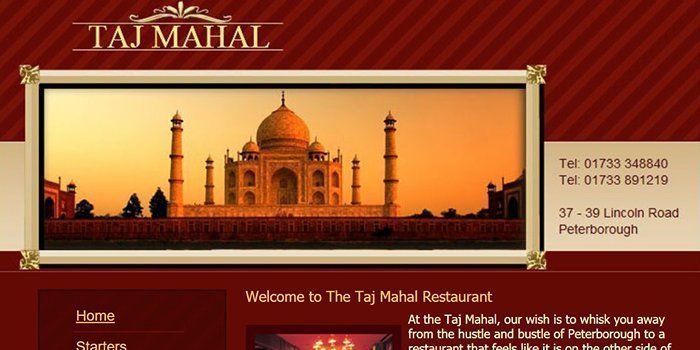 Taj Mahal restaurant promises to whisk you away from the hustle and bustle of Peterborough into an atmosphere that makes you feel like you are on the other side of the world. The restaurant offers relaxed and comfortable surroundings where you can enjoy their range of authentic Tandoori and Balti dishes and strives to serve the best Indian in Peterborough.
The menu is reasonably priced and offers a range of options for diners consisting of starters, main course including curries, varieties of rice and breads. The menu also includes a section of Taj Mahal specialities which include Balti curries, shashlik dishes, thali meals, special biryanis and tandoori specials.
The menu also offers dinner options catering from one up to four people. They are very popular local take-away preference with many people in the area. The restaurant caters for people with different dietary requirements such as vegan, vegetarian, halal and gluten-free.
Angel Spice Restaurant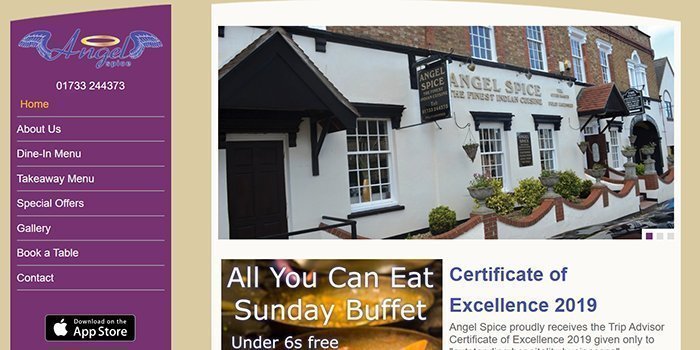 Angel Spice restaurant has been the recipient of the Trip Advisor Certificate of Excellence for being an outstanding hospitality business for several years including 2019. The restaurant's owners Jay and Bash, who are experienced chefs themselves, have a philosophy that fine food is one of life's most exquisite pleasures to enjoy and savour whenever possible and this is imparted in their restaurant's cuisine which has been designed with great care and pride.
The restaurant has a reputation for serving its customers authentic classic Indian dishes with a few modern and imaginative interpretations. The cuisine is inspired from tastes and flavours around India and Bangladesh and made with the freshest of ingredients. The menu is extensive, reasonably priced and offers options for all dietary preferences such as vegetarian, vegan, halal and gluten-free. The menu has a choice of special starters, curries in dhansak and Balti varieties, and a range of rice and bread options. One of the special starters include the Bengal Naga Chilli Chicken which is flavoured with the specially imported Naga chilli, the aroma of which is unique and so hot that only a pinch of it is sufficient to achieve heat surpassing that of a Madras curry. Other special starters include Punjabi Special garlic chilli and a selection of sizzlers that promises to provide a tantalising experience for the senses.
The restaurant also offers an 'All you can eat' Sunday buffet where kids under six years eat free and those under twelve at a reduced price. The restaurant offers both dine-in and take-away options. Their clientele includes a lot of repeat customers who come back to try different items on their menu.
The Bombay Brasserie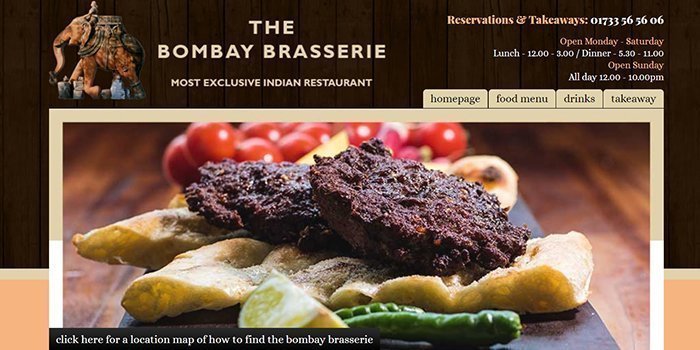 After opening their doors in June 1981, The Bombay Brasserie has welcomed several celebrity clientele including Prime Minister John Major and his wife Norma, Lord Brian Mawhinney, comedians Lenny Henry and Jim Davison, singer Peter Andre, Katie Price, former World Heavyweight Boxing champion Mike Tyson and the local Member of Parliament Stuart Jackson along with Peterborough locals among whom it is popular dining preference. The owner Rony Choudhury takes pride in the unique menu he has developed in his restaurant over the years and strives to provide exceptional food with a friendly service.
The restaurant prides on producing a variety of interesting and distinctly different dishes with uncompromising consistency which is upheld by the five talented chefs from India, Bangladesh and Pakistan and supported by a team of waiters who get the orders to customers as quickly as possible. Since moving to their new and much spacious venue in 2004, the restaurant can now accommodate up to 150 guests at any one time.
The restaurant also offers catering services for any special occasion at the location of your choice, be it a wedding or a birthday. Other than their regular menu which offers an array of starters, entrees main courses, rice and breads, the restaurant also offers a business lunch option from Monday to Saturday from 12pm-3pm, a pre-theatre three course menu option from Sunday to Thursday strictly from 5pm to 6.50pm, a Sunday 'all you can eat buffet' from 12pm to 10pm and a fixed price A La Carte menu 7 days in the evenings from 5pm which is available on request.
The menu is reasonably priced and caters for all dietary preferences including vegetarian, vegan, halal and gluten-free. They also have a good selection of drinks which include premium wines to go with the food, spirits, beer and non-alcoholic options. The restaurant also offers take-away options if you don't want to dine in.
---