Where to buy Indian food in Winnipeg
by Ayesha Jain, 9 September 2019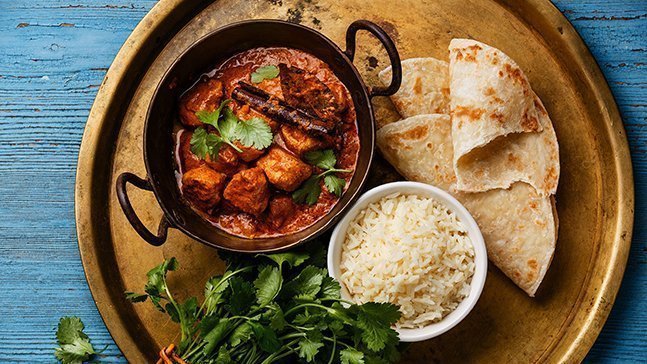 Got married and recently relocated to Winnipeg? You're in luck, Winnipeg is a multicultural melting pot and is home to people from different ethnicities including South East Asians. Indian food is a popular go-to option for both locals, Indians and people from other ethnic backgrounds in Winnipeg. Here's some of the best places to get Indian food in Winnipeg.
East India Company Pub and Eatery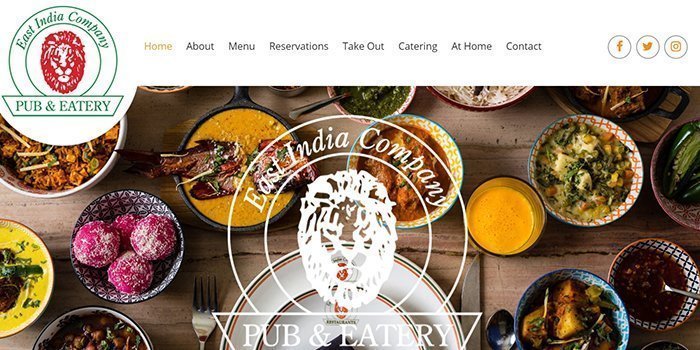 The East India Company was opened in 1994 by established restaurateurs Mr Kamal Mehra and Mrs Sudha Mehra who founded the first north-Indian restaurant in Winnipeg, India Gardens. East India Company offers one of the most extensive five-star South Asian menus for lunch and dinner in Canada.
Their chefs have been trained personally by Mr and Mrs Mehra, and together with their Executive Chef, Nitin Mehra, set the menus in each location, providing something spectacular and inspired Indian fare. The restaurant's décor is a tribute to the owners' love for South Asian art and it is filled with centuries-old Indian wood carvings, paintings, and intricate tapestries all chosen personally by Kamal Mehra. They are known for their mouth-watering endless buffets that are symbolic of the Indian hospitality and include a salad bar, appetizers, sizzlers, up to twenty-five hot starters, an elaborate dessert bar and accompaniments like chutneys, pickles and yogurts.
The buffet options change daily and they cater for a variety for people with a variety of dietary restrictions such as vegetarian, vegan, halal and gluten-free. They also have a take-away menu which is reasonable priced and offers a range of options of appetisers, entrees, biryanis (rice flavoured with spices and vegetable/meat), breads, desserts, drinks and combination meals that cater for one person to the entire family.
While It does not offer a venue for events, East India offers catering which has been operational since 1967 serving groups of all sizes and has been a popular caterer of choice at many Winnipeg venues and hotels.
Ivory Restaurant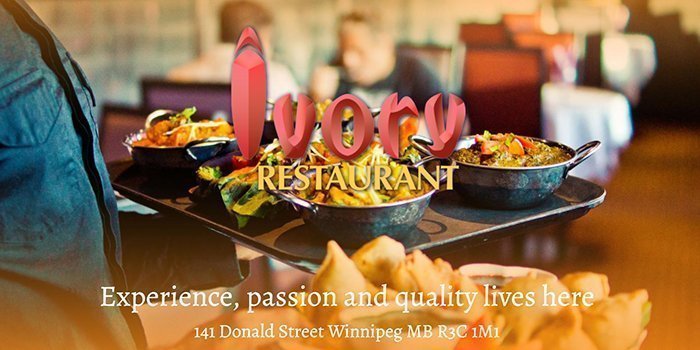 Situated in downtown Winnipeg, Ivory Restaurant offers some of the finest in Indian food. They have been serving the people of Winnipeg for over 25 years with the simple philosophy of keeping their passion for cooking while maintaining quality.
They offer a table menu, take-away menu and an option of having a buffet meal. The table menu offers a wide selection of appetisers, entrees, curries, breads, desserts and beverages. The menu has a range of vegetarian, vegan, meat including beef, seafood and gluten-free options. The buffet menu is very reasonably priced and is available both for lunch between 11.30 am to 2 pm and for dinner from 5pm onwards finishing between 9 pm and 10 pm on different nights of the week.
The buffet menu encompasses a salad Bar, large selection of condiments, hot & cold appetizers, basmati rice, biriyani rice, hot vegetarian entrees, non-vegetarian entrees, desserts and includes clay oven baked naan bread. The restaurant also offers private catering and space in their fine dining area for events such as weddings, banquets, birthdays, corporate events & all other important special occasions.
Clay Oven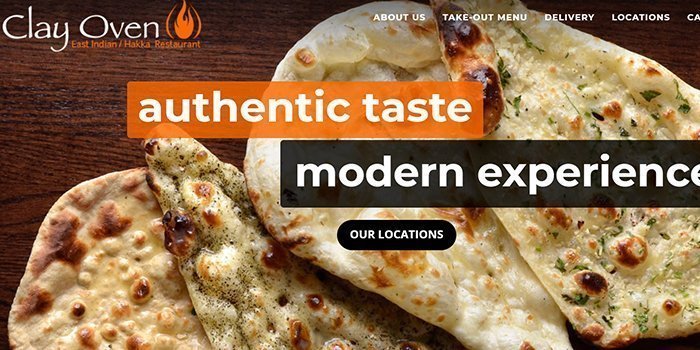 Founded in 2005 by the Ahluwalia Family, Clay Oven offers a vast menu of authentic Indian food with a range of chicken, lamb, goat, seafood, vegetarian and vegan dishes, along with a selection of sweets and desserts. The restaurant has a casual outlook and provides a family-friendly environment where food can be shared and memories made.
Dedicated to serving the freshest food, the chefs of Clay Oven make many of their ingredients from scratch such as yogurt and fresh paneer and cook every meal to order according to your desired spice level- mild, medium, hot or extra hot. The restaurant has daily specials from Monday to Thursday which you can check on their website. Clay Oven has restaurants in three locations- Downtown at Shaw Park on Portage Ave, Kenaston Common on Kenaston Boulevarde and Express on Edmonton Street in Winnipeg and you can order food online and either pick up or have it delivered.
The menu in their Shaw Park restaurant not only includes the usual traditional selection of Indian food such as appetisers, entrees, rice, bread and desserts; it also includes Hakka (Indochinese) entrees and main meals. Hakka dishes are very sought after in India and the restaurant offers value meals in this category which caters for up to ten people. The menu is very reasonable priced and also includes thali and value meals in the general menu which is a combination of vegetarian and non-vegetarian dishes.
The Shaw Park and Kenaston Common offer venues for event such as weddings, birthdays, corporate events and all other special occasions. They cater for crowds from as little as 20 people to up to 400 people at the Banquet hall at Shaw Park. The chefs will work with you to design a special catering menu that will reflect the unique character of your event, or you can leave the menu selection up to them and they will offer a menu of appetisers, main course and desserts.
Charisma of India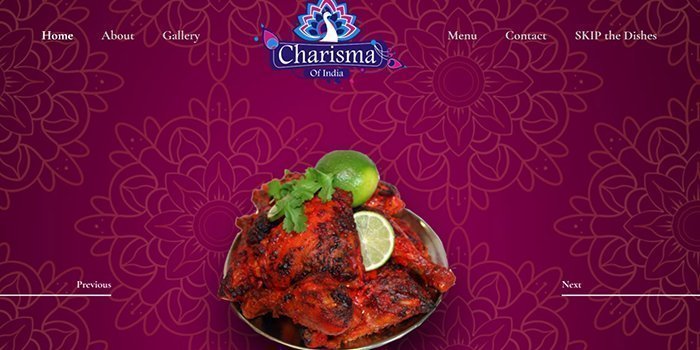 Charisma of India is an authentic North Indian elegant Indian restaurant in Wolseley, on Sherbrook Street in Winnipeg. The menu offers a huge selection of appetisers, entrees, rice, breads, accompaniments, desserts, beverages and Indo-Chinese dishes in vegetarian, vegan, meat, seafood and gluten-free options.
The menu also offers dinner combos for two to four people. The menu is reasonably priced and the restaurant offers online ordering and delivery. They offer catering at the venue of your choice for large or small parties starting at $14.99 per person or full-service catering starting at $24.99 per person.
Also available is a fully licensed dining room with a capacity of 130 people which can be hired for small weddings, corporate events, birthdays, engagement parties or other special occasions.
India Palace Restaurant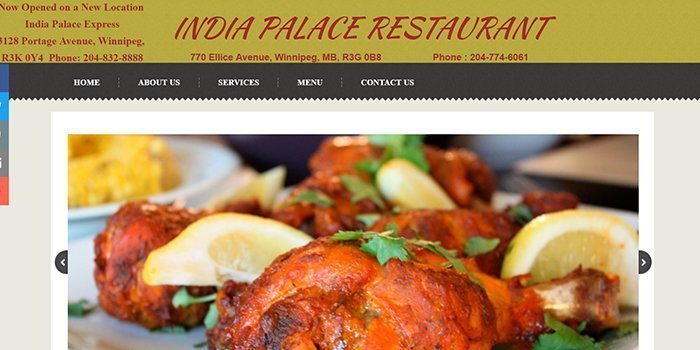 India Palace restaurant was founded in 1992 by the owners of Bombay Restaurant, Ashwani and Saroj Nagpal. With the authentic East Indian recipes and the perfect blend of Indian spices, India Palace has positioned itself as one of the most loved East Indian restaurants in Downtown Winnipeg. The restaurant offers dining in a comfortable cosy ambience.
While their menu has the usual options as the other Indian restaurants in Winnipeg, they also offer a range of popular street food options such as the famous aloo tikki and papri chaat. Their menu is very reasonably priced and they offer take-away for all items on their menu and delivery. Their website has some fun facts about various authentic Indian dishes such as butter chicken, samosas and biryani.
They are actively involved in the community and participate in events such as the Fringe Festival where they have been serving food for the last 30 years and are an active support for student associations providing them food for fundraising at a very cheap price and making no profit from these sales.
---