Where to buy Indian food in Edinburgh
by Ayesha Jain, 21 October 2019
Moved to Tamworth after marriage? The quaint market town located 14 miles north-east of Birmingham is renowned for its cafes and restaurants to satisfy the tastebuds of a large variety of diners.
The number and quality of restaurants serving food from the Indian subcontinent is a testament to the love of people of Tamworth and the visitors' love for Indian food.
Here are the best five places to get Indian food from in Tamworth-
Blue Water Indian Restaurant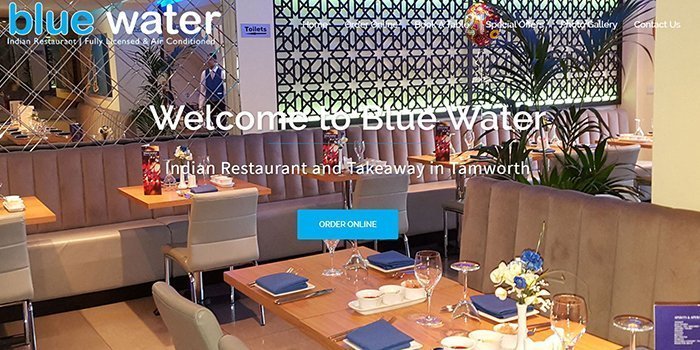 Indian Cuisine is a combination of tastes and flavours that are as varied as the climate and people of the country. Blue Water Indian restaurant aims to provide a warm welcome to their diners making them feel at home by serving good quality food in a relaxed atmosphere.
The restaurant prides itself in delicately blending fragrant, pungent and warm spices from different regions of the Indian subcontinent and using them in the dishes on their menu. They have a range of tandoori dishes on offer which are marinated in yogurt with a special blend of herbs and spices and cooked in the tandoor to seal their goodness.
The menu is diverse and offers a range of appetisers, tandoori dishes, contemporary mains, Balti and jalfrezi dishes, traditional and European dishes such as sirloin steak, fried chicken and variety of omelettes, biryani, rice and breads to choose from. The menu also has a special offer that runs 7 days a week and includes a three-course meal of pappadam, starter, main dish and rice or naan.
The menu caters for diners with all dietary preferences including vegan, vegetarian and gluten-free. The restaurant offers both take-away and dine-in options.
Champagne Indian Fusion Restaurant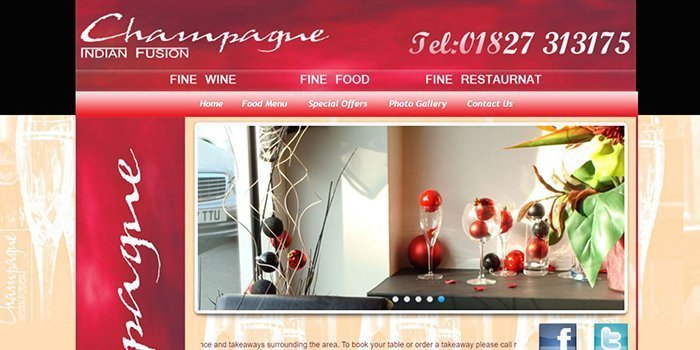 Champagne Indian Fusion restaurant promises a truly exciting and vibrant eating experience by combining a unique ambience, exquisitely fine cuisine and traditional culinary styles from India and Bangladesh. The interior scheme reflects a simple and understated tone with the use of innovative materials and craftsmanship.
Colours reflect the bright and warm nature of the Indian sub-continent which are also reflected in their menu. The Executive Chef has devised a menu to suit all palates by using authentic spices and ingredients to create a mouth-watering prospect. The menu offers dishes with traditional ingredients that have been supplemented with specialist additions such as ostrich, kangaroo and crab meats.
The menu offers the usual range of appetisers, contemporary main courses, tandoori dishes, rice, biryani, breads and accompaniments. The menu also offers fusion dishes in vegetarian and meat options which gives the diner the pleasure of sampling two dishes. The restaurant has a capacity to seat 80 people. They cater for private events and offer take-away.
Delhi Divan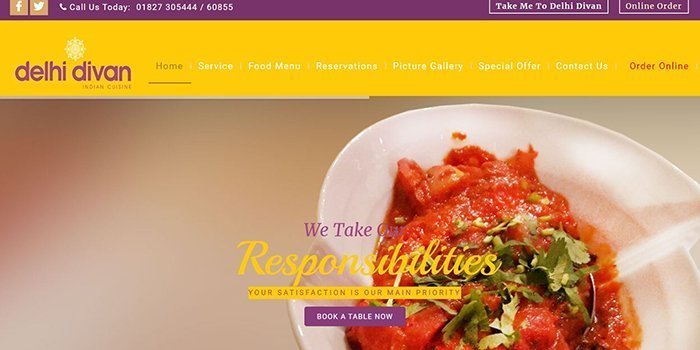 Delhi Divan offers the cuisine of South Asia that is explored by their chefs, allowing the diner to experience tastes and techniques covering thousands of miles, resulting from years of perfecting. Both traditional styles of cooking and modern flair are celebrated within their menu that offers classic dishes to satisfy and innovative meals to thrill.
The chefs have drawn from their clever passion for food to create several contemporary and quite simply, mouth-watering dishes, ensuring the Delhi Divan is a culinary success. The authentic flavours of their creations have been achieved through the use of the finest ingredients and cooking techniques.
The menu not only offers a range of characteristic options of appetisers, rice, curries, tandoori dishes and bread, but also a range of tawa or pan-fried meat and vegetarian options. They offer a banquet night every Wednesday which offers a set menu of an appetiser, main, bread, rice and sides. The menu is reasonably priced and caters for a variety of dietary preferences including vegetarian, vegan and gluten-free.
The restaurant also offers free parking, free Wi-Fi, takeaway and delivery.
Jalali Indian Restaurant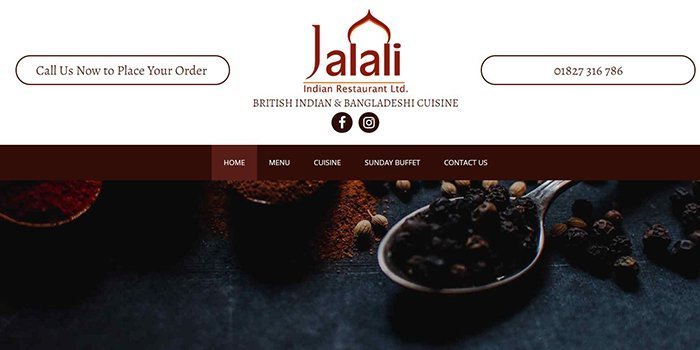 Since its opening in 1997, the Jalali Indian Restaurant has offered an excellent dining experience to diners in Tamworth. Their experienced chefs specialise in providing distinct and popular Indian and Bangladeshi cuisine, using authentic spices and fresh ingredients coupled with their friendly dining experience to offer the diner a trust taste of Asia.
The dishes on their menu is inspired from different regions across India especially the Sylhet Region of North-eastern Bangladesh that the chefs are taking influences from and adapting them to a modern style of Indian cooking. The menu incudes traditional Balti style favourites along with a fine selection of grilled tandoori dishes from the flaming clay oven.
They combine popular dishes such as chicken tikka masala with a more sophisticated style of cooking. One of the specialities on their menu is the murghi curry, which includes the chef's special curry sauce with a hint of tamarind and pickle to give the sauce its kick.
They have a Sunday Banquet from 5:30 p.m. to 9:00 p.m. which offers a vast range of authentic Indian food while maintaining the high standards and quality provided from the a la carte menu. This ranges from starters to curries in a variety of spices, excellently complemented by their range of rice, naans, and other side dishes including their house special Bombay Aloo.
They also offer a range of vegetarian optionsa and recommend contacting one of their team beforehand to allow them to add extra vegetarian and vegan dishes. They offer both dine-in and take-away options.
Marmion Balti Indian Restaurant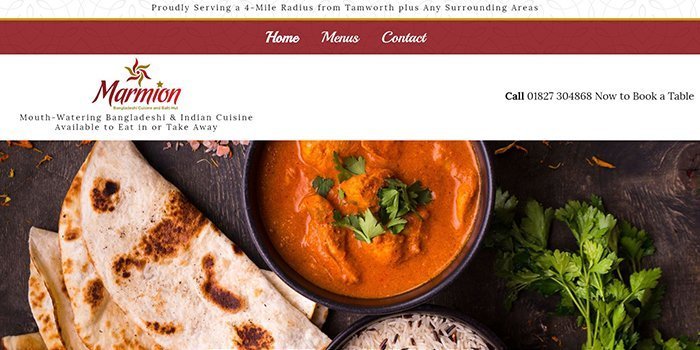 Marmion Balti offers wide-ranging menus combined with a warm, welcoming environment for diners to enjoy. With chefs that boast more than 15 years of experience within the food industry, the restaurant welcomes both small and large groups celebrating special occasions or simply enjoying some delicious food away from home.
As a combined Indian and Bangladeshi restaurant in Tamworth, the restaurant specialises in creating delicious Balti dishes. All cooked to order and fresh, their special dishes originate from Bangladesh. Built from scratch, the restaurant has an excellent reputation in the local area for high-quality Indian and Bangladeshi dishes.
The menu offers the usual range of appetisers, tandoori and tawa dishes, curries, rice, bread and side dishes in meat, seafood, vegetarian, vegan and gluten-free options. The restaurant is fully licensed and air-conditioned restaurant, allowing diners to enjoy a wide selection of drinks from their bar or diners can bring their own alcoholic and soft beverages.
The restaurant offers both dine in and take-away, and free parking is available right next to their restaurant.
---