Where to buy Indian food in Kansas
by Ayesha Jain, 24 September 2019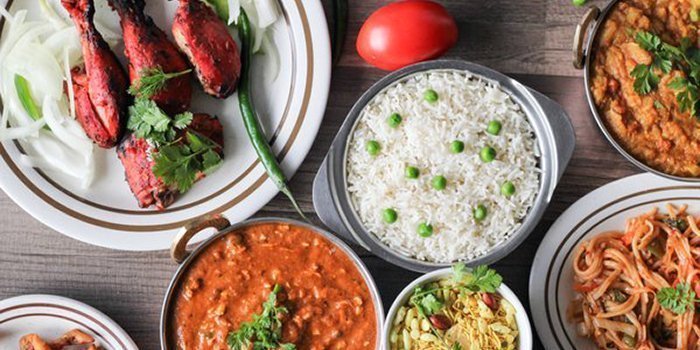 Tied the knot and relocated to Kansas with your life partner? Don't worry, Kansas has some great authentic Indian food restaurants. Greater Kansas City is home to tens of thousands of Indians who are a close-knit community that get together to celebrate cultural events regularly during the year. With their culture, many Indians have brought their traditional food and tastes from their kitchen in India to Kansas City.
Here are the five best restaurants serving Indian food in Kansas City -
Seva Cuisine of India Restaurant - Kansas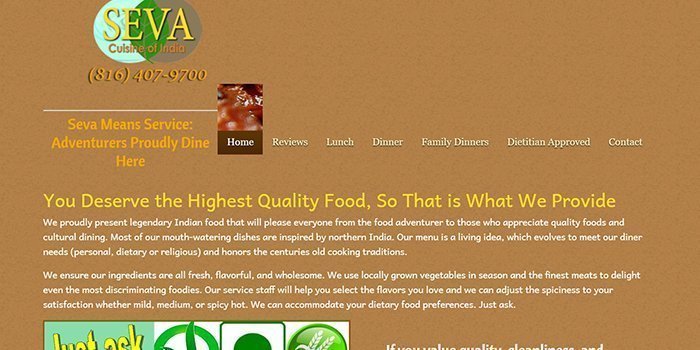 Seva means 'service' in Hindi and this restaurant offers legendary Indian food that is guaranteed to please everyone from the food adventurer to those who appreciate quality foods and cultural dining. Most dishes on their menu are inspired by northern India.
Their menu is a living idea, which evolves to meet their diners' needs, whether it is personal, dietary or religious and honours cooking traditions that are centuries old. They ensure their ingredients are all fresh, flavourful, and wholesome. They use locally grown vegetables in season and the finest meats to excite even the most discerning foodies.
Their service staff can help you select the flavours you love and they can adjust the spiciness to your satisfaction whether mild, medium, or spicy hot. The menu caters for all dietary preferences such as vegetarian, vegan and gluten-free. The restaurant also offers dietician approved dishes which are low in calorie, carbs and fat.
The restaurant offers family dining take-away options for kids to one to three adults.
Swagat Fine Indian Cuisine - Kansas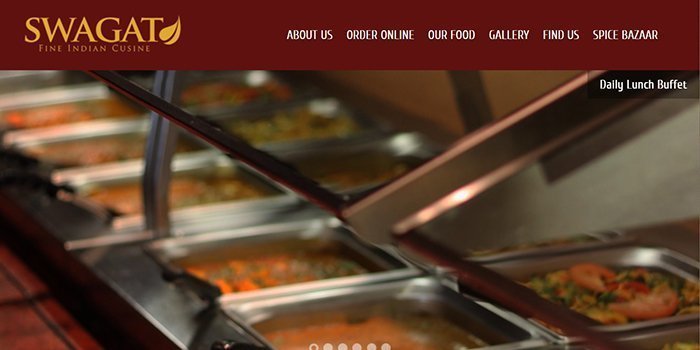 Swagat, a word of Sanskrit origin, translates to welcome which expresses pleasure towards the arrival of a guest. The owner/manager of Swagat, Gurdev Choong, began in the culinary business with his brothers and friends about 20 years ago, in Boston.
Their food was deeply flavoured and rich-tasting which soon became a hit with natives of India and Bostonians alike. After a few years, Gurdev and his brothers moved to Overland Park, Kansas in search of a good place to raise their families.
At first, they were unsure whether their flavourful and authentic Indian food would suit Midwestern tastes. But with hard work, good food, and a strong commitment to excellence, the brothers won over the public with opening of their restaurant Swagat in Zona Rosa seven years ago.
The restaurant like its name is all about a warm welcome, savory aroma, dazzling décor, and an exquisitely relaxing ambience offering an extensive range of delicious and authentic Indian food from appetizers to rice dishes to curries, tandoori chicken, vegetarian dishes, fine wines and desserts. Swagat is regarded as one of the finest Indian restaurants in the Greater Kansas City area with customers raving about the restaurant on several websites.
They are open for business seven days a week and they offer an all-you-can-eat lunch buffet and an À la carte dinner menu both of which are reasonably priced. The restaurant offers take-away and catering services for events of all sizes. The restaurant caters for all spice levels, dietary preferences and is fully licensed.
Taj Palace Restaurant - Kansas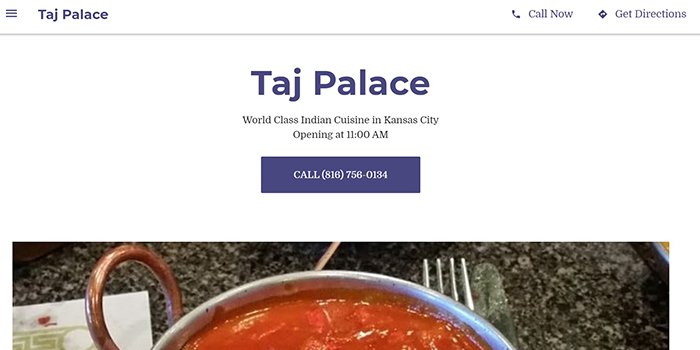 Taj Palace offers authentic Indian food that is inspired by a few delicacies from Bombay and classic Mughal style cooking. They use only natural spices in their dishes and have mastered the art of delicately blending fresh and natural ingredients of the highest quality to cook the dishes on their menu with skill and finesse.
The menu is diverse, reasonably priced and not only has a wide range of options including the usual suspects of starters, curries, breads, rice, condiments and desserts; it also has a section called the 'Clay Oven Weight Watchers' Special' which offers a range of delectable tandoori meats, seafood and vegetarian options.
They cater for different spice levels and varying food preferences such as vegetarian, vegan and gluten-free.
Moti Mahal - Kansas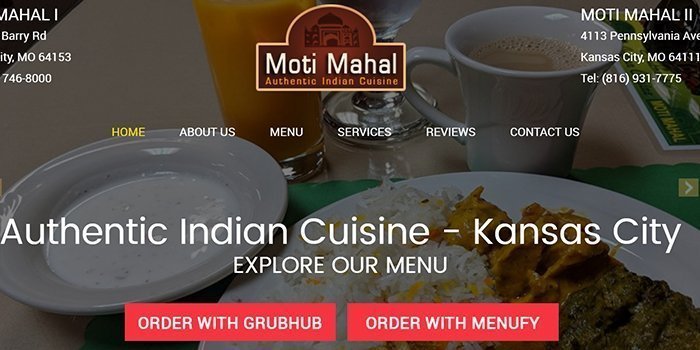 Moti Mahal has two restaurants in Kansas City, one located on NW Barry Road and the second one on Pennsylvania Ave. The restaurant offers authentic Indian cuisine and is a pleasant surprise in a town where Indian ethnic food is available in wide varieties.
Moti Mahal offers a wide variety of tasty, tangy dishes from India. The restaurant specialises in gourmet Indian food offering several tandoori/clay oven dishes, a wonderfully tangy lamb vindaloo and many other dishes that are carefully catered to your preferred spice level. The restaurant caters for various dietary requirements including vegetarian, met, seafood, vegan and gluten-free.
The menu has options for kids and takeout services are available. The restaurant uses only fresh, healthy ingredients and do not use additives such as MSG. The restaurant offers a traditional menu with options including naan breads, dal soups, tandoori dishes, curries, mango lassi and various other popular dishes at both their Kansas City locations.
They are closed on Mondays and offer lunch buffet all six days they are open at both their locations. They offer online ordering and delivery for orders over fifty dollars; and catering for events of all sizes from weddings, baby showers and birthday parties to corporate events.
Chai Shai - Kansas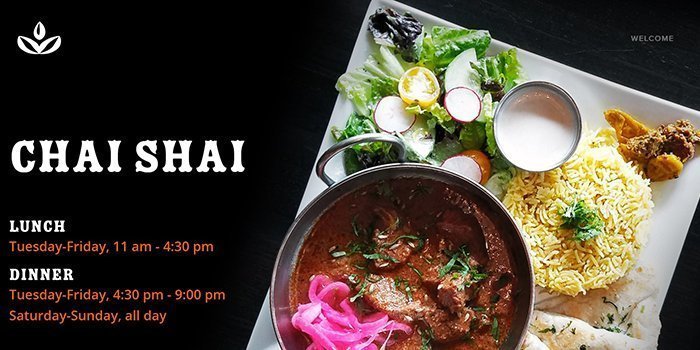 Chai Shai is a modern Indian restaurant that serves a menu that serves classically prepared food from India and Pakistan. Chai Shai is a term referred to sitting with friends and socializing while drinking tea and eating street food. This is commonly done in the evening in the Indian subcontinent at small outdoor stalls.
There is a lunch and dinner menu which differ slightly in that the lunch menu is laden with light snack and street food options and the dinner menu has more curries. The menu offers a variety of teas and drinks such as the mango shake, rooh afza which is a light summery drink with fruit syrups and rose water, Skunj-vee a lemonade, iced spice tea, the traditional masala chai and the pink chai made from green tea leaves from Kashmir that is brewed with milk giving it a pink hue.
The menu caters for vegetarian and vegans with a large variety of appetizers, street food and curries which fit the bill. The menu is reasonably priced and the restaurant offers take-out service. The restaurant is open six days from Tuesday to Sunday for lunch and dinner.
---