Where to buy Indian food in Houston
by Ayesha Jain, 10th September 2019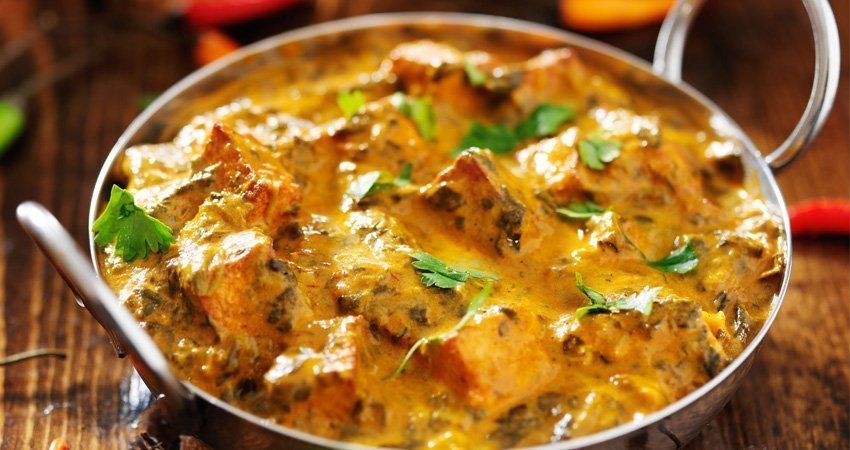 If you recently married and relocated to Houston, you would have found that it has a vibrant Indian-American community, and with it no shortage of places to find real authentic Indian food.
With a population of 150,000 Indian-Americans, most of whom came initially as doctors to work at the famous Texas Medical Centre and engineers who come to work at NASA's Johnson Space Centre, many members of this community have branched out to be entrepreneurs in manufacturing, energy and petrochemicals.
The city is very friendly and welcoming of newly arrived migrants from India and there is a wide range of choices in relation to Indian food and restaurants in Greater Houston for those who are missing the food back home.
Here are the top five picks for Indian restaurants in Houston -
Maharaja Bhog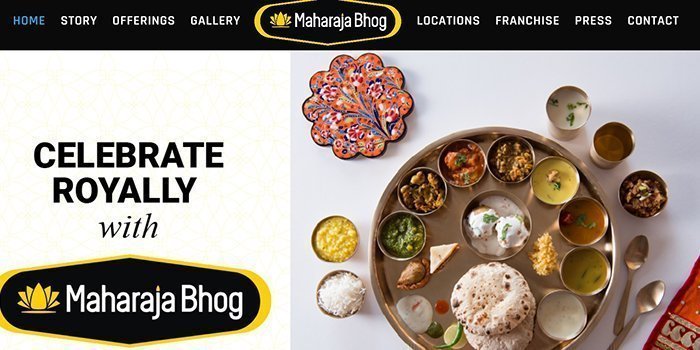 Maharaja Bhog translates to a food offering that is made to royalty. This restaurant offers a range of authentic Rajasthani and Gujarati food with an experience of the taste of royalty to serve you a traditional meal that you will never forget. At Maharaja Bhog, fine dining takes a new meaning with a menu filled with recipes have been handed down from generations that is guaranteed to leave you satisfied.
The restaurant is a part of a national and international chain with five branches in Mumbai, one in Pune, one in Kochi, three in Dubai and one in Houston, Texas. The menu is entirely vegetarian and you can choose from their Thali Restaurant, the Indian Bistro or order a take-away meal box.
The Thali Restaurant offers a premium vegetarian 'thali' which is an unlimited sit-down buffet with table service and a new menu daily. The 'thali' experience includes appetizers, entrees, desserts and a beverage which together create a wholesome, nutritious and organic meal. The meal caters for various dietary requirements such as vegan, gluten-free and nut-free.
The Indian Bistro is an express restaurant which offers meal combos, chaats, snacks and filling nutritious organic meals ideal for a quick working lunch or when your appetite is not ready to be pampered with their royal thali experience.
If you don't want to dine-in and order a take-away instead, their meal boxes present with a lot of options based on their location such as full meal, half meal, kids' meal and healthy meal boxes among many others. The restaurant also offers outdoor catering services to cater to occasions of any size from weddings to corporate events.
India's Restaurant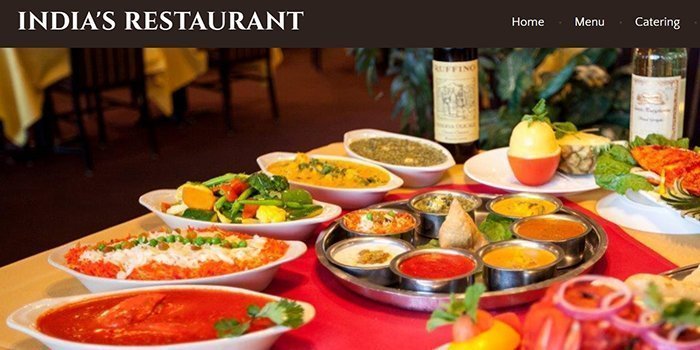 India's restaurant promises to provide you with an experience out of the ordinary that you are sure to love which will engage in surreal sensations. They cater for everything and anything for anyone and everyone to fit the likings of any palate whether it is a mild, soothing yogurt-based sauce or a spicy tongue searing curry.
The buffet begins with a selection of deliciously thin, crisp bread, red and green dipping sauce, fresh fruits and refreshingly cool Indian salads. The price of the buffet is fixed and it allows for a wonderful sampling of an entire range of delicacies promising a soul satisfying affair. The lunch buffet offers nineteen hot and cold dishes and include hot and cold salads and vegetables, special curries, tandoori chicken, lamb and freshly baked naan. The buffet meal finishes with a refreshingly sweet kheer which is a rice pudding garnished with almonds and pistachios.
You can select from a range of beverages to compliment your meal off their wine list which includes wines, Indian beer and fruit drinks.
The décor is culturally fascinating and newly renovated with marvellous furniture and mirrored walls.
The restaurant has a set menu which is also reasonably priced and caters for all dietary requirements such as vegetarian, vegan and gluten-free and food preferences such as chicken, meat, seafood and vegetables. The menu includes appetisers, curries, rice, breads and desserts. The restaurant also offers catering services for all special occasions including weddings and for corporate events.
Udipi Café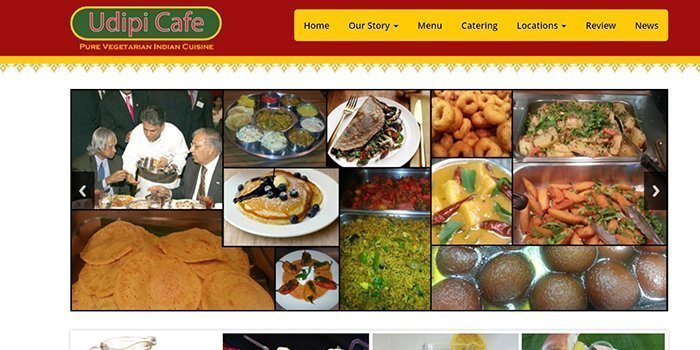 Udipi Cafe serves pure vegetarian Indian cuisine and is a good place to sample a taste of the rich history and culture of India. The cuisine ranges from dishes that are rich and hearty to dishes which are light, flavourful and tropical. The café serves authentic South Indian vegetarian food which are made from ingredients of the freshest and finest quality from trusted local suppliers.
The café gets its name from Udipi which is a coastal city in Southern India. The restaurant offers its diners both a set menu and a buffet option. The set menu includes a wide range of delicious fanfare at very reasonable prices such as dosa, Indo-Chinese dishes such as noodles, fried rice and manchurian, chats, combination meals, breads and curries.
The buffet option is available both for lunch and dinner and starts at $9.99. The buffet is elaborate and includes a variety of traditional South Indian food. They also offer catering services which cater for all occasions however big or small from weddings and birthday parties to corporate events.
The restaurant has received many a positive review by various food critics and has been voted as the best vegetarian restaurant in Houston. The restaurant also prides on its celebrity patronage with the likes of the former President of India and several Bollywood celebrities visiting their restaurant when in Houston.
Signature India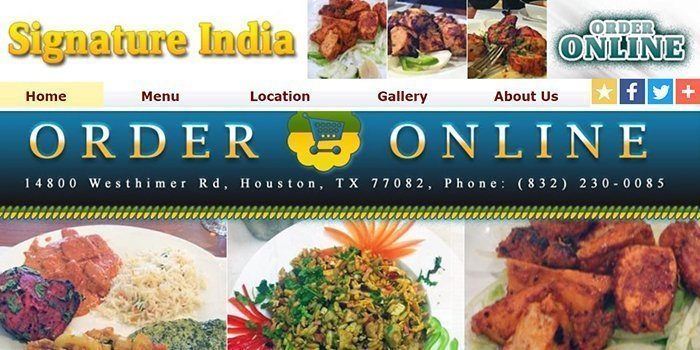 Signature India is a keystone in the Houston community and has been recognized for its outstanding Indian cuisine, excellent service and friendly staff offering both take out and dine-in options.
This restaurant is known for its modern interpretation of classic dishes using only high-quality fresh ingredients.
The menu offers a range of options which includes tandoor dishes, seafood, vegetarian, lamb and chicken curries, a variety of breads, rice, accompaniments and beverages. The menu is reasonable priced and you can order the take-out online or by calling the restaurant. They also cater for people with differing dietary requirements such as gluten-free and vegan.
Kiran's Restaurant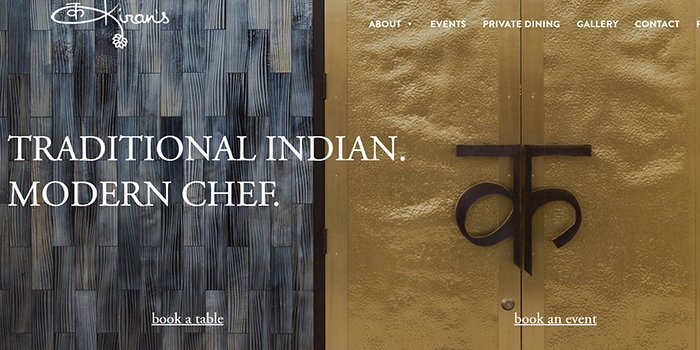 Kiran's Restaurant owned and operated by Chef Kiran Verma, considered the 'godmother of Indian fine dining, is a self-taught chef who is guided by her Indian upbringing and love for fine dining cuisine. Her cuisine is a combination of culture, philosophy and cooking techniques. She defines her cuisine as a combination of cultures, philosophies and cooking techniques.
Kiran's is known for serving up Indian hospitality with French sophistication and American informality. Kiran's has an award-winning wine list of over 300 labels, along with monthly wine dinners that compliments the delicate flavours of the food. Patrons can also enjoy an Afternoon Tea service every Friday and Saturday at Kiran's with tea for the occasion prepared with Chef Kiran's own chai blend.
The restaurant offers private dining options with three dining rooms available- main dining room that accommodates 75 guests, Maharaja Room characterized by its opulent chandeliers and includes A/V, with a large, flat screen and patio access and accommodates up to 50 guests, and the Polo Room that accommodates up to 24 guests is their cosiest room adorned with polo-themed paintings, in the style of the Indian Raj and also has A/V, with a large, flat screen.
They have an Indian inspired lunch, dinner and dessert menu to choose from with a fine dining twist and are reasonably priced for a fine dining option.
They lunch menu offers beverages, freshly squeezed juices, lighter options such as salads, rice, roti bread wraps, other bread options, curries, chef specialities and eggs. The lunch menu also offers a business lunch option. The dinner menu offers starters, street food options, tandoori dishes, curries, biryani, rice, vegetarian curries, vegetarian feast and a variety of breads.
The dessert menu has both traditional Indian sweets and western desserts with a twist of Indian flavours. The restaurant also caters for events.
---