Where to buy the best Indian food in Glasgow
by Ayesha Jain, 26th August 2019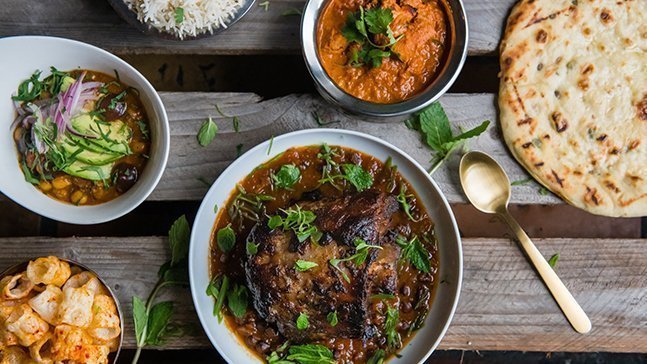 Contemplating a move to Glasgow after marriage? Already there? Here are our picks for the best places to get authentic Indian food that will help stop you feeling home sick.
Glasgow is infamously known as the Curry Capital of Britain because the Scottish are serious about their curries. From fine-dining to street food, Glasgow offers a plethora of lip-smacking soul-stirring Indian food that caters to a wide palate. With abundance of options, you can choose between having a few favourites for a weeknight take-away or for a special occasion like a date night.
Mother India Café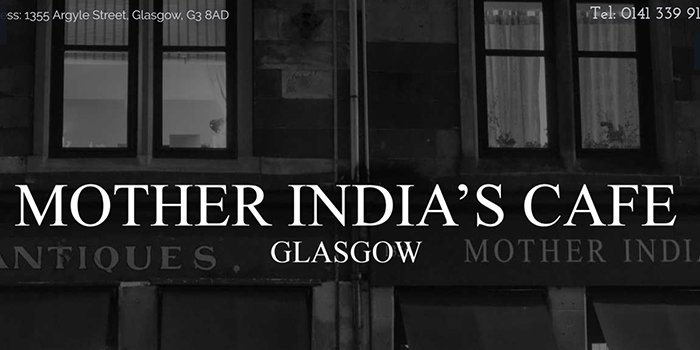 Mother India was first opened in the West End of Glasgow in 1996 and is spread over 3 levels with varying ambiance. The ground floor of the café is small and cosy and has its own bar and street view making it a perfect place to sip on a drink watching the world go by. The cellar has a theatre lit feel in the building which was once a bake house where you can dine under the original pavement lights.
Mother India's Café is a café style restaurant which opened in 2004 from the owner of the original Mother India restaurant which had been serving Glasgow diners for more than eight years. It is situated across from the Kelvingrove Art Gallery and claims to offer a twist on Tapas by serving small portions from an extensive freshly produced menu to support their belief in the concept of trying a little and tasting a lot. This experiment is well received by the pragmatic Glasgow diners making it a very popular destination for Indian food in Glasgow.
The menu caters to a wide range of palates and food habits with vegetarian, vegan, seafood and meat options with spice levels tailored to your taste.
At Mother India Café, you can choose from a table menu if you would like to eat in or a take-away menu if you would like to order a take-away. The table menu has dishes from all parts of India with a contemporary twist including dosa (Indian style crepes), curries, rice, breads, sundries and even a couple of street food dishes. The dishes are reasonably priced with smaller portion sizes to allow for sharing multiple dishes between two or more people. The table menu also offers special dishes during the week such as lamb specials on Monday and Saturday, vegetarian thali on a Tuesday, a fish special on Friday and a chicken special on a Sunday.
The take away menu is priced more than the table menu but offers a plethora of a more traditional fare of starters, curries and breads.
Ranjit's Indian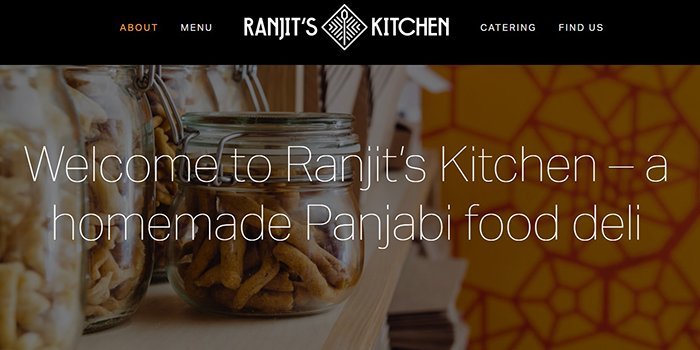 Ranjit's Kitchen is a newly opened deli which serves traditional Punjabi food in the heart of Pollokshields, Glasgow. Ranjit's is the dream child of Ranjit Kaur who moved to the UK in the early 1980s after her marriage and moved to Glasgow in the 90s. Along with her she brought the recipes of her ancestors and the flavours of Punjab which are reflective in the menu at Ranjit's.
The food is traditional and authentic and is not westernised to please the local audience. Ranjit's Kitchen is an exotic assortment of memories, tastes, ideas and flavours which runs deep in the cultural roots of Punjab and signifies a journey from the Punjab to Glasgow.
It is a family run business with Ranjit's children assisting their mother to turn her lifelong dream into a reality. The menu is entirely vegetarian, is very reasonable priced and offers a range of traditional Punjabi starters, curries, breads, sweets and drinks.
Whether you are missing home-cooked Indian food or would like to experience an authentic Indian taste fare, Ranjit's doesn't disappoint. The food includes dishes like pakoras, saag (curry made from mustard leaves, spinach and fenugreek leaves) and makki di roti (corn bread), a range of parathas (plain wholemeal bread or stuffed with cauliflower/raddish/potato/fenugreek leaves), traditional desserts such as laddus or bliss balls, barfi (slices) or carrot pudding.
The curries are made with fresh seasonal ingredients on site and if you are not in early, the curries may get sold out. The restaurant does not serve alcohol and do not offer a BYO option or corkage.
Mister Singh's India restaurant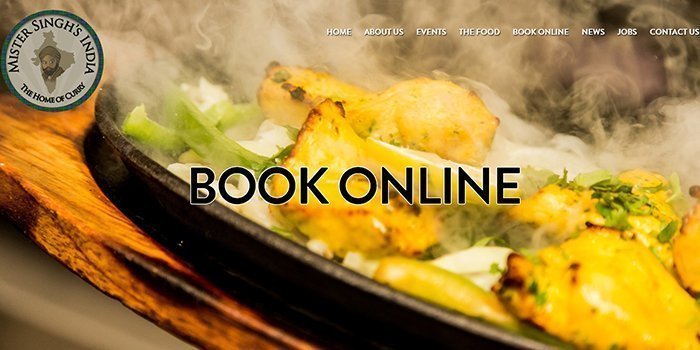 Since opening their restaurant nearly 20 years ago, Mister Singh's India has worked their way into the hearts and tummies of the Glasgow foodie crowd. Over the years, the café has incorporated the local Scottish influence into their menu to appease the locals and this is evident in dishes like their famous haggis pakora.
Their menu is moderately priced and offers a wide range of entrees, curries, breads, rice and a European selection of favourites. The options are a fusion of the East and the West with a Scottish twist to the traditional Indian food fare. The menu encompasses vegetarian, seafood and meat options and caters to different spice levels.
Alongside the restaurant, Mister Singh's also offers spaces for hosting events such as business lunches, family celebrations, office parties and cooking master classes. The experience team at Mister Singh's cater for all events of any size offering a menu individually tailored to your needs, whether it is a 5-course banquet menu or a corporate hospitality package.
For more intimate gatherings, they offer private dining options which provide a stylish and relaxed venue for up to 18 people with exemplary service and complimentary high speed wi-fi. Mister Singh's India also support Mary's Meals Charity to help end poverty and malnutrition in the developing world.
Tuk Tuk Glasgow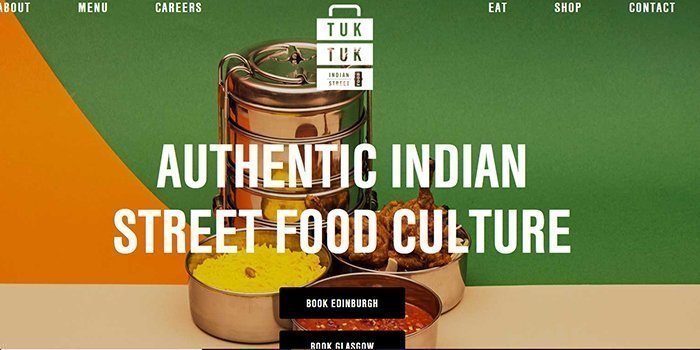 Tuk Tuk is inspired by the millions of street food hawkers of India who make up the colours, sounds and smells of India. The original restaurant was founded in 2012 by director, Rizvi Khaleque at Edinburgh. The second site opened in Glasgow City Centre, Sauchiehall Street in 2017 and in the same year won the award for the best Scottish Street Food at the Food Awards in Crowne Plaza.
Their food is simple, earthy, prepared with love and pays homage to the roadside culinary geniuses of India who feed the busy office workers, sweaty rickshaw-wallahs and hungry school children throughout the day. Their menu features a wide range of vegetarian, seafood and meat-based street food, curries, Indo-Chinese, tandoori dishes, sides, desserts and drinks.
The menu is reasonable prices and features UK's hottest curry, the Hellfire Phaal and several unique sweet street food experiences such as mango mastani, kulfi pop and thumbs up ice-cream float. The restaurant offers options for dine-in, takeaway and delivery through UberEats and Deliveroo.
Horn Please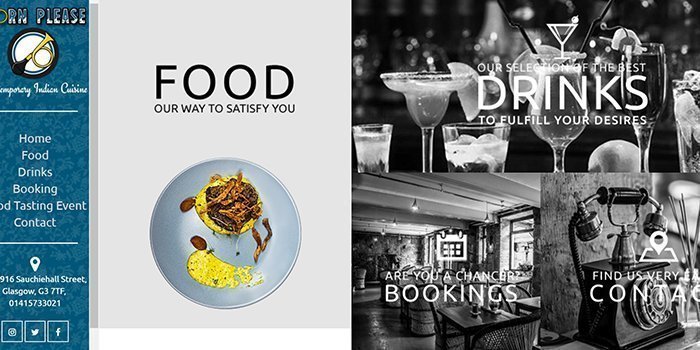 Horn Please is a fine dining restaurant on Sauchiehall St in Glasgow. The restaurant's interiors are exquisite with a cool shabby chic decor laced with unfinished brick and stone look with dimmed lights and colourful jute armchairs that creates a relaxing atmosphere.
The menu is based on recipes brought directly from the owner's family in New Delhi and fused with Western ideas to create a quirky but unforgettable taste. It has a contemporary Indian inspired theme and comprises of a choice of appetisers, vegetarian, meat, fish and seafood, breads and desserts.
Prices are reasonable and in addition to the above, also has a section called 'today's special yesterday's curry' which offers a selection of four curries prepared the day before, for all those foodies who know that a curry tastes best a day old. The drinks menu offers a range of cocktails, wines and spirits to cater for a range of tastes and match with the food.
---